Log Baskets: Our Round Up of the Best Log Storage
Log baskets are a must for anyone with an open fire or log burning stove — we have hunted down the best buys currently on offer.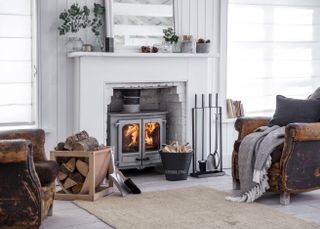 (Image credit: Garden Trading)
Log baskets are an essential item for anyone with an open fire or log burning stove, providing a neat fireside spot in which to keep firewood close to hand.
Whilst a good outdoor log shed is also vital when it comes to storing large quantities of wood for the fire, it is impractical to keep traipsing in and out every time you want to throw another log onto the fire — plus keeping a good stock indoors means they will be thoroughly dry and ready to burn. 
Here are the best log baskets you can buy right now.
1. Small Grey Rectangular Wicker Log Basket
Classic style, highly practical log basket
Size: 49cm x 30cm x 48cm | Material: Wicker | Kindling storage?: No | Lined?: Yes
Timeless design
Lined to prevent mess
Sturdy construction
Easy to carry
Colour may vary 
This traditional-style log basket is sure to add bags of warmth and character to your living room.
Constructed from sturdy wicker, the basket is lined with strong hessian to prevent smaller pieces of wood from escaping. The handles are made from rope which makes carrying a full basket easier. 
Those after a basket with slightly more storage space than this model offers might want to take a look at the matching larger version, which measures 56cm x 37cm x 50cm. 
2. Hill 1975 Logs & Kindling Buckets + Matchstick Holder
Smart, modern fireside kit
Size: 5cm x 34cm x 32cm | Material: Metal | Kindling storage?: Yes | Lined?: Yes
Handy set including match and kindling storage
Sleek, contemporary finish
Easy to carry
Cannot store large quantities of logs
This super stylish set of storage buckets for logs, kindling and matches will keep everything you need to set and light your fire hand — and would make the ideal gift too.
It has a smart black finish and the log and kindling buckets feature softly rounded handles which make carrying them with full comfortable. Their solid construction also reduces any mess from wood and bark chips. 
3. Tweedbrook Log Carrier
Ideal for transporting and storing logs
Size: 31cm x 51cm x 37cm | Material: Wicker | Lined?: No | Kindling storage?: No
Ideal for bringing logs indoors
Various sizes available
Traditional style
Unlined
This log storage basket doubles up as a handy log carrier, making light work of hauling in those logs on a winter's evening. 
Its large handle makes carrying even heavier loads easy, whilst its spacious storage basket means it should hold enough logs to see you through at least a couple of days of roaring fires. 
It comes in several sizes meaning you can select the one most suited to your needs — or invest in a couple of different sizes to sit alongside one another next to your hearth. 
4. Wovenhill Bamboo Rattan Oval Extra Large Storage Log Basket
Roomy, easy to transport and with classic good looks
Size: 90cm x 61cm x 76cm | Material: Bamboo rattan | Lined?: Yes | Kindling storage?: No
Capable of storing large amounts of logs
Has wheels for easy of manoeuvring 
Lined
Strong handles
Natural product so colour variations can occur
This bamboo log basket can hold a serious amount of logs, making it ideal for those who have more than one fire or who have fires regularly. It can hold around a barrow and a half of logs.
There is no need to be worried about the weight of the basket once it is filled either as it sits on four wheels to make it easy to push across the floor.
The bamboo rattan is sturdy, as are the hoop handles, whilst the lining keeps mess to a minimum.
5. Compact 32cm Modern Firewood Steel Log Basket
Contemporary and Compact Log Basket
Size: 32cm x 31cm x 30cm | Material: Steel | Kindling storage?: Yes
Great for small spaces
Handy separate kindling compartment
Contemporary finish
Will need regular refilling
A great, neat little log basket, ideal for those who burn small logs or with smaller stoves or firebaskets. 
This log basket comes fully-assembled and has a useful space in which to store a small amount of kindling — keeping everything you need for a fire to hand. Its steel construction means no small shards or wood will escape the basket.
On the downside, the edges and handles may be a little sharp which could make carrying it when full a little hard on the hands — plus those with younger children might worry about the corners being a hazard.
6. Felt Firewood Basket with Handles
Value for money multi-purpose log storage
Size: 44cm x 30cm x 26cm and 35cm x 30cm x 10cm | Material: Felt | Kindling storage?: No | Lined?: Yes
Stylish alternative to wicker or metal
Contemporary appearance
Budget option
Can be repurposed 
Will stay soggy longer than wicker or metal when filled with damp logs
Anyone after a log basket made from a material other than the more standard metal or wicker should consider this felt offering instead. 
These baskets come in a pack of two of differing sizes, meaning you could use one for kindling and one for logs — and making the price even more purse friendly. 
The good looks of the basket mean that should you decide you don't need it for log storage after all, it could be repurposed as a shopping bag, boot storage or as a magazine rack. 
On the downside, the felt does not offer as much air circulation for the logs as wicker or rattan log baskets and it may get (and stay) damp.
7. HomeZone® Large Fireplace Log Rack with 4 Tools
Useful multi-tasking log rack
Size: Approx. 73cm x 30cm x 39cm | Material: Steel | Kindling storage: Yes | Lined?: No
All-in-one fireside kit
Drying rack for damp logs
Large capacity
Assembly required
This really is a one-stop shop for your fireplace. More of a log storage unit than a log basket, this rack features two shelves on which to store logs and kindling, along with four fire tools - tongs, poker, broom and shovel.
One of the shelves would be the ideal spot for logs to dry out indoors, whilst the curved handles mean the lightweight unit can easy be transported from one spot to the next when required. 
Which is the Best Log Basket for Me?
Choose a log basket that will be big enough for your needs and will fit neatly next to your hearth. 
Some designs feature separate compartments for storing kindling and matches.
Consider the look of the log basket — there are designs out there to suit all interior schemes. Contemporary log baskets tend to me made from materials such as stainless steel and felt, whilst more traditional log baskets are often crafted from wicker, cast iron and rattan. 
A log basket should be strong, spacious and stylish. Avoid those made from a very open-textured material as small chips of wood and bark are likely to escape easily and make a mess of your floor. 
Those with handles are handy for carrying wood from outside to in. 
Homebuilding & Renovating Newsletter
Get the latest news, reviews and product advice straight to your inbox.
Thank you for signing up to Homebuilding. You will receive a verification email shortly.
There was a problem. Please refresh the page and try again.