16 Fireplace Alcove Ideas to Make use of Awkward Spaces
By Hugh Metcalf published
Try these fireplace alcove ideas to turn small nooks into useful storage and practical spaces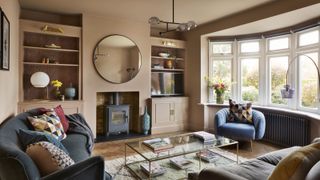 (Image credit: Darren Chung)
Without making use of fireplace alcove ideas, this space can be easily wasted, whether it's a fireplace in a living room, bedroom or any other room in the house. The fact that fireplace alcoves are usually small nooks has both benefits and drawbacks when it comes to designing something into them.
On the one hand, alcoves give your room some structure and create an area for built-in storage, but on the other, alcoves are often too small to fit key pieces of furniture, like armchairs, affecting the potential layout options of your room.
To make the most of alcoves, we've rounded up the best fireplace ideas for storage, shelving, TVs and desks to inspire you to use your nooks creatively.
Fireplace Alcove Ideas
When it comes to fireplace alcove ideas, there are several ways to make use of the space on either side of the fireplace. Storage is the most popular option, especially in the living room as a place to hide your home's media technology, but there's also ways to incorporate practical spaces, including desks and seating, into your alcoves too.
1. Choose Built-in Storage in a Fireplace Alcove
Built in storage ideas are the most popular choice for fireplace alcove — after all, who doesn't need more storage in their home? Built in storage makes the best use of an alcove as every inch can be utilised to it's full potential. But what decisions will you need to make?
You can choose between all kinds of storage, from cabinets to shelving, but you'll need to figure out what form this will take. Figure out what you'd like to store, and whether you're happy with open storage or want it behind closed doors.
Will your built-in storage be flush with the alcove, or slightly recessed? Will it span the full height of the room, or have a small recess above? Will the finish be simple or decorative?
2. Keep it Classic With Half Built-in Cupboards
Half height built-in cabinetry is a great fireplace alcove idea. Not only do they offer handy storage, but these cabinets are ideal for framing a fireplace and adding space to decorate, whether that's with ornaments or to add lighting through a table lamp.
There's a few ways you, or your carpenter, might approach a built-in cupboard of this type. It's likely to be cheaper in terms of materials and labour to simply create a frame to which you add doors and a top, however, you'll get a better quality finish inside if you choose to use sheet materials, whether that's timber or MDF, for the back and sides of the alcove too.
3. Create Built-in Shelves in an Alcove
These chunky built-in shelves are easier to DIY than making a floating shelf, as the alcove gives you three points at which to fix it to the wall, ensuring it's a strong structure that can bear a significant amount of weight.
Think about your material choice. Sheet material can be filled and painted the same colour as the wall, as in this room with a colour coded bookshelf, but you could also use characterful timber, whether that's oak or something like a reclaimed scaffold board, to add richness and a warm touch to your decorating scheme.
4. Build a Log Store for Your Log Burning Stove
Given that we're looking at fireplace alcoves specifically, incorporating a log store idea is a nice touch for a living room with a log burning stove. Whether you choose one of the best log store designs, or opt for something built-in, it's a great way to add the warmth of wood to your scheme.
5. Find Freestanding Furniture for an Alcove
Freestanding furniture might not be as space efficient as built-in storage, but it's still a great option for alcoves. Wardrobes, sideboards, chests of drawers — depending on the room you're furnishing, there's plenty of options.
The important factor to consider is the fit of the furniture. If it's tight in the alcove, it can look cramped and have the effect of making your overall space look smaller, but if it's too small it can look lost in the room.
A 10cm clearance is a good tolerance, but you can always add accessories like plants or floor lamps to create a small vignette that fills the alcove when using freestanding furniture.
6. Design a Built-in Desk into an Alcove
If you've found yourself in a new work from home situation, finding space for a desk in your house may not be easy. However, there's some amazing built-in desk ideas that make use of a fireplace alcove to create a work station.
This idea is one of the simplest, following the idea of creating a floating shelf that's large enough and at the right height for a desk. To make even better use of the space, you could commission bespoke furniture for an alcove that incorporates drawers, or find a more budget friendly pre-made design, like some flatpack furniture from IKEA, that you can DIY to fit your alcove space.
7. Consider an L-shaped Desk for Home Offices
Another way to build a desk into an alcove is to create a L-shaped desk in a corner. This gives you all the benefits of built-in storage alongside a new work station.
This design, by interiors blogger Luke Arthur Wells (opens in new tab), is made from ply — a budget friendly sheet material which he's used to create a chunky desk and built-in cabinetry.
8. Consider Lighting Options for Alcoves
Don't forget about lighting when it comes to designing your fireplace alcoves. If the fireplace is the focal point of your room, the alcoves becoming important supporting characters, especially when it comes to creating the right ambience for your room.
Accent lighting is a brilliant lighting design idea for alcoves, whether you choose sleek LED lighting strips like this design from John Cullen, or even picture lights — wall lights that are used over wall art to create an accent.
9. Mount a TV on the Wall in an Alcove
One of the biggest design challenges you'll find in a living room with a fireplace is where to place the TV. As the fireplace is the focal point and your sofa can't be placed against it, the seating usually faces towards it, which means this is where you'll also need to place the television.
However, modern TVs are often larger than alcoves, creating a real challenge in incorporating one into your space. Here's where you need to consider some clever tricks with TVs as part of your small living room ideas.
One way to go is wall-mounting a TV. This is possible by using a wall bracket which will likely have a moveable component, allowing you to adjust how the TV faces the room, ensuring it can be extended out so that every chair in the living room can see it, and tucked back away again if necessary.
10. Put a TV on Furniture in an Alcove
The most common option for an alcove TV is to put one of top of furniture, but in a home with small alcoves, this can create problems, especially if you want a large TV. In many cases, the TV itself will be wider than the furniture that can fit into the alcove as the TV can be angled — this creates a top-heavy look which makes the TV a dominating part of your interior scheme.
In this instance, scaling down the TV might be your only option, but this may not be ideal. Mounting a TV on the chimney breast is another potential solution, but beware this also makes it part of the main focal point of your room.
11. Opt for a Freestanding TV Instead
Another option that might work for a home with alcoves and not create the top-heavy look of freestanding or fitted furniture is to choose a TV on a stand. These freestanding TV designs can be bought ready to go, such as with the Samsung Serif from John Lewis, pictured, or you can also buy a freestanding TV stand similar to this to fit an existing TV.
The stands can navigate awkward alcoves much better than large pieces of furniture, and they don't eat up much space, making them ideal for a small living room.
12. Create a Colour Contrast in an Alcove
When it comes to creating a colour scheme for your room, painting a wall in an alcove a different colour is a great way to add in accent shades to your palette. Whether it's a strong contrast or a more subtle shift in colours, using a different hue in the alcoves to the chimney breast is a great way to draw the eye where you want it to go.
Consider what you want to be your focal point, and how colour psychology works in drawing the eye. A more dominant colour should be used where you want to create the main focal point, where a more recessive colour can be used as the contrast for a striking effect.
13. Or Use a Different Material in These Spaces
Another way to add contrast to your fireplace is to use a material to clad the walls in an alcove.
How about this brick fireplace idea as a way to bring texture and an industrial twist to your living room scheme? You could create this look by removing the plaster from your alcove walls (but be warned that your brickwork may not necessarily be as pretty as this one is), or by using brick slips as a design element.
14. Use Wallpaper as a Design Feature
Using a contrast wallpaper in fireplace alcoves is a little bit of a dated idea, however there are some particularly clever ways you could use wallpaper that's modern and fresh.
In this scheme, a textured wallpaper has been used as a wallcovering idea for the backing of the built-in cabinetry, rather than being used on the walls itself, adding an extra accent colour and a sense of depth to these open-fronted designs. Using a tonal brown shade makes this wallpaper feel like a soft, subtle addition, perfect for this serene living room.
15. Add Wall Panelling in Alcoves
If you're considering DIY wall panelling for your room, it's a good idea to consider how it will interact with a fireplace. A common way to proceed is to include the wall panelling into your alcoves, but not onto the chimney breast, as this can be a challenging and awkward part to get the panelling to sit right on, especially over the side projections of the chimney breast.
This classic Shaker-style panelling works brilliantly alongside a dark contrasted chimney breast, but this idea applies to more modern and rustic styles too, as well as other cladding and wall panelling ideas.
16. Add a Radiator to an Alcove
An alcove may also present a good spot for adding a vertical radiator, freeing up more valuable wall space elsewhere in the room for furniture. However, if your fireplace is your focal point, choosing radiator styles that suits your scheme is key, whether that's a traditional column style vertical radiator or a modern designer radiator.
Hugh is Digital Editor of homebuilding.co.uk and has worked on a range of home, design and property magazines, including Grand Designs, Essential Kitchens, Bathrooms, Bedrooms and Good Homes. Hugh has developed a passion for modern architecture and green homes, and moonlights as an interior designer, having designed and managed projects ranging from single rooms to whole house renovations and large extensions. He's currently renovating a Victorian terrace in Essex, DIYing as much of the work as possible. His current project is a kitchen renovation which involves knocking through walls and landscaping a courtyard garden.
Homebuilding & Renovating Newsletter
Get the latest news, reviews and product advice straight to your inbox.
Thank you for signing up to Homebuilding. You will receive a verification email shortly.
There was a problem. Please refresh the page and try again.