14 Fireplace Hearth Ideas: Inspiration for Styles, Materials and More
By Hugh Metcalf published
These fireplace hearth ideas not only perfectly frame your open fire or stove, but also help protect your floor from damage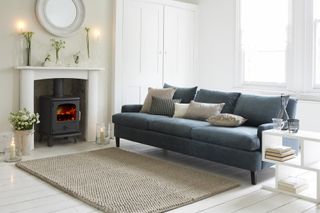 (Image credit: Morso)
Choosing between fireplace hearth ideas can be tricky — when it comes to the types of material suitable to use, each contributes its own special character to your set-up, from rustic charm to a contemporary edge.
Of course, your choice also needs to factor in the other fireplace ideas you've picked, including the surround and the stove or open fire, to ensure your fireplace design is cohesive all together.
Luckily, there's lot of design options for the fireplace hearth to explore. We've picked 14 examples to serve up some inspiration for your space.
1. Go Rustic With This Natural Stone Fireplace Hearth Idea
Natural stone and stone tiles are both great fireplace hearth ideas, as they're durable and heat resistant. They particularly suit properties in the country with rustic-style fireplaces.
Choose a hearth tile that matches the stone flooring throughout your living space, or combine materials to create a scheme with plenty of depth and texture.
In the living room of this self build by Border Oak, a stone floor tile has been used with a limestone fireplace surround, while exposed brick and timber flooring and a ceiling rounds out a super cosy, rustic look.
2. Try Slate for a Dramatic, yet Rustic Look
When it comes to natural stone for a fireplace hearth, slate is another hugely popular option. Slate tends to come in a range of sizes, which means there's likely to be a good option for your fireplace hearth.
Slate offers a dark and dramatic look for a fireplace hearth, but unlike some solid slabs of dark stone, whether they're granites, quartz or sintered stone, slate has a lot of depth and variation, catching the light for a visually interesting grey-black finish that once again gives this material a more rustic edge.
3. This Polished Concrete Fireplace Hearth Idea Offers an Industrial Feel
As a material, polished concrete has a lot to offer. It creates an industrial feel and is perfectly suited for use under the likes of a log burning stove.
In this barn conversion by David Nossiter Architects, polished concrete has been used throughout, offering a modern contrast to the barn's original brick walls and beams that is complemented by a contemporary log burner, sat atop an oversized raised hearth that also offers space to store logs.
4. Recess the Fireplace Hearth Into the Floor for Extra Floor Space
A raised hearth creates an uneven floor level which can not only present a trip hazard, but limit the floor plan for your space. You might find, for example, that furniture can't sit in an alcove due to a raised hearth or that your stylish fireside log store idea won't fit without straddling both the hearth and the floor.
Removing an existing hearth rather than adding a new one in on top can be a big job, requiring specialist machinery, but it's worth it for the small, but useful portion of extra floor space that might just improve the flow of your room and give you more layout options.
5. Porcelain Hearth Tiles are a Great Idea for Your Fireplace
Tiles are a pretty safe bet for a fireplace hearth, especially when the heat source is raised above the floor level, such as with a log burning stove. But when it comes to porcelain vs ceramic tiles, porcelain tiles are a better choice, having been fired to a much higher temperature during the manufacturing process.
Another reason to choose tiles for a fireplace hearth is the variety in styles and ideas available. From traditional patterned tiles to sleek modern designs, there's something to suit every kind of home.
6. Use Tile Trim on a Raised Fireplace Hearth
When using tiles on a raised hearth, the issue you'll find is that, much like a tiled corner in a bathroom, you'll see the exposed, unglazed tile edge on either the front or top of the hearth.
One way to avoid this is to use tile trim on your hearth for a crisper finish, something you can use beyond your hearth if you're considering a completely tiled fireplace idea.
7. Or try This Ingenious Mitred Tile Hearth
As an alternative to using contrasting tile trim, interiors blogger Luke Arthur Wells used a soft, thick clay tile to renovate an existing fireplace hearth. Realising that a tile trim wasn't an option, he painstakingly mitred each individual tile to ensure the corners met perfectly using a metal file, before grouting.
Using handcrafted tiles with slightly irregular, non-uniform finish from Otto Tiles offered some leeway in doing this process by hand.
8. Create Contrast With a Border Tile
There's also an option to mix and match tiles to create a focal point of your hearth. This design features a combination of contrasting black and white tiles to create a border to the hearth — super simple, but super effective.
This border idea also suits the likes of Victorian floor tiles used for a hearth, as these styles often have ranges of special border tiles which create a stylish transition between the hearth and the type of flooring you have in your space.
9. Get Solid Stone Cut for a One-Piece Fireplace Hearth
The problem you'll often find with tiled hearths is that you may need to make fussy cuts if the tile format you choose doesn't happen to perfectly fit the size of your hearth, which can look a little messy if not executed well.
A solid stone hearth, by comparison, is a sharp and perfectly fitted option. It's likely, however, that you'll need to have your stone cut to your hearth's bespoke size, a task which needs to be performed with the specialist machinery you only find at a stone masons. The greater number of cuts you need, the higher the price — adding to what can be an already expensive option for your hearth.
10. Soften a Raised Hearth With a Rounded Trim
If you do find yourself with a hearth material that sits slightly proud of the floor, consider adding a piece of moulding or trim around the edge. Not only will this soften sharp corners, making the space a little more child-friendly, but reduces the chances of you tripping on the hearth.
Finding a matching moulding to a timber floor can be difficult, but painting it the same as the hearth or create a contrast feature of this trim can also work.
11. Create a Subtle Hearth by Using Tempered Glass
Even if you don't have a traditional fireplace set-up for a log burning stove, you may still require a hearth of sorts to protect the floor from heat.
The most common offering from stove manufacturers is a toughened glass plate, which will help you meet Building Regulations.
By using glass, not only will you protect the floor from the heat, embers and ash, but you can still showcase your flooring underneath, reducing extra fussy elements that can make your scheme look crowded.
12. Choose a Mosaic for a Easy to Install Hearth
If you're looking to make replacing a fireplace hearth an easy DIY job, mosaic tiles are a great choice.
Not only are they easier to install than many tiles as they come in sheets, but cutting them is far more simple too, and can be done by hand without requiring any heavy machinery.
In this design by CAN Architects, a blue mosaic tile has been chosen to create a bold effect in this all-blue space.
13. Choose a Stylish Hearth for a Floating Fireplace
A ceiling mounted stove can be a real show-stopper in the right home, but this also changes the considerations for installing a hearth with your stove.
A hearth will still protect the floor when using a ceiling mounted burner, both from the heat transmitted onto the floor directly and in case any debris falls out when re-filling or cleaning the stove.
In this modern self build by CZWG Architects, a simple circular hearth has been employed directly underneath the floating stove.
14. Go Without a Hearth by Choosing the Right Floor
You might not always need a discernible hearth for a fireplace or stove if you choose the right flooring. Materials like stone flooring, which can be used throughout the house, can often just run straight into a fireplace or stove.
In this scheme with a freestanding woodburning stove, a floor tile has also been used to create a surround for the log burner to protect the walls from heat.
Hugh is Digital Editor of homebuilding.co.uk and has worked on a range of home, design and property magazines, including Grand Designs, Essential Kitchens, Bathrooms, Bedrooms and Good Homes. Hugh has developed a passion for modern architecture and green homes, and moonlights as an interior designer, having designed and managed projects ranging from single rooms to whole house renovations and large extensions. He's currently renovating a Victorian terrace in Essex, DIYing as much of the work as possible. His current project is a kitchen renovation which involves knocking through walls and landscaping a courtyard garden.
Homebuilding & Renovating Newsletter
Get the latest news, reviews and product advice straight to your inbox.
Thank you for signing up to Homebuilding. You will receive a verification email shortly.
There was a problem. Please refresh the page and try again.