10 Mantelpiece Ideas, From Material Inspiration to Styling Tips
By Hugh Metcalf published
These mantelpiece ideas will perfectly frame an open fire or wood burning stove, ensuring your fireplace is the focal point of the room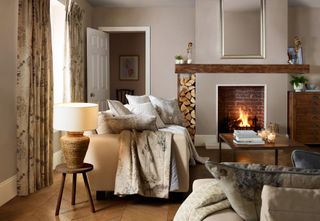 (Image credit: ILIV)
If you're specifically seeking out mantelpiece ideas, chances are your fireplace opening doesn't have a classic surround which incorporates a mantel. However, this can free you up to get creative with your mantelpiece, while still creating an effective focal point for your living room.
There are all kinds of materials, styles and creative ways to incorporate other fireplace ideas into your mantel design that are worth exploring, each bringing a different sense of character to your space.
Check out our 10 favourite mantelpiece ideas below to inspire your fireplace renovation.
1. This Floating Design is a Classic Mantelpiece Idea
This floating timber mantel is one of the most popular mantelpiece ideas you'll find, especially in homes with a log burning stove. The effect is undeniable — a floating mantelpiece creates a real focal point for the space.
These mantelpiece ledges tend not to protrude as much as on a traditional fireplace surround, but it still offers space to create a display to embellish your interior design.
If you're sold on this design, the only question you need to consider now is, what kind of wood should I choose for my mantelpiece?
2. Choose a Waney Edged Timber for a Rustic Mantelpiece
If you're not familiar with the term waney edge, it simply refers to wood that's cut near the outside of the log, retaining some of its natural 'defects' in comparison to the straight lines of machine cut timber.
A waney edged timber mantelpiece offers a little bit more softness to the scheme, and allows the natural charm of the material to shine through. Waney edges might be better suited to traditional homes and houses in the countryside, but really it's down to you personal preference.
3. Or go Contemporary With a Sharp Lined Timber Mantel
Brilliant block-y, straight edged timber mantelpieces offer a contemporary edge to your home, even with a raw and natural material like wood.
Is this beautiful oak frame home by Welsh Oak Frame, the mantelpiece is the perfect extension of the home's overall design, with crisp lines of beautiful oak creating a space that feels both modern and homely at the same time.
4. Make Room for a Display With a Shelf Mantelpiece
An ornate mantelpiece isn't the right idea for every home, but even in a minimalist space, a mantelpiece is a great finishing touch for a fireplace.
In this living room, a unobtrusive floating shelf acts as a mantel over the fireplace, adding detail without stealing all the attention in this scheme.
5. Create a Statement With a High Mantelpiece
When you have the ability to add in your mantelpiece into your fireplace, you've got a unique opportunity to play around with scale and size. In rooms with large fireplaces, you might find a high mantel is necessary anyway, but even with a standard sized fire opening you can play around it's location and size for a more creative look.
Consider the proportion with the other architectural features of your room such as the coving, picture rail and dado rail, for example, as demonstrated by this tiled fireplace idea created by Cairn Architects.
6. Recreate This Clever Wraparound Mantelpiece Idea
This clever fireplace design incorporates so many brilliant mantelpiece ideas.
First up, by extending outwards and creating a wrap around the chimney breast, space has been created to display larger items that wouldn't be possible otherwise.
The use of the mantelpiece to create this log store idea is super smart too.
7. Try This Chunky Mantelpiece Shelf
This chunky mantelpiece idea is a good alternative to a standard floating design, adding a little bit more detail and character to the right home. With the additional support at the base of the mantel, you may find it easier to use a larger piece of timber for the the mantelpiece, meaning it can be wider and supply more of a surface to create a display.
8. Make a Feature of the Mantelpiece on a Fire Surround
If you want to make more of a feature of a mantelpiece of a fire surround, why not take inspiration from this scheme and paint it a contrast colour?
With the majority of the fireplace painted the same colour as the walls, the white mantel makes a real impact and showcases some of the detailing of this ornate surround.
9. Style a Mantelpiece With a Leaning Mirror
Once you've chosen the right mantelpiece idea for your space, now the fun bit — the styling. There's all kinds of ways to decorate a mantelpiece, but an over mantel mirror is one of the most effective, stylish ideas you can try.
Leaning mirrors almost become an extension of your fireplace, and you can find all kinds of styles to match any kind of interior, from ornate baroque mirrors to simple, modern designs.
10. Should I Place a TV Over a Mantelpiece?
Given everything we've mentioned about focal points, it's not the best idea to put your TV over your mantelpiece, but in some homes, it's the only real option.
There are some chimney breast ideas you can try to minimise its impact however, such as painting the wall in a dark colour to help this big black box disappear into your design a bit more.
There are also modern TVs that can be disguised as picture frames when not in use, such as the Samsung Frame from John Lewis.
Hugh is Digital Editor of homebuilding.co.uk and has worked on a range of home, design and property magazines, including Grand Designs, Essential Kitchens, Bathrooms, Bedrooms and Good Homes. Hugh has developed a passion for modern architecture and green homes, and moonlights as an interior designer, having designed and managed projects ranging from single rooms to whole house renovations and large extensions. He's currently renovating a Victorian terrace in Essex, DIYing as much of the work as possible. His current project is a kitchen renovation which involves knocking through walls and landscaping a courtyard garden.
Homebuilding & Renovating Newsletter
Get the latest news, reviews and product advice straight to your inbox.
Thank you for signing up to Homebuilding. You will receive a verification email shortly.
There was a problem. Please refresh the page and try again.