Bioethanol Fireplaces: Your Questions Answered!
By Tim Pullen published
Bioethanol fireplaces provide heat and a brilliant focal point without some of the drawbacks of traditional woodburning stoves. Find out more with this guide to bioethanol fuels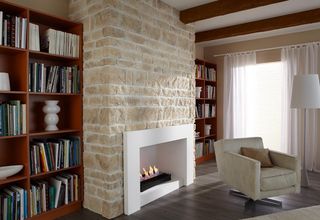 (Image credit: Go Modern Furniture)
If you're yearning for a real fire in your home, bioethanol fireplaces are worth serious consideration. While they may not offer the crackle of burning wood, smoky scent and satisfaction of keeping a log burning stove alight, bioethanol fires are low-maintenance and provide a solution to many of the drawbacks of woodburners.
In theory, they're a great problem solver, but what are they actually like to use? Our expert answers your most commonly asked questions about bioethanol fireplaces so you can discover if they are the right choice for you.
What is a Bioethanol Fireplace?
A Good Choice for Self Build
Bioethanol fireplaces are a great choice for modern self builds, providing the charm of a fireplace without compromising the home's airtightness with a chimney.
Bioethanol fireplaces used bioethanol as a fuel. This is a liquid fuel manufactured by fermenting the sugar and starch elements of waste plant products - sugar cane, straw, maize, amongst many others - and distilling the resulting liquid to purify it and enhance the alcohol content.
It was first developed on an industrial scale in Brazil as a road vehicle fuel when it was known as ethanol, the bio being added later, presumably to enhance its marketing potential. As such it qualifies as a renewable energy source with an environmental impact on a par with wood fuel, particularly wood pellets.
Bioethanol can be used in devices that look like open fires or woodburning stove. In both cases the device will contain a firebox (also called a combustion chamber) which contains the fuel usually in a ceramic wool that absorbs the fuel and allows it to burn in a safe and controlled way.
The firebox may also have a "slider" that controls the heat output. The rest of the device, the stove or open fire look, is little more than decoration although it has to be said that the range of these is huge, from traditional wrought iron basket with false logs to traditional wood burners to devices with an ultra-contemporary look.
There are even portable fires in glass boxes that can be used literally anywhere inside or outside the house.
(MORE: Best Patio Heaters)
What are the Benefits of a Bioethanol Fireplace?
When bioethanol is burnt in air the only emissions are water vapour and CO2. There is no smoke, no particulates and no carbon monoxide, meaning that it does less damage to air quality. The CO2 emitted is the same CO2 that was absorbed by the plants used to make the bioethanol, plants that took months to grow.
Burning wood also emits the CO2 that the trees absorbed but it took years, even decades, to grow those trees. And there is energy put into manufacturing bioethanol, which has a CO2 content but there is energy put into harvesting, transporting and drying wood to make it into fuel.
It is a tricky argument but, on balance, it is more likely that bioethanol will be closer to net zero CO2 emissions, is more sustainable and less damaging to the planet that wood or fossil fuels.
In all cases there is no need for a flue or chimney or a specific air supply. The effect of this is that in a new build the cost of building a chimney is saved and in an existing house the stove or open fire can be sited in the existing fireplace (and the chimney blocked to improve thermal efficiency).
How Much do Bioethanol Fireplaces Cost?
Cost varies with the size and style of the device with prices ranging from around £150 for a fairly simple stove to upwards of £800 for something more aesthetically grandiose. And there some portable machines as low as £30 typically used as a patio heater. But the nature of all these machines means that there are no maintenance issues and installing them does not need the services of a professional.
Are Bioethanol Fireplaces Expensive to Run?
Fuel is supplied in 1litre bottles and prices do not vary too much, expect around £2 to £3 per litre (varying only with the manufacturer and supplier) which would equate to around 19p to 28p per kWh.
This is slightly more expensive than kiln dried logs or electricity both at around 15p per kWh, but a good deal more that mains gas at 5p per kWh. Manufacturers claim that a litre of fuel will last around 3 hours with the stove at its maximum output, typically 3kW.
Does a Bioethanol Fireplace Give Out Heat?
Yes, and while a heat output of 3kW may not sound like much, a room with a 5m x 5m floor area in a house built to current building regulations standard of thermal efficiency will need a maximum of 1.4kW through the winter. And all of that will be provided by the principal heating system.
Any self-respecting wood burning stove is likely to have a maximum heat output over 5kW, which will vary with the amount of wood in the stove and the quality of that fuel. The reality is that a wood burning stove may be well suited to an existing home but is difficult to accommodate in a new build with their higher levels of thermal efficiency.
(MORE: How to Replace a Gas Stove with a Woodburner)
Are Bioethanol Fireplaces Safe?
Bioethanol is an inflammable liquid and therefore needs to be treated with caution. But no more than needs be exercised with a gas fire or filling the car with petrol. There are really only common sense rules around the fuel:
Don't store the fuel near the fire and away from children
Don't store large quantities of fuel
Don't try to refill the firebox when the fire is lit or still hot (many devices prevent this happening)
Don't overfill the firebox
Are Bioethanol Fireplaces Any Good?
The desire for a focal point of an open fire or wood burner, that sense of hearth-and-home, has been with us since time immemorial. The need to see leaping flames seems to be in our DNA. The problem is that it is difficult to fit a 'real fire' in a modern house or a house with current thermal efficiency levels. Wood burners put out more heat than the room they are in needs and open fires need a chimney that ruins the airtightness of the house, also as well as being horribly inefficient.
Bioethanol fires provide the look of 'real' flames, have a lower (and adjustable) heat output and don't need a chimney. There is something missing, they don't have the smell or noise of a crackling log fire, but they get close to meeting that primordial need.
Tim is an expert in sustainable building methods and energy efficiency in residential homes.
Homebuilding & Renovating Newsletter
Get the latest news, reviews and product advice straight to your inbox.
Thank you for signing up to Homebuilding. You will receive a verification email shortly.
There was a problem. Please refresh the page and try again.