Chimney Breast Ideas: 10 Designs for a Stylish Focal Point
Our pick of fantastic chimney breast ideas will inspire new updates, renovations or fresh designs for a new living room focal point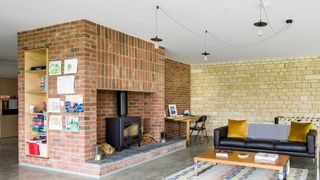 (Image credit: Simon Maxwell)
Innovative and stylish chimney breast ideas can transform this functional and often imposing structure so it blends into a home's style or creates a new unique architectural feature.
Designing a chimney breast from scratch for a new home or extension offers a whole new realm of possibilities with style, size and shape to suit a modern or traditional scheme.
Similarly, in renovation projects, where a chimney breast may feel like an irregular shape to contend with, there are many options to integrate storage, materials and interesting ideas into this element.
From exposed brickwork and wood panelling to contemporary structures that really add a show-stopping element to a house, fireplace ideas and chimney breast designs will need to be well-considered at the same time to ensure a compatible and cohesive style.
1. Use Chimney Breast Ideas to add Character to a Room
No matter the style of your home, or the project, including chimney breast ideas into the overall design will ensure successful and welcoming interiors, so be sure to consider the final finish from the start.
When designing the living room for this traditional self build, the homeowners chose to situate the log burning stove in a classically proportioned recess, while concealing the flue and chimney breast within the wall.
The wood panelling really transforms the space, but note the attention to detail around where the chimney breast would be — the slightly wider format panelling creates a subtle depth to the cosy room that would have been tricky without adequate forethought.
2. Let the Chimney Breast Take Centre Stage with a Minimalist Design
Although fire surrounds and mantel pieces offer many living rooms a finer level of detail, sometimes letting an exposed chimney breast and open fire shine in a modern space is all that is needed.
Here, the grey-painted chimney adds a new texture to the pared-back living space while the crisp lines of the open fire highlight the neat interior design.
While looking at chimney breast ideas, many home improvers will find it most helpful to weigh up open fires vs log burners, as it can impact the resulting building work.
3. Incorporate Built-in Storage into a Chimney Breast Design
From the log stores to characterful book cases, consider including storage into a new chimney breast for an extension or self build. When done right, it will not only increase practical spaces for hiding away clutter or showcasing favourite belongings, but can also create a carefully curated wall as a focal feature.
In this small extension to a blacksmith's forge, the homeowners built in strategic storage around the chimney breast so it is an interesting architectural feature. The wood doors on the right conceal the TV while the grey plinth supports a log store.
Note, too, the inset woodburner — not all log burning ideas need involve a freestanding stove, as this home goes to show.
4. Create Visual Interest with Chimney Breast Materials
The chimney breast is the central point of this open plan living space around which the rest of the social spaces pivot.
The modern design of the brick includes a traditional stretcher bond which wraps around into the kitchen and dining areas – with built-in shelving – but above the stove a contemporary stack bond introduces an exciting element that attracts the eye.
A similar effect could be created using stonework, internal timber cladding or tiles.
5. Go Wide with a Statement Chimney Breast
One way to introduce character and pack a real architectural punch is to design in large chimney breast. This can create a warm welcome for visitors and cosy retreat for family.
A wide-set chimney breast, like the one pictured, can feature a long, narrow gas fire or a large log burner to really make an impact. (Do, however, ensure that your chosen log burner or gas fire is properly sized for the room by taking advice from your Hetas or Gas-safe register installer.)
This look is best suited to larger living rooms or large open-plan spaces.
6. Add an Incredible Floating Chimney Breast
Truly a show-stopper, this gas fireplace with off-set 'floating' chimney really creates an architectural feature that will make any home feel special.
While not every home might opt to go so grand, installing an inset stove or in-built gas fire with a wide viewing window could create a similar effect.
7. Let a Chimney Breast Blend into the Background
Where a statement fireplace wouldn't fit into the home, blending the protruding structure in with the rest of the interior design using wall covering ideas will highlight other features, such as the surround or mantle.
Here, a soft lime plaster with curved edges lets the chimney breast melt into the walls and around to the arched doorway.
This is a good idea in smaller homes with more compact floorplans.
8. Use Chimney Breasts to Add Design Features
How do you give purpose to a chimney breast with no fire? Include alternative design features, storage and lighting to make the space feel included in the living area's overall design scheme.
This could be bookshelves built into the alcoves to either side, favourite artworks hung in pride of place, or, as here, a low log store that adds another texture to the living room.
Where chimneys have been sealed, staging the old opening with a decorative log basket or with stacked wood, can ensure it still remains a focal point in a room.
9. Tile a Chimney Breast
Tiling a chimney breast can be a great solution for those where an open fire has been swapped with an in-built gas unit.
A stylish narrow tile in a metallic finish really makes this chimney breast a special feature against the deep green background walls. The fireplace has been raised and the bottom section boxed in, so the tiles ensure the feature is finished as a whole.
Before deciding on a specific tile, take a look at different tiled fireplace ideas and be sure to choose one that is suitable to be installed around hot areas.
10. Use an Old Chimney Inglenook in a Kitchen
Modern kitchens no longer need an open fire so including the old chimney breast into the design when renovating a house will give an authentic finish.
This farmhouse kitchen lets the inglenook chimney breast become the star of the show as a new range cooker has been installed into its recess.
Get the Homebuilding & Renovating Newsletter
Bring your dream home to life with expert advice, how-to guides and design inspiration, direct to your inbox.
Assistant Editor Amy began working for Homebuilding & Renovating in 2018. She has an interest in sustainable building methods and always has her eye on the latest design ideas. Amy has interviewed countless self builders, renovators and extenders about their experiences for Homebuilding & Renovating magazine. She is currently renovating a mid-century home, together with her partner, on a DIY basis, and has recently fitted her own kitchen.