Log Store Ideas: Creative Storage for Your Home and Garden
By Amy Reeves published
These stylish log store ideas for both inside and outside your home will help keep firewood dry and close at hand, ready to burn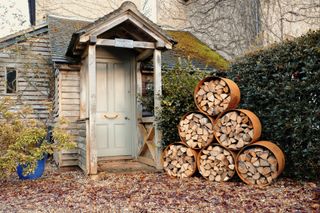 (Image credit: Parker and Coop)
The best log store ideas share a few things in common, no matter the style or size you want for your home.
First, you'll want it located in an area that's easy to access, making those trips for firewood to top up your log burning stove as quick and painless as possible.
Second, your log store should keep your wood dry and sheltered. While a seasoned log will dry out in a few days if it gets rained on, prolonged exposure to water can turn good wood bad, meaning a less efficient burn that contributes more to air pollution.
Last but not least, your log store should look good. Look for options that allow for neat wood storage and consider materials which match your home's interior or exterior design.
With all this in mind, we've sought out some of the most practical and best looking log store ideas to consider for your firewood.
1. Create This Outdoor Log Store Idea During Your Build
Although a practicality, log store design ideas can be innovative and a feature in their own right. From interesting shapes, colours and materials to built-in solutions, getting creative with this simple element will make any home feel more considered.
A statement chimney provides a convenient place to store lots for use in this oak-frame self-build by Oakwrights.
2. Store Your Logs in Wrought and Cast Iron Log Baskets
Let's not get away from the fact that where a log store is required, a wood burning stove is sure to be somewhere close. From traditional and ornate to modern and minimal such as this model from Cox and Cox, there's wrought iron log store ideas for every home.
3. Design Log Store Ideas Into Your Interiors
Where a larger amount of wood is required, it is smart to include log storage into how the overall room will look.
Warm wood furniture and exposed rafters blends the log store nook (to the left of the kitchen) in this open-plan living, dining and kitchen space, adding character to the new self-build.
4. Choose a Stove with a Built-in Log Store
As homes become more and more efficient log burning stoves might only be used in the winter months, in which case having a bunch of wood in the house might be an inconvenience.
Here the Charnwood Island 1 features a store stand for easy access in winter, but can kept neat and tidy for the rest of the year.
(MORE: Best Log Baskets)
5. Make a Characterful Feature of Indoor Log Storage
This purpose-built log store alcove is a practical addition and acts as a visual divide between the kitchen and living area in this self build.
This idea could be incorporated into a renovated home (such as the recesses beside chimney breasts) and extension projects (adding a touch of wow-factor into a new room).
6. A Roof Overhang is the Perfect Idea for an Outdoor Log Store
Logs of course need to be stored where it is dry and out of the way so if you're looking for log store ideas in a self build or extension project, perhaps consider including a sheltered spot outside.
A generous roof overhang not only adds architectural interest to this self build, but also offers a dry place to season wood. What's more, logs are easily accessible in winter months with getting a coat on!
7. Make an Indoor Log Store into a Talking Point
This contemporary log store and sleek stove from Dik Geurts Odin is an eye-catching focal point in this broken plan living space.
8. Keep Log Storage Organised in the Garden
Freestanding outdoor log stores, such as this model is from Garden Trading, can come in all sorts of designs, but look out for those with divided sections for different sized logs and wood for kindling.
9. Multi-Purpose Log Store Ideas
When creating new rooms and spaces in a project, designing multi-functional built-in storage ideas to suit your lifestyle makes all the difference.
A partial room divide in this contemporary cottage extension works overtime as not just a bookcase, but also a spot for the TV, an inset woodburner and an internal wood store.
10. Think Carefully About Materials for Outdoor Log Stores
Treated timber, aluminium and even Corten steel, as used in this Parker and Coop triangular log store, are great materials to protect a wood supply. Plus, by matching a material to a specific style makes the garden feel more included in any home design.
Assistant Editor Amy began working for Homebuilding & Renovating in 2018. She has an interest in sustainable building methods and always has her eye on the latest design ideas. Amy has interviewed countless self builders, renovators and extenders about their experiences for Homebuilding & Renovating magazine. She is currently renovating a mid-century home, together with her partner, on a DIY basis, and has recently fitted her own kitchen.
Homebuilding & Renovating Newsletter
Get the latest news, reviews and product advice straight to your inbox.
Thank you for signing up to Homebuilding. You will receive a verification email shortly.
There was a problem. Please refresh the page and try again.