Open Fire Vs Log Burner: Which is Better for Your Fireplace?
By Hugh Metcalf , Tim Pullen published
Not sure where you fall on the 'open fire vs log burner' debate? We take a look at what you need to know about both options so you can make the right choice for your home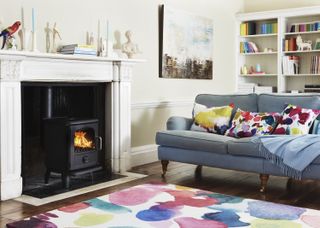 (Image credit: Morso)
Open fire vs log burner is one of the more pleasant decisions to have to make during a build or renovation. Both bring warmth and that atmospheric crackle of burning wood into your home during the winter months, as well as creating a focal point for your interior design scheme.
However, while log burning stoves are becoming more and more popular, can they really compete with a good old-fashioned open fire roaring in your fireplace?
We weigh up both options, from how they may affect your heating bills and their green credentials through to maintenance and even which looks best in your home, all to help you make the right decision for your project.
Which is More Efficient: an Open Fire or a Log Burner?
A wood burning stove is likely to be better than 65% efficient, while an open fire is 30% efficient at best. Typically (but not always) stoves are made of heavy-duty steel, so offer radiant heat, acting as a radiator, as well.
The efficiency of an open fire also needs to factor in its effect on the airtightness of a home. Any form of combustion – gas boiler, oil boiler, wood burning stove or open fire – needs air as well as the fuel being combusted. In most cases, the amount of air needed is relatively small and can be supplied either directly from an external air supply or from the room, without undue impact on overall thermal efficiency. The exception is the open fire, where the volume of air needed has to meet the volume of air extracted by the chimney — and that can be a lot.
Convection boxes for open fires
A convection box is a modern steel version of the Victorian curved stone fire-backs. These conduct the cool air through the fire ensuring that the maximum heat possible is pushed into the room. They also have a damper control that can be used to limit air flow to control the heat output, which also serves to reduce draughts when the fire is not lit.
In a room 5m x 5m x 2.4m, insulated to Building Regulations' standard, including airtightness, the peak heat demand for that room will be a little over 1.2kW. Add an open fireplace and the airtightness in that room plummets and the peak heat demand rises to 2.9kW.
(MORE: Building Regulations for Chimneys, Stoves and Fireplaces)
You might think that the fire will make up that shortfall itself — and when it is burning well, it will. An average size fire that is burning well will draw around 5m3 of air per minute. The room holds 60m3 of air, so it can supply the fire for just 12 minutes. Thereafter it is drawing air from the rest of the house, none of which is benefiting from the roaring log fire.
However, the chimney will draw a similar amount of air when the fire is not lit, and the lack of airtightness in that room affects the thermal efficiency of the whole house. The house has to be able to supply that 5m3 per minute or the chimney will stop drawing properly and smoke will enter into the house.
Winner: Log burner
Which is Better for my Heating Bills?
While using a log burner or open fire will remove some of the strain on your boiler, helping to reduce your heating bills when used thoughtfully, an open fireplace may actually contribute more to your overall heating costs in compromising your home's thermal efficiency.
A house with 200m2 floor area and 2.4m ceiling height, with insulation and airtightness to current Building Regs, but with a single open fireplace, will have a peak heat load of 17.5kW and a space heating energy demand of 17,700kWh per year.
Remove the fireplace and those figures drop to 10kW peak and 10,500kWh per year. That's a difference worth about £450 per year. A good proportion of that loss could be saved with use of a flue-blocker when the fire is not lit. There are problems with these, such as how to insert it when the fire is still lit and you want to go to bed, but they do work otherwise.
Winner: Log burner
Is a Log Burner or an Open Fire More Eco-Friendly?
The first consideration in comparing the eco credentials of a log burner vs an open fire is this issue of airtightness and how an open fire compromises your home's thermal efficiency. It's said that a fireplace has the same effect on the heating demands of the house as leaving a window open, and we've already looked at how this will affect your heating bills. This means more strain on your boiler to keep your house warm, meaning more fossil fuels used and more carbon emissions from your home. The lack of airtightness may also mean your home can't adopt greener heating systems, such as air source heat pumps that are key to an eco house.
The eco-friendliness of your log burner or open fire also depends on the fuel you burn. Burning wet wood, for example, is less efficient and produces greater emissions. New legislation which will come into effect in 2022 will regulate the sale of wood to be burned so that it has less than 20% moisture.
Open fires don't need to be log-burning, however. Eco options such as bioethanol fireplaces make use of a sustainable fuel and produce no smoke, no particulates and no carbon monoxide, causing less damage to air quality.
However, most (soon to be all) log burning stoves now available are required to meet Eco Design 2022 standards, which means even greater efficiency for log burning and fewer emissions.
Winner: Log burner
Is an Open Fire or Log Burner Easier to Maintain?
The most important maintenance with an open fire is the chimney. This should be swept once a year and also inspected for any damage to ensure the chimney is safe and in good working order. An open fire will need to be cleared after use too, removing all ash and debris from the grate.
When it comes to cleaning your log burner, it's also best practice to clean it after every use. If you burn the right kind of wood, it will reduce the amount of smoke and pollutants, keeping the burner cleaner and avoiding build ups of soot and creosote. As well as cleaning out ash, soot and debris, you'll also need to clean the glass.
Most manufacturers state that their wood burning stoves need to be serviced once a year, including sweeping the chimney.
Winner: Tie
Which is More Expensive: an Open Fire or a Log Burner?
When it comes to installing a new fireplace, many of the costs for an open fire vs a log burner are the same. According to Check a Trade, the average cost to install a new fireplace and create a chimney system is £2,750.
However, in a renovation project, often this system is already in place, and may just require opening up the fireplace and need some cleaning and minor repairs to get back in action. A new flue in an existing fireplace will cost around £1,100.
In this case, the cost comes down to the price of a new open fire or log burner, plus any installation costs. While there are options for every budget, solid fuel fireplaces can be bought for a few hundred pounds, and while there are log burners available at price points from around £300, the average spend on a quality log burner is more likely to be around £1,000-£2,000.
Winner: Open fire
Which Looks Better: an Open Fire or a Log Burner?
There's little to differentiate between the aesthetic quality of an open fire vs a log burner. Both are popular styles that offer a focal point for an interior scheme.
However, a log burning stove offers flexibility in design and placement that can make it a stronger choice for certain homes, especially new builds and extensions which don't have existing fireplaces, allowing you to get more creative with your log burner ideas.
(MORE: Explore our Gallery of Fireplace Ideas)
There are also a greater range on offer, including colourful styles, modern designs and double-sided log burners, which can be used to heat two rooms.
Winner: Log burner
Verdict
As our homes become increasingly airtight, does it make any sense to include an open fire in your new home? Possibly, but there are other, better alternatives such as log burners which offer more efficient wood burning, are safer to use, more eco-friendly and are less of a compromise of your home's thermal efficiency.
An open fire is attractive and it can be lived with in a modern, well-insulated house and maybe the extra running cost is affordable. However, it is difficult to conceive that this is anything but the nailing together of two incompatible ideas.
Tim is an expert in sustainable building methods and energy efficiency in residential homes.
Homebuilding & Renovating Newsletter
Get the latest news, reviews and product advice straight to your inbox.
Thank you for signing up to Homebuilding. You will receive a verification email shortly.
There was a problem. Please refresh the page and try again.