Kitchen Island Sizes: How Big Should Your Design Be?
By Rob Keal published
Kitchen island sizes will vary depending on available space. Our guide shows you what to look out for when determining if your kitchen can accommodate an island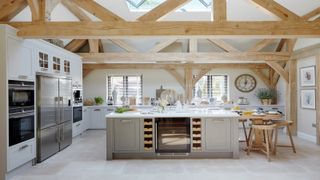 (Image credit: Future)
Kitchen island sizes are one of the most important considerations homeowners should take into account when looking for a chic kitchen revamp. Because a kitchen island will quickly become the space's focal point, establishing the right size, shape, and amenities is key to a successful installation.
When it comes to kitchen design, any new island must reflect both the style of the house and the type of kitchen you own. However, overall kitchen island size requires careful calculation if you intend on making the most of the space while still keeping the area practical and functional, as well as aesthetically pleasing.
We take an in-depth look at kitchen island sizes, the various different measurements you should bear in mind, and other things to think about before having one fitted in your home.
Kitchen Island Sizes: What to Consider
As far as kitchen island size is concerned, it's very easy to get carried away with the visuals and let the necessary dimensions take a back seat. This is a mistake, as you will not only need to consider the many kitchen island ideas and sizes available in today's market, but also whether your kitchen itself is big enough to accommodate one.
Richard Moore, design director at Martin Moore, explains: "Visually, the island needs to take its scale from the rest of the kitchen. Practically, if you want granite or stone tops in one piece, then the maximum feasible size is three metres long.
"If the island is going to house appliances, you need to allow space for plumbing and electrics. Bear flow in mind too, as you do not want to have to keep walking around the island to accomplish kitchen tasks."
Moore goes on to add: "If the kitchen is going to have runs of furniture on each side, you need the room to be at least 4.2 metres wide to accommodate a useful island. This is because you should have a minimum of one-metre clearance from work surfaces on each side.
"In terms of overhangs — we design generous overhangs which allow you to stand comfortably, with your feet tucked under the countertop. A large overhang is also needed if you are going to have informal seating when designing a kitchen island."
What Is the Average Size of a Kitchen Island?
On average, standard kitchen islands usually have dimensions of 80 x 40 inches (this equates to roughly two by one metres). However, it is important to leave adequate clearance space as well (at least one metre between island and counter), so you don't experience any issues moving around your kitchen once the island itself has been fitted.
Of course, bigger kitchens may be able to accommodate more spacious islands, perhaps even two; if you've got kitchen remodel ideas, speak to your renovation manager or a fully qualified fitter for advice on the most suitable kitchen island sizes for your home.
Even if your kitchen is on the cosy side, an island can still be incorporated for a focal effect that clearly defines the rest of the area. However, you must measure your kitchen accurately beforehand, to ensure you align your small kitchen ideas around its specific dimensions.
If there's not enough room for an average-sized island, think about other kitchen layout ideas, like a peninsula or moveable butcher's block, which offer an alternative centralised hub, but without taking up too much space.
Kitchen Island Size Guidelines
"An island often becomes the hub of a kitchen, somewhere for food preparation, dining, and general socialising," explains Gary Griffin, sales manager at Rational UK.
"Island sizes vary according to the available space and the functions that they are required to perform, although you may wish to consider that many standard worktops are only available in sizes up to three metres [in length]. If you are planning one larger than this, you would need to factor in a jumbo option."
Griffin also advises: "For those with a large kitchen, then a double island is an option. Two islands in a kitchen provides excellent functionality by maximising the available working space, especially if each has a dedicated purpose — for example, one for food preparation and the other for cooking and dining.
"They can provide extra storage space and the opportunity for the inclusion of secondary appliances such as a wine cooler. There are no set rules about their placement and they don't need to be of the same size. It may be if you have a young family that you would choose to have a lower level that is more accessible, however you do need to allow enough space to make them safe and practical to use.
"You can also use the placement of the islands to create zones and direct footfall away from busy areas. Mixing and matching kitchen worktop materials on the islands can add interest, but take care to ensure there is some cohesion between them and the rest of the kitchen for a pleasing aesthetic."
What Are the Best Kitchen Island Dimensions for Seating?
Seating is an important element to factor into the size of your kitchen island. Given that many homeowners have clever kitchen ideas involving islands being fitted, so they can host family or friends around them, ensuring everyone's comfort is a high priority.
As a rule, allow approximately 24 inches (60cm) of surrounding space per person, allocating more if the area itself permits. This gives plenty of elbow room and helps prevent any feelings of encroachment.
Banquette seating in an island is another popular option for modern kitchen ideas. It helps create a more open feel around the kitchen island, thereby maximising available space while still keeping people comfortable.
What Is the Optimal Kitchen Island Overhang Size?
On a kitchen island, overhang refers to how much countertop space extends beyond the bar. Different kitchen island sizes require different levels of overhang, and you must also think about its practicality in relation to kitchen trends.
Kitchen islands usually come with 1-1.5 inches of overhang as standard. But if you plan on using the island for more than just food prep, you're going to need a greater surface area.
If there's seating around your kitchen island, add an overhang of around 12 inches for comfort during mealtimes, but do ensure that it is deep enough to support your weight when leaning — a three-centimetre thickness should suffice.
It is possible to have an overhang that extends over 12 inches, however this is best avoided unless you plan on using the underneath to store your seating, other household items, etc. Ensure that the depth of the overhang is increased proportionately, to cope with the extra weight, and fit support brackets or similar so that the surface remains stable.
How Much Space Do You Need Between the Kitchen Island and Wall Counter?
"Leave at least one metre of walking space around each side of an island, and ideally more if there's seating," suggests William Durrant, owner and director of Herringbone Kitchens. "Where there are appliances, try to increase the space between them and the island to around 1.2m."
It is also a good idea to think about kitchen storage ideas for your island space, as well as possible integrations you can include to make the area even more practical — such as a sink or induction hob.
Griffin explains: "To make best use of an island, we suggest encompassing storage options, such as drawers or cupboards, as well as a working space. There are many clever storage options available, such as pullout worktop drawers and end cupboards that can maximise use of the space.
"Appliances and sinks can be added to an island as standard, although do consider that a sink will require plumbing and appliances will require a power source."
Rob Keal is the Content Editor at Homebuilding & Renovating. With a background in content marketing, he began his career back in 2016 as a freelancer, before honing his craft at various digital marketing agencies. Looking to specialise in DIY and homes, he joined the team in February 2022.
Renovation has been part of his life since he was nine years old, when his parents bought a medieval cottage and completely revived it, introducing him to kitchen remodels, loft conversions, landscape gardening, and much more besides along the way. A bedroom extension and patio refurbishment are among his next planned projects. He is also passionate about interior design and landscape gardening.
Homebuilding & Renovating Newsletter
Get the latest news, reviews and product advice straight to your inbox.
Thank you for signing up to Homebuilding. You will receive a verification email shortly.
There was a problem. Please refresh the page and try again.