Window Seat Ideas: 14 Ways to Create a Charming Spot With a View
By Amy Reeves published
Looking for window seat ideas? We've selected a range of projects with stunning designs for every room to inspire your cosy space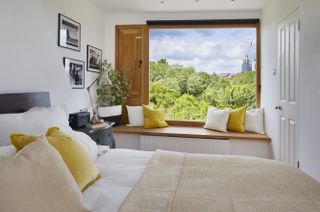 (Image credit: Darren Chung)
Window seat ideas are endlessly charming — from spaces with extra storage, and a reading nook in a sunny spot to a cosy place which frames the view.
Whether you're designing a self build, new extension or renovation, creating a link between the living spaces and the great outdoors is key for a stunning modern home. Not limited to houses with floor-ceiling expanses of glazing, small window seat ideas can pinpoint and draw the eye towards glimpses of a vista worth taking the time to sit and admire.
Working out the configuration and style of window seat for your individual home can be tricky so we've gathered our favourite ideas to spark your inspiration, with loads of ideas, top tips and advice to create the ultimate window seat in any property.
1. Framing the Perfect View with Window Seat Ideas
First things first, the success of a good window seat is balanced on the view it frames. While it doesn't have to be of the garden, try to hone in a spot which will bring you back time and time again.
If you're self-building or extending, make sure your architect/designer includes your favourite window seat idea right from the initial stages of the design. Try to avoid south-facing spots to limit glare and overheating from the sun and opt for slim sightlines to really make the most of the view.
(MORE: Design Briefs)
2. A Window Seat for Guests
In a snug or living room, utilising free space below a window to include a seat can be a great way of increasing your seating space — particularly when you have guests over and sofa space is limited.
This corner window style offers an additional seating area within the living room, without having to make room for an extra piece of furniture.
3. Creating A Unique Window Seat
For those limited on space, opting for window seat ideas with built-in storage underneath the bench is a smart move. This could be an ideal home for storing children's toys, books and so on. Better still, you could open up the space beneath as an alcove that makes room for a pet bed or bookcase.
What's more, if you're keen on built-in joinery, transforming the wall around your window into storage or bookcases could be a great way of framing the window seat — not to mention making it easier to grab your latest read while you relax.
4. A Modern Window Seat Finish
In this self build project by Platform 5 Architects, a simple wooden bench spans the width of the rear wall with a singular cushion beneath a tall frameless window, offering a simple solution to this window seat idea.
5. A Built-in Bay Window Seat Design
If you're intending on a built-in style window seat to make the most of your view, you'll need to ensure the window itself is deep enough to accommodate room for a bench that can comfortably sit at least one person without making them feel like they're perched on a ledge — a bay window is a good example here.
In more contemporary settings where you may have frameless glazing or the window is flush with the wall, well-placed joinery could allow a seating area to be built in front of the glazing.
6. Functional Window Seat Ideas
A window seat doesn't just have to be a spot within your living room to sit at now and again. In rooms such as the kitchen for instance, why not design your eating area around the window by positioning your breakfast/dining table here, with a bench set within the recess or against the window to sit at, allowing you to take in the outdoor views while enjoying a meal?
Providing a functional purpose, the window seat in this project doubles up as seating around the dining table in the kitchen.
(MORE: Kitchen Design)
7. Make the Most of Small Window Seats
It's important that the window is large enough for you (and your partner/dog/cat) to sit in comfortably. Make sure the cill at least 500mm in depth and no more than 700mm off the ground — any higher and it may become difficult to get out of!
8. Building a Seat Beside a Small Window
Although small, this cosy reading nook features a nature-filled view out to the garden while the padded cushion and small bookshelf make the spot incredibly inviting.
9. Choosing Materials for a Window Seat
From a functional design point of view, selecting the window cill material is key. A nice oak or timber surround (like the example above) looks great and creates the effect of a picture frame.
Many integrate a cushioned seat into the cill, which can be as simple as a piece of foam wrapped in a material.
10. Designing a Window Seat from the Outside
There are two main methods of designing a window seat in terms of the exterior of a building. The first is to have it flush on the outside and built into the room (this is the most cost-effective approach, shown above).
The second is to have an extruded box bolted on to the facade. This can be built using either structural timber frame, with floor joists to create the extender cill seat, or in steel frame (steel is better for larger frames).
11. Add a Window Seat in the Kitchen
Create relaxed seating in the kitchen with a window seat. Perfect for lazy Sunday breakfasts with a view, this kitchen's larder units have slide-away doors hiding the toaster, bread bin and everything needed within two steps of the window area.
It's worth noting in instances where you have large glazed sections such as this that if your window seat is orientated south, then consider solar control glass which has a low G-factor to reflect heat away from the glazing. Likewise, incorporating a roof overhang into the building design can help to prevent overheating in the summer months.
12. Adding Window Seat Ideas to an Existing House
Try to pick a location where there is already a window, as this may reduce the cost of structural works. However, if there isn't a suitable option, new openings require a new lintel (specified by a structural engineer).
13. Incorporate Bay Window Seat Ideas
Ideal for a nap in the sun, this oak frame bay adds extra charm to this living room while cosy cushions finish the look.
14. Cosy Window Seat Ideas Bedrooms
Framed in timber, this loft conversion's bedroom window seat is such an eye-catching addition it makes the space feel much larger while providing a spot to relax in away from it all.
Assistant Editor Amy began working for Homebuilding & Renovating in 2018. She has an interest in sustainable building methods and always has her eye on the latest design ideas. Amy has interviewed countless self builders, renovators and extenders about their experiences for Homebuilding & Renovating magazine. She is currently renovating a mid-century home, together with her partner, on a DIY basis, and has recently fitted her own kitchen.
Homebuilding & Renovating Newsletter
Get the latest news, reviews and product advice straight to your inbox.
Thank you for signing up to Homebuilding. You will receive a verification email shortly.
There was a problem. Please refresh the page and try again.