8 Clever Lighting Design Ideas
By Claire Lloyd published
Claire Lloyd lists the top 10 lighting tips to help create the ultimate architectural moodboard for your new self build or home improvement project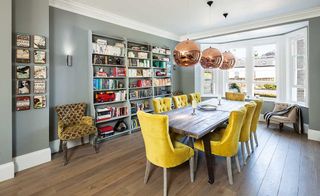 (Image credit: c/o Tom Dixon)
Whether you are renovating your existing home or building a new one from scratch, you need to consider your lighting design from the outset. Here are ten great lighting design ideas to help your home to look its best and work for your lifestyle.
1. New Looks for Bedtime Reading
Ordinarily, a couple of lamps placed on bedside cabinets are the default option when it comes to bedrooms. Planning your lighting scheme from the outset of a self build or renovation project provides the ideal opportunity to do something a little different.
Framing your bed with LED lighting and hanging stylish pendants either side of the bed are both interesting ideas (it goes to show that planning where your furniture is likely to be placed before starting first fix is important). In this scheme by John Cullen, low glare LED Polespring downlights light up the headboard, pin spot the end of the bed and wash light down the front of the cupboards to create a cosy bedroom.
2. Backlit Splashbacks
The eye-catching splashback is a real talking point in this Second Nature in-frame slab and Shaker kitchen; the Meditteraneo quartz splashback is backlit with LEDs to stunning yet subtle effect.
3. Shedding Light on High Ceilings
Spaces with high and/or vaulted ceilings can be difficult to light. Often pendant lights fail to direct light upwards towards the ceiling. Uplights are a good solution, as this example in a converted mill goes to show — warm LED strip lighting casts a soft glow and makes a feature of the space above.
4. Layering Light
A good lighting scheme will include layers of light: task, accent (used to highlight features) and ambient (general) lighting. Nowhere is this perhaps more important than in the kitchen diner — as this scheme by John Cullen goes to show.
Here, at low level, Cazalla floor washers light the floor, Minos Spotlights on the beams provide task lighting to the kitchen island and a Contour HD24 LED strip provides uplight above the kitchen units to emphasise the ceiling.
5. Integrated Lighting
Integrated lighting has been big news in the kitchen for some time, but the latest generation of bathroom cabinets have also followed suit. This Duravit New Vero illuminated vanity unit and mirror, for instance, lends a soft glow for an ambient dip.
6. Illuminated Treads
Staircases and the surrounding circulation space can be difficult to light. Spotlights, positioned above each tread, can be a good option, particularly for nocturnal visits to the kitchen. Another option is to illuminate the treads themselves — it's one way to make a statement of your new staircase (this one is by Bisca).
7. A Solution for Day and Night
Large roof lanterns or rooflights are a great addition above dining tables — bringing natural light flooding in (great for working from home or weekend lunches); the arrangement also brings a pleasing symmetry. But how do you introduce light when the sun goes down?
This scheme by John Cullen proves that pendants aren't the only lighting solution for dining spaces; the John Cullen Lighting Wall lights provide a soft glow and Mini Starlights light up the rooflight above.
8. Statement Lighting
In addition to playing a functional role in the home, a good lighting scheme should enhance the aesthetics. In some instances, lighting can be used to make a bold statement — a striking pendant hanging delicately above a staircase being one example. In this extension and renovation scheme to a period home, three Tom Dixon copper pendants help to make the dining area, set beneath high ceilings, feel more intimate and bring a contemporary touch to the interiors.
Claire is Editor of Homebuilding & Renovating and has been a member of the team for over 13 years. An experienced homes journalist, her work has also appeared in Real Homes and Period Living magazines. She has a particular interest in green homes, and interior design is also a passion; she has undertaken qualifications in this area. Claire has recently finished her renovation project — and is now onto the next.
Homebuilding & Renovating Newsletter
Get the latest news, reviews and product advice straight to your inbox.
Thank you for signing up to Homebuilding. You will receive a verification email shortly.
There was a problem. Please refresh the page and try again.