Building Contracts: Do you Need one for Your Build?
By Chris Reeves published
Good building contracts are designed to protect both you and your builder, and create a document to refer to for any disputes. Here's why they're essential to any build project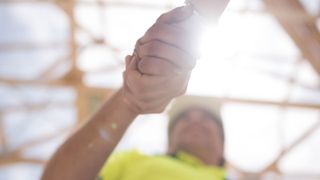 (Image credit: getty images)
Building contracts can take many forms, but it's a formal written contract that you'll need to set your project up for success.
Once you find a builder you trust and want to work with, it's not a legal requirement for a written contract to be created before they can start to work on your project — after all, you'll have technically entered into a contract by instructing them to start work, even if you've only communicated verbally.
However, if you've ever had problems with a builder, you'll know that really, a handshake is not enough. Formal, written building contracts might mean extra admin, but they serve both parties as a document to refer to if any disputes arise during the build, and ensure everyone knows what's expected during the project.
From the payment terms and how long the build will take, through to key but often overlooked considerations such as health and safety and insurance, a good building contract will make sure all parties are singing from the same hymn sheet.
Here, Homebuilding & Renovating's legal expert Chris Reeves outlines the importance of building contracts, how much they cost and what they should include.
Do I Have to Have a Building Contract?
While there isn't a legal requirement to have a written building contract in place, it's an essential part of any complex construction project. Forging ahead without a formal written contract (remember a contract doesn't have to be written to be binding) could land your build in hot water. They provide a coherent document for both parties to refer back to in regards to the project's specifics, and make sure that key elements don't fall between the cracks of clear communication.
Who has insurance in case of a site fire? When is payment expected? What happens if the project overruns? A building contract provides clear responsibility should any disputes between client and contractor occur.
The legal landscape has changed quite a bit in recent years, especially in consumer protection. There is now strict legislation requiring builders to set out information with their prices on all manner of things that are outside the scope of this article.
The upshot, however, is that there is more reason now for builders to have a written contract, some requiring a formal 'cancellation period' to be given, in the absence of which there can be dire consequences. Contracts that are geared towards a consumer project will have these protections in place.
A reluctance to sign a building contract is also a good sign that you may have a cowboy builder on your hands.
What is a Standard Building Contract?
A standard building contract is a contract produced by the building industry that can be used as a template to engage a single contractor. There are many forms of standard building contracts available. Examples are published by JCT (opens in new tab), RIBA (opens in new tab) and FMB (opens in new tab), to name a few.
How Much Does a Building Contract Cost?
The cost can be as little as £30. If you are embarking on a project where you would feel more comfortable with a more bespoke contract then a construction solicitor will be able to offer advice on what is suitable.
What Should a Building Contract Include?
A building contract should include information about the scope of the work, a defined start and finish date and a price for the work scheduled, however, this should be as detailed as possible to cover a number of scenarios.
Building projects are complex and have a habit of throwing up all sorts of issues to grapple with. The more detail we have on potential issues then the clearer the parties are with where they stand.
This includes:
A decent contract will record the price you are paying for the work. It is usually a fixed price for a defined amount of work, but not always. What's more, some contracts operate on a 'cost plus' arrangement under which the builder is reimbursed their costs, plus their charge for managing the work. It depends on what you agree, but the contract will record it.
Payment Schedule
The contract will also set out the rules on when and how to pay your builder. This may be in period or stage payments, typically monthly in arrears. So the builder may do a month's work, put in a bill and the contract provides for payment in 14 days. This might not always suit the type of project you are undertaking.
It might not reflect what the builder wants, but the contract can be amended to record what the parties agree.
Schedule of Works
It is essential to identify a detailed scope of work, often referred to as a 'specification' before the work starts and not as you go. Starting work without this in place is high risk and quite frankly asking for an argument.
The contract needs to be clear on what the builder has included in the price and this can often flush out how good the design and specification are. A good set of plans and a robust specification describing the work is essential and will be referred to as 'contract documents' in the contract itself.
We know that not all items are designed at the outset, in which case the price is likely to include 'provisional' or 'prime cost' sums. The kitchen or bathroom might be selected at a later stage, for instance, in which case a fixed allowance will be set out in the price. The final cost will then be accounted for once the kitchen or bathroom has been chosen. The contract is in place to explain this.
Valuation of Extra Work
A good contract will also set the rules on the valuation of extra work. Most standard forms of contract require extra work to be valued on a fair and reasonable basis and it is possible to be more sophisticated about how that is arrived at by reference to the existing price breakdown.
Delays
A well-written contract will also provide the customer with compensation from the builder once the 'date for completion' has passed, until the date the project is ready to hand over. This will reflect a good estimate of what the likely loss is to you for items such as extended rent and storage.
Contracts usually refer to compensation as 'liquidated damages', where the compensation given is an agreed amount, to be paid weekly or monthly, and recorded in the contract.
On the other side of the coin is justification for finishing a project after the intended completion date. This often occurs for good reason: for example, changes made by the customer that delay progress.
A good contract will identify the reasons a builder will be allowed to rely on for entitlement for more time to get across the finishing line. These are often referred to as 'relevant events'. If the builder can prove the change caused delay (not all changes do of course) then there will be an entitlement to put the completion date back by a number of days to reflect the reasonable period of delay caused by the change.
Some 'events' might give the builder entitlement to time-related compensation too, such as the additional cost of scaffolding if the project is delayed by changes the customer makes to the roof. Issues that cause delay to the builder that are within the control of the customer will usually be treated by the contract in a different way to delay caused by factors that are not really in the control of either party, like exceptionally adverse weather conditions.
If the latter is included in the list of relevant events then this is usually a risk shared by the parties, so will give the builder more time, but not money related to the delay.
The contract should require the builder to promptly notify the customer once it is known that a delay is likely to occur. A contract can be drafted to provide that if reasonable notice is not given then the builder will lose any entitlement to more time or more money — or both.
Can a Builder Raise Their Price After Signing a Contract?
Once again, a well written contract will outline when price increases are applicable. Largely, unless the scope of the work changes, the price of the job should remain fixed.
If the foundations need to be deeper due to unforeseen ground conditions then the contract can deal with who carries the risk for this — the contract might state that this falls to the builder (in which case they will have no doubt your builder's quote will have been priced accordingly) or the self builder.
Either way, this is an example of why you need a contract in writing — to provide certainty and to set out how any consequences are dealt with.
With material price increases and labour shortages causing issues, especially for small builders where these increases will be felt more acutely, you may find clauses in your contract that quoted material costs will increase if the cost of the materials inflates past a certain level.
If you push for your builder to provide a fixed price without this flexibility, the likelihood is that they're quote will be higher, building in a contingency fund within the fixed price.
Dispute Resolution in Building Contracts
A good contract will incorporate any preferred dispute resolution procedures and can go so far as to name a preferred professional body or individual to turn to should a dispute need to be resolved.
Many of the standard forms will include alternative forms of dispute resolution such as mediation and adjudication. It is worth looking into these further to make sure you know what you are potentially signing.
Adjudication is a speedy process that can catch the customer out. Following a notice that the dispute will be resolved by adjudication, an adjudicator is appointed who is required to reach what is likely to be a binding decision in no more than 28 days.
Dispute resolution clauses need to be carefully thought through, and the parties may name an individual they feel would be well suited to resolve any issues in the contract.
Chris is dual qualified as a chartered builder and solicitor, having enjoyed an earlier career in the construction industry (as a carpenter and then site management) prior to qualification in 2001. He is a founder of Reeves James and Mediation for Construction and Insurance, and specialises in dispute resolution, with particular expertise in supporting individuals on self build and renovation projects. Chris has a wealth of experience in supporting projects with resolution of issues around valuation of work done and defects in building work.
Chris is a Fellow of the Chartered Institute of Building, a Fellow of the Chartered Institute of Arbitrators and adjudicator panel member of the RIBA and RICS, as well as a member of the Technology and Construction Solicitors' Association.
Homebuilding & Renovating Newsletter
Get the latest news, reviews and product advice straight to your inbox.
Thank you for signing up to Homebuilding. You will receive a verification email shortly.
There was a problem. Please refresh the page and try again.