Builders' Quotes: 7 Reasons Yours are Higher Than Expected
By Bob Branscombe published
Gone out to tender and the builders' quotes you've received back are way over what you've budgeted? Our expert explains why and what your next steps should be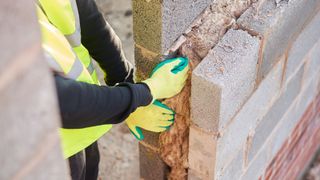 (Image credit: getty images)
Despite the best made plans, builders' quotes can throw a spanner in the works of any self build, extension or renovation project.
After you've worked hard to produce designs, drawings and a carefully calculated cost plan for a project, you'll of course be eager to find a builder to carry out your build. So, what do you do when you put the work out to tender and find that the quotes you receive back are much more than you expected?
It's natural to be disappointed or upset, and it can be a real stumbling block in your project. However, once you get to know some of the common reasons builders' quotes come in much higher than anticipated, especially when they've been carefully considered with expert help, you can look to address them and move forward with your plans.
Here, Bob Branscombe, one of the UK's leading chartered surveyors, offers his insight into why your quotes have come in so high, and the potential work-arounds you need to consider.
1. The Tender Information is Flaky or Ambiguous
When you go out to tender, chances are that you are intimately familiar with what you expect from your finished job. You might need to pick a colour or two, but generally you will understand exactly what you want.
It stands to reason then that your builder will also need to know this. However, if the information you provide (the 'inputs') is flaky, ambiguous or contradictory, then your builder is left with three choices when pricing the work:
Price the cheapest option and look for extras and changes later
Raise numerous queries and questions throughout the tender process
Price based on their assumptions and allowances to make sure they have an easy run of the works.
The latter, I would suggest, is as prevalent as the other two approaches combined: the builder looks at the work, makes allowances which may be in excess of requirements or over-specced, and the price is correspondingly higher.
In times when building work is in abundant supply, builders want jobs which they anticipate will run smoothly, not those that will be fraught with problems. Better then for the builders' quote to price the work high and minimise trouble along the line; that is a builder's general approach in times of booming workloads.
2. You've Included Unnecessary or Over-complex Information
This is a tricky one. I preach time and time again that the inputs affect the contract, so it could be inferred that the more information the better. In the main, this is not a bad thing, but I would suggest that appropriate information is the overarching requirement.
Repetitive or overly complicated sets of documents can often cause tendering builders to assume a level of complexity that is not necessarily there. The prices tend to creep up as a consequence; the builder does not wish to have missed something or be caught out.
When it comes to a self build project, providing engineering, landscaping, geotechnical and construction drawings is a good plan generally, if you have them. However, if all you want is the superstructure quote from the builder to get you to shell stage, sending them the internal fit-out details runs the risk of over considering the works and pricing potentially more work than expected.
The secret is to go out to tender with the correct, coordinated and relevant information to fully understand and price the works required — no more, no less.
3. You've Included Inadequate Information
This is the counterpoint to point two. Remember that you are asking your builder to price and build the works as per your requirements. If the drawings in your tender documents only show four walls and a roof, with no constructional information, you run the risk of them over-specifying or assuming details that may or may not be there.
If the builder is conscientious, and you are expecting a fixed-price 'turnkey' quotation, then they will have to make a great number of assumptions when pricing the work. The less information there is on the drawings and specification, the more they have to guess what you really want. While some items will be forgotten, it is more likely that they will overprice the work to make sure they have covered everything.
In some cases, the work may end up in dispute. Where the information is inadequate, it is very challenging to forensically dissect the works to understand what was expected and what was included in the tenders and contracts.
In buoyant times, no builder wants the headache and hassle of disputes, so they tend to overprice.
4. You've Left Room for Assumption
Your tendering process should, above all, seek to eliminate any scope for assumption. As soon as you say the words 'I thought that', the opposing party in the building contract can counter with 'well, I thought differently' — neither party is wrong, both are simply victims of reliance on assumption.
Assumption only breeds confusion and/or misinterpretation, and in most cases, when pricing the work, the builder will by nature assume the worst-case scenario if they cannot understand from the documents what is required. The result? More contingency money is built into their price — and you receive a price which is higher than it needs to be.
5. Your Designer has Taken Their eye off the Budget
Your design team are rightly concerned with coming up with a design which meets your dreams and expectations, fits within the plot and planning permission regime, and is buildable. Often (in fact more often than not, in my experience) they take their eye off the budget.
When you commission a home, you tend to focus on the maximum budget, but then all parties might forget this as the excitement and challenges of the design process commence. Every decision or change to the design affects budget in some way, and the design team should advise you on this.
When you find an architect or designer, make sure that budget considerations are part of the scope of service. They should advise you from the outset whether your plans are realistically achievable within your available funds and keep a watching brief on this prior to receipt of tenders.
If they aren't good at working to a budget the first indication of challenges is when the tenders are opened and the prices are too high. At this point, despite the potential of value engineering, it is often impossible to revisit and fundamentally change the design without wasting time and effort already expended (and paid for).
Keep an eye on budget every single time you think about your project. Tracking the costs as the design evolves is the best way to ensure you fully understand the scope and design of the building.
6. Your Builder is Super Busy
Good builders are busy builders and will consider their commitments and work over the next few months, and their pricing levels will creep up accordingly. Beware if a builder can start work immediately — you may have a cowboy builder on your hands.
If builders have to find a way of fitting more work in, they will need to find more resources, stretch themselves in terms of management and cash flow, and as such, they will price to try to cover this. Market forces dictate that if a builder does not need the work, why should they offer a cut-price bargain to you?
It is also worth considering the builder's approach and view of your project. If they have several schemes to choose from when pricing, they will view them not just in terms of potential earnings and turnover, but also in terms of the likely smoothness and ease of execution.
A new build on a clear site, with ample on-street parking, easy access for cranes and heavy equipment and a payment regime clearly set out and defined will be far more attractive than a remodelling job in an inner city area with parking permits and road closure challenges.
Even assuming identical costs, the more challenging project will be less attractive and the builder will therefore price it higher to accommodate the idiosyncrasies attached to the job. Consider if you can ease these pressures and make your scheme attractive to the supply chain.
Equally, a restrictive and overly 'client-focussed' regime of management and administration can put off builders. I am not advocating relaxing correct contract administration processes, but in my view, in a busy market, the builder will price 'the buggeration factor' into a job.
7. Your Budget Was Too Low
The main reason that the price is higher than expected when you receive the tenders could be simply that your budget was too low. The trick here is to try to understand why.
The science behind the price is the key to successful pricing and budgeting — the factors listed in this article are all influences over and above the practical elements, such as the number of bricks, hours worked, cost of windows, etc. You and your design team can cover these off reasonably accurately, but the aspects that get forgotten or ignored are the factors I have briefly touched on above: those intangibles that make our job more expensive than others, or more expensive than we had expected.
Your budget is a 'live' and evolving aspect of the scheme. When you start out, the first bit of science you can bring to the scheme is the gross amount of money you can get hold of. This is the first 'control factor' and should be sacrosanct. If the design team then ignores this, you don't track it, the design changes and evolves, and the level of fit-out gets higher, then obviously the budget is now inadequate.
However, because we set the budget in stone at the outset, we tend to assume that the builder has overpriced the job, not that our budget is perhaps no longer contemporary to the project. The lesson here is to keep ownership of the budget, have it at the top of the agenda when every design and construction detail is discussed or tweaked, and get the design team to buy in to this number.
As a footnote, consider the time factor: you probably set your budget prior to even getting planning permission, several months will have passed, and inflation becomes a real presence in the pricing levels your builder is experiencing.
Bob is one of the UK's leading Chartered Surveyors and with over 30-years' experience in both self build and construction. A career spent with several main contractors and major surveying consultancies has helped reinforce his approach that cost-estimating and control are a fundamental tenet of self-building.
Homebuilding & Renovating Newsletter
Get the latest news, reviews and product advice straight to your inbox.
Thank you for signing up to Homebuilding. You will receive a verification email shortly.
There was a problem. Please refresh the page and try again.