Does a Utility Room Add Value — And Do You Have Space?
Does a utility room add value? We take a look at how this handy room could bolster your home's worth and how much it might cost you to incorporate one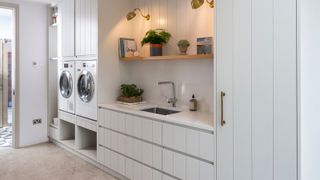 (Image credit: Armac Martin)
Does a utility room add value? It is a question often asked by those dreaming of a dedicated space in which to carry out all the dirty work that goes hand-in-hand with day-to-day living.
Whatever your utility room ideas may be, from carrying out laundry and drying clothes, to an area for hosing down mucky paws and providing extra space for outdoor wear such as rain-sodden coats and boots, this is definitely a useful room to have. They can also be used as spaces for additional kitchen storage units and even as somewhere for that much-needed extra fridge or freezer.
However, useful as they are, it can be hard to find space for a utility room leaving many people wondering if going to lengths to incorporate one into their floorplan will be worth it in terms of adding value to their home.
Here, we take a look at how much space is needed for a utility room, how much it might cost to include one in your layout and, of course, how much it could boost the value of your home by.
Does a Utility Room Add Value to a House?
Apart from all the practical benefits utility rooms can offer a household, the inclusion of one can also see a house rise in value — but by how much?
Of course it is impossible to put an exact figure on this as it will very much depend on the location of the house, its size, ceiling prices in the area and the specification to which the utility room is carried out.
Certain types of houses will definitely benefit more from a utility room than others — family homes are almost expected to include one these days, whereas a one-bedroom flat in a city centre might have less of a need for one and therefore not see such a great rise in value by including one.
It is also important to bear in mind that in houses with open plan kitchen diners, a utility room is something of a must in order to shut off noisy appliances.
According to a new survey, commissioned by UK Radiators, which questioned 1,000 British people to find out what their dream home would look like, a utility/laundry room featured in the top three most sought after interior features (along with a walk-in wardrobe and kitchen island.)
In general, experts tend to advise that you could expect a 5% uplift in value through the addition of a new utility room.
How Much Space Does a Utility Room Require?
Do you actually have the space to add a new utility room? Ideally, you want to ensure your new room is at least 4.5m². This would allow you to include a washing machine and tumble dryer, with some space above. However, if you have your heart set on a space that allows the inclusion of a sink and useful storage, you should aim for something closer to 15m².
How Much Does a Utility Room Cost?
This very much depends on how you plan to create your utility room.
If you are going to have to build an extension to house your utility room, you will be looking at higher costs than if you plan on making space within your existing layout for one.
If you will need to add extra space to your home you may well be asking 'how much does an extension cost?' With the majority of extension projects coming in at £1,350-£2,250/m², you could expect a minimum-sized utility room extension to cost between £6,075 and £10,125.
If, on the other hand, you are planning on building a new partition wall to section some space off your kitchen in order to house your utility room, your costs will be less. Stud walls can usually be constructed for between £400-£600; less if you do the job yourself.
Of course, both of these cost examples are for the creation of the space only and will not include the price of new electrics, plumbing, units, sink, appliances or any utility room flooring ideas.
Get the Homebuilding & Renovating Newsletter
Bring your dream home to life with expert advice, how-to guides and design inspiration, direct to your inbox.
Natasha is Homebuilding & Renovating's Associate Content Editor and has been a member of the team for over two decades. An experienced journalist and renovation expert, she has written for a number of homes titles. Over the years Natasha has renovated and carried out a side extension to a Victorian terrace. She is currently living in the rural Edwardian cottage she renovated and extended on a largely DIY basis, living on site for the duration of the project. She is now looking for her next project — something which is proving far harder than she thought it would be.