Small Utility Room Ideas: How to Use Every Inch of Space Effectively
By Hugh Metcalf published
These small utility room ideas go to show that size of your laundry space isn't as important as how you use it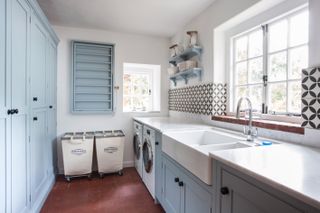 (Image credit: Burlanes)
Small utility room ideas are necessary for a lot of homes as this room usually has one of the most compact floor areas of the entire house. Thankfully, there's plenty of inspiration out there to use every inch of a miniature utility room to its best, providing handy storage and practical ways to make doing your laundry easier.
Check out our pick of the best ideas for small utility rooms.
1. Save Space With a Pocket Door in a Small Utility Room
One of the best small utility room ideas you can use if space is really in short supply is building a pocket door into your design. Pocket doors recess into the wall, instead of swinging open, freeing up floor space that would otherwise be unusable when the door to your utility room needs to be opened and closed. A pocket door means you can be more flexible with your layout, while still hiding away your utility room when needed, out of sight from the kitchen and out of mind.
2. Stack Utility Room Appliances to Make Use of Vertical Space
Where you're short on floor space, stacking appliances makes the use of the room's height and allows for useful floor level storage to be included in your utility room design instead. Remember — the dryer always needs to be on top of the washing machine, as the washing machine is a much heavier appliance.
3. Include Storage Seating for a Utility Room Meet Boot Room
You might think of a boot room as the territory of huge, sprawling country houses only, but this small utility room/boot room idea goes to show you can make use of all the benefits of a boot room in a compact space if you're clever with the design.
This micro 'bootility' room from Tom Howley works super hard, with space for a double-stacked washer and dryer, a dog bed and shoe storage, while offering a spot of seating to take on and off shoes that also doubles up as extra storage.
4. Use a Fold Down Drying Rack for Small Utility Rooms
A drying rack is a useful bit of kit to include in your utility room, but in smaller schemes, those freestanding racks can be hard to store and take up valuable floor space. Integrating a fixed hanging rack into your scheme is a great idea for making the most of your space.
Try a rack that hangs from the ceiling if you have high ceilings, as this can be lifted out of the way when your washing is hung on it, or try a wall mounted design as in this utility room by Burlanes, which still allows the clothes hampers to be stored underneath when in use.
(MORE: Built-in Storage Ideas)
5. Mirror Splashbacks can Help a Small Utility Room Feel Bigger
Want to make a small utility room look bigger? Then why not opt for a mirrored splashback. Not only does this give the illusion of more space, it'll help bounce light around the room, ensuring your space feels bright.
(MORE: Kitchen Splashback Ideas)
6. Rounded Worktops are a Great Idea for a Small Utility Room
This smart trick is a small kitchen idea that also extends to utility rooms, based on the psychology of our minds. Our brains are hardwired to avoid sharp objects, which includes angular worktop corners. In a large space this is no problem, but in a small utility room, it can make the space feel awkward to traverse.
Using a rounded worktop surface and even cabinetry won't eat up more than a few cm worth of useful space, but will make the whole room feel easier to use.
(MORE: Kitchen Worktop Ideas)
7. Choose a Light and Airy Scheme for a Small Utility Room
A white colour scheme is a great choice for a small utility room, helping the light bounce around the space, ensuring it's as bright as possible. After all, this is a practical space which will require sufficient lights for the tasks you need to carry out in your utility room.
Where there's a lack of natural light from a window, ensure you employ some of these clever kitchen lighting ideas using artificial light to make sure your room is functional to use.
Hugh is Digital Editor of homebuilding.co.uk and has worked on a range of home, design and property magazines, including Grand Designs, Essential Kitchens, Bathrooms, Bedrooms and Good Homes. Hugh has developed a passion for modern architecture and green homes, and moonlights as an interior designer, having designed and managed projects ranging from single rooms to whole house renovations and large extensions. He's currently renovating a Victorian terrace in Essex, DIYing as much of the work as possible. His current project is a kitchen renovation which involves knocking through walls and landscaping a courtyard garden.
Homebuilding & Renovating Newsletter
Get the latest news, reviews and product advice straight to your inbox.
Thank you for signing up to Homebuilding. You will receive a verification email shortly.
There was a problem. Please refresh the page and try again.