Small Utility Room Ideas: How to Use Every Inch of Space
By Hugh Metcalf published
These small utility room ideas go to show that size of your support space isn't as important as how you use it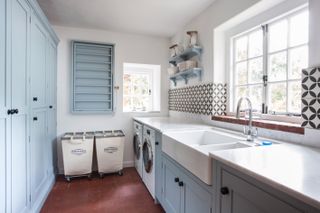 (Image credit: Burlanes)
Small utility room ideas are necessary for a lot of homes as this room usually has one of the most compact floor areas of the entire house, but often serves to fulfil multiple functions.
Thankfully, there's plenty of inspiration out there to use every inch of a miniature utility room to its best, providing handy storage and practical ways to make everyday life easier.
Check out our favourite utility room ideas and solutions below for inspiration for your own support space.
Small Utility Room Ideas: Where to Start
"There are so many places where you can site a utility room — it might form part of a garage conversion, be created by partitioning an area off within an existing kitchen, adapting a downstairs WC, or remodelling the interior, for instance," explains homes journalist Rebecca Foster.
"Bear in mind that you'll no doubt need a water supply, drainage and ventilation, either by extraction or a window, so all of these will need to be considered at the 'where to create it' stage."
If you're struggling to visualise where best to position your small utility room, bring in a profession to design the space instead. "Many people don't have the room to spare and they set us the design challenge of carving our a utility zone, perhaps still in the main living area but sited behind folding doors,: says Richard Moore, director at Martin Moore (opens in new tab). "If you're working with a small space, this is where bespoke furniture makers can really show their resourcefulness, as designing to order can optimise every inch of space."
"The utility room is the most functional space in the home, so it needs to be versatile," advises Stacey Cobley, sales designer at Harvey Jones (opens in new tab). "Starting with the basics, make provisions for washing and drying appliances and a large, hardy sink. Consider some tall cabinetry to accommodate your ironing board, mops and brushes. Overflow refrigeration space is also something worth factoring in."
1. Include Storage Seating for a Utility Room Meet Boot Room
You might think of a boot room as the territory of huge, sprawling country houses only, but boot room ideas can be applied to any size of space, if you're clever with the design.
Consider 'hidden' storage in the form of a box seat with a lift-up lid, or even in drawers for shoes, hats and gloves, as in the example above.
The micro 'bootility' room from Tom Howley (opens in new tab) works super hard, with space for a double-stacked washer and dryer, a dog bed and shoe storage, while offering a spot of seating to take on and off shoes that also doubles up as extra storage.
2. Use Utility Storage Wisely in a Laundry Utility Room
When debating between a utility room vs laundry room, the decision will probably come down to the space available — laundry rooms require much less as they serve just the one function.
Create a pseudo production line in compact utility spaces to simplify storage and make a clear line of travel from the door. A single run of units along one wall, as above, makes the most of long or narrow spaces, while making it easy to transfer washing from one appliance to the next.
This stunning small utility features a laundry shoot from the first floor straight into a base cupboard, making it easy for the user to simply transfer across to the washing machine and tumble dryer after that.
3. Save Space With a Pocket Door in a Small Utility Room
One of the best ideas for small utility rooms you can use if space is really in short supply is building a pocket door into your design.
Pocket doors recess into the wall, instead of swinging open, freeing up floor space that would otherwise be unusable when the door to your utility room needs to be opened and closed.
A pocket door means you can be more flexible with your layout, while still hiding away your utility room when needed, out of sight from the kitchen and out of mind.
4. Stack Utility Room Appliances to Make Use of Vertical Space
If you're asking yourself 'Does a utility room add value?', the answer is yet — even when they're small or narrow. Being smart about all elements you will install (including appliances) will make the most of any space so the inherent value of adding a support space won't be impacted.
Where you're short on floor space, stacking appliances makes the use of the room's height and allows for useful floor level storage to be included in your utility room design instead. Remember — the dryer always needs to be on top of the washing machine, as the washing machine is a much heavier appliance.
Alternatively, consider purchasing a combined washer-dryer if your utility is really compact.
5. Use a Fold Down Drying Rack for Small Utility Rooms
A drying rack is a useful bit of kit to include in your utility room, but in smaller schemes, those freestanding racks can be hard to store and take up valuable floor space. Integrating a fixed hanging rack into your scheme is a great idea for making the most of your space.
Try a rack that hangs from the ceiling if you have high ceilings, as this can be lifted out of the way when your washing is hung on it, or try a wall mounted design as in this utility room by Burlanes (opens in new tab), which still allows the clothes hampers to be stored underneath when in use.
Remember, even if you're wondering 'Does a utility room need an extractor fan?', some sort of ventilation is essential when drying clothes to prevent damp.
6. Add a Small Utility Space in a Downstairs Bathroom
If you don't have space to carve out room for a utility in a main living area of by the kitchen, look towards an existing downstairs bathroom for a compact option.
"Repurposing a WC provides a logical way of incorporating a utility room into your floorplan while making use of existing plumbing connections," says Rebecca Foster.
This small utility-cum-toilet is positioned just besides the back door, leading off from the boot room/hallway. The entire space is a masterclass in making the most from a small area. Ingeniously, the hallway and utility room flooring ideas have been blended, while the tongue and groove panelling on the walls has been continued on the door, so when it is closed the utility 'disappears'.
7. Keep a Small Utility Room Feeling Light
Using kitchen design inspiration to inform what materials to include in a utility room is always a smart plan, but pay attention especially to light colour schemes for spatially-challenged rooms.
A white colour scheme is a great choice for a small utility room, helping the light bounce around the space, ensuring it's as bright as possible. After all, this is a practical space which will require sufficient lights for the tasks you need to carry out in your utility room.
Uplifting and cleanly, pale creams and off whites also inspire a tidy and neat utility room, where darker colours, although bold and effective, can make a space feel closed-in and dim.
That's not to mean that using tones of one colour has to be boring. This stylish utility uses parchment-tones for the wall units (allowing the white good appliances to blend in) with ultra-shiny tiles as an easy-to-clean splashback. This, paired with the lovely wooden floor – to add some warmth to the room – results in a functional and useful space.
8. Go for Freestanding Utility Inside a Living Space
No room for a built-in utility separate to the kitchen and living areas? Create a freestanding utility cupboard with all of your cleaning items storage away neatly.
This unit includes space for an ironing board and vacuum, but larger design can also store washing machines and other large appliances which can then be closed away behind the doors.
9. Create a U-shaped Utility with a Large Door Opening
For long and narrow utility area that can feel cramped and as if there is no room for storage, consider opening up one wall using double or sliding doors. A u-shaped design can then be create on the side and opposite walls with room to manoeuvre.
This is especially helpful if your utility room will double as a pantry to outsource tinned goods or small appliances, or if it will be used to house a larger fridge-freezer away from the main kitchen. The doors can be pulled back when in use so a access from the kitchen is clear, while the door can be quickly close, hiding away the more practical aspects of a home.
For great inspiration on how to set out your space, check out our guide to U-shaped kitchen ideas.
10. Mirror Splashbacks can Help a Small Utility Room Feel Bigger
Want to make a small utility room look bigger? Then why not opt for a mirrored splashback. Not only does this give the illusion of more space, it'll help bounce light around the room, ensuring your space feels bright.
A similar illusion can be created using other kitchen splashlack ideas such as high-gloss tiles which will reflect the light.
11. Rounded Worktops are a Great Idea for a Small Utility Room
This smart trick is a small kitchen idea that also extends to utility rooms, based on the psychology of our minds. Our brains are hardwired to avoid sharp objects, which includes angular worktop corners. In a large space this is no problem, but in a small utility room, it can make the space feel awkward to traverse.
Using a rounded worktop surface and even cabinetry won't eat up more than a few cm worth of useful space, but will make the whole room feel easier to use.
What is the Smallest Size for as Utility Room?
"As a minimum, an area of around 1.5m2 is ideal," advises Rebecca Foster. "A basic utility room should provide enough space to accommodate essential laundry appliances like your washing machine and tumble dryer. However, if finding that much room is an issue, that doesn't mean you have to give up on your utility room goals."
"I have designed working utility spaces from as little as 0.36m2 by maximising ceiling height — compact yet practical." says Rhian Williams, senior kitchen designer at Harvey Jones.
How Do I Organise a Small Utility Room?
To properly organise a small utility room, carefully consider what you need to space to function as. If you desperately need a laundry room, prioritise open base units to fit in white appliances.
If your utility will function more as a pantry/scullery, lots of shelving will be most useful, but be sure to separate any food goods from cleaning products (Note: for those with young children, a lock on these doors is an essential feature).
Hugh is Digital Editor of homebuilding.co.uk and has worked on a range of home, design and property magazines, including Grand Designs, Essential Kitchens, Bathrooms, Bedrooms and Good Homes. Hugh has developed a passion for modern architecture and green homes, and moonlights as an interior designer, having designed and managed projects ranging from single rooms to whole house renovations and large extensions. He's currently renovating a Victorian terrace in Essex, DIYing as much of the work as possible. His current project is a kitchen renovation which involves knocking through walls and landscaping a courtyard garden.
Homebuilding & Renovating Newsletter
Get the latest news, reviews and product advice straight to your inbox.
Thank you for signing up to Homebuilding. You will receive a verification email shortly.
There was a problem. Please refresh the page and try again.