Utility Room Storage Ideas for an Organised Support Space
By Amy Reeves published
Make any sized space organised with these utility room storage ideas, with expert advice on the best ways to stay neat and tidy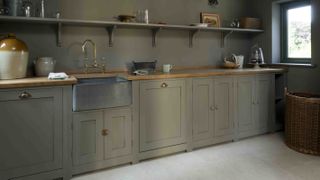 (Image credit: Jeremy Phillips)
Installing a range of utility room storage ideas will equip this ever-popular support space with enough functionality for day-to-day use for a multitude of purposes.
Utility room ideas are best customised to each space so a bespoke room is created, even with off-the-shelf units or a DIY design. Establish what the space will be used for (laundry, appliances, boot room etc.) and let that inform your storage decisions. Then, work from the layout, to the larger cupboards, to the small details that will make the space shine.
Take a look below at our suggestions for utility room storage so you can work out what will work best for your space and purposes.
How To Organise Utility Room Storage Ideas
"Utility rooms are an asset to the home," explains Graeme Smith, head of retail and commercial designs at Life Kitchens (opens in new tab). "Extra space is never to be sniffed at but when it can be converted into extra function that's when it becomes invaluable. By utilising smaller spaces, you can incorporate utility rooms that frees up valuable storage space in your main kitchen."
"Generally when designing a utility room we look to house the items that you'd rather not see in the rest of the house!" adds Richard Atkins, director at DesignSpace London (opens in new tab).
Small utility room ideas work much the same as larger ones, but you may need to be savvier with what roles it performs. While larger spaces can include a back door and space to put on shoes and coats, smaller utilities might work best just outsourcing large appliances from the kitchen (like the washing machine) and having a place to store smaller appliances such as food mixers.
For the essential elements of any utility Richard Moore, design director Martin Moore (opens in new tab) advises: "The utility should ideally have a separate washer and dryer, if possible; a tall cupboard with an internal divide for the ironing board to stop it falling over each time you open the door; and shelves for cleaning products. A sink is handy for soaking and hand washing."
1. Plan Storage Around Specific Uses
To create a plan for a utility room's storage, first make a list of the functions you want it to fulfil. While most utilities won't have space to include all ideas, this is a good place to start before narrowing down on what would be most helpful day-to-day.
For instance, this utility doesn't just act as a space for cleaning products to hide, but also features boot room ideas so the kitchen or other interior spaces don't get messy. "In very large homes, utility rooms are increasingly being used as boot rooms too, with a door to the outside. This prevents dirty shoes being walked through the house. In these rooms it's a good idea to include seating areas where possible to allow shoes to be put on and off in comfort," says Richard Atkins.
The key to the storage design here is the corner box seat for users to put on shoes; it also features a lift lid so clutter can be safely stored. Combining uses like this will help you get the most from utility storage.
2. Use a Range of Cabinets Styles
Utility rooms work best when a range of storage options are included to support different uses — frame base and wall units, to hanging rails and shoe storage.
"When planning storage in a utility room consider including as much clever storage as possible," explains Richard Atkins. "Le Mans units [corner cupboards with extending/rotating shelves] easily store away mixers, blenders, and other awkward shaped gadgets, alongside irons and washing provisions. A tandem larder or pull-out larder is a must for an overflow of dry food items as they bring the contents of the cupboard out to you, allowing you to see what you have inside and be able to easily reach items quickly."
"A combination of deep and shallow drawers and open shelving is usually the best way maximise the space available," agrees Richard Moore. "Plinth drawers, double-layered drawers, corner solutions and other, modern space saving mechanisms, are all possibilities worth exploring and exploiting."
3. Follow the Kitchen Design's Lead for Utility Storage Materials
If you're installing a brand new utility, match the units to the main kitchen storage ideas and design for a seamless appearance.
"If the utility room is visible from the main kitchen then continuing the finishes and style throughout can create a harmonious look and make the room feel larger," explains Richard Atkins.
"Opting for the same colour throughout helps to visually tie the look together. You can however go for materials that are more cost effective and practical, for example, less expensive cabinetry and flooring, which can be more appropriate for a multi-use room like a utility room.
"You can also continue with key elements such as the same handles and worksurface materials to keep in with the general style of the kitchen. As your utility room is a busy space, often storing large items such as the washing machine, tumble dryer, ironing board as well as hanging coats, boots and pet baskets, each element of the room should be chosen with practicality in mind."
Alternatively, give this support space it's own identity by choosing a contrasting, but interesting colour (like this pink utility). The utility room flooring ideas and worktop can be the same as the kitchen, but perhaps put a new spin on timber storage units that can be repainted whenever you feel!
4. Create a Functional Laundry Room
Weighing up the benefits between utility room vs laundry rooms? Combine the two by outsourcing washing machines and dryers into utility space.
For spaces such as these, the storage requirements might be slightly different from a utility room or boot room. You might want to include a handing rail or steamer, or simply a clothes horse and space to hide away baskets.
"Pull out storage bins for recycling and laundry organisation are popular requests and I think it is important to consider an open area to accommodate a retractable drying rail for clothing items too delicate to tumble dry," suggests Richard Moore.
5. Use Pull-out Containers for Easy Storage
No matter if your storage is open or has a door, using smaller containers to group together items and keep them neat and tidy in cupboards is always a smart idea.
Having a variety of sizes for different uses is key — think taller for bottles of cleaning products, mid-size for cloths and towels, and small for tools and handy items.
6. Declutter with Closed-off Freestanding Storage
If you don't have enough space to dedicate en entire room for a full utility, there are loads of freestanding units in a variety of styles that can hide away essential items in other living spaces.
All-in-one units like this are ideal for hiding away white goods and larger items like ironing boards. Plus, units with pocket doors can simply slide away or close off for a tidy interior.
7. Utilise Sorting Drawers
Use drawers to sort your drawers in utility-cum-laundry rooms. Never get overwhelmed by piles of sorting washing again or wrestle with individual baskets down the stairs.
Using this sleek solution, this utility room even clearly demarcates where to put each type of washing so loads can simply be picked up and into the concealed washing machine to the right.
8. Stack Appliances in Small Utility Laundry rooms
Plan your layout wisely in small utility rooms to incorporate both a washing machine and a dryer. Stacking appliances will save some floorspace and make it easier to transfer loads from one to the other.
"Stacking your washing and drying appliances into an enclosed housing are a must to keep things looking neat and tidy," says Stacey Cobley, sales designer at Harvey Jones (opens in new tab). "This also works well if you have limited space."
The washing and drying machines will need to be compatible (normally the same brand is best) and stack the dryer on top (it is lighter than a washing machine).
If they're incompatible, bespoke designs might plan for a supported shelf, or for a more budget option stacking kits can be bought.
9. Include Floor to Ceiling Cupboards
"Ideally, incorporate some tall storage units with shelves at only high level so that vacuum cleaners, ironing boards, brooms, etc can be hidden neatly away," suggests DesignSpace London's Richard Atkins.
Floor-to-ceiling units are also helpful when outsourcing an extra fridge-freezer for large families.
10. Add a Built-in Pet Space
The scope of utilities is expanding every further as we ask more and more from our homes.
"We are receiving more requests to incorporate storage for pets such as a dog bed area and a place to shower them," comments Stacey Cobley.
Outsourcing pet spaces to a non-living space that has easy to clean floors is a great idea, keeping smells, fur and toys in their place.
How Do You Create Storage in a Laundry Room?
"The size of the room, location of the property and the clients' requirements should determine what laundry appliances are required and whether adding a sink is sensible or possible," advises Richard Atkins of DesignSpace London. "For instance, a combined washer dryer may be sufficient for a small city centre apartment but for a larger home we'd look at bigger separate appliances and a sink for cleaning shoes / clothes.
"If space allows, leave a good size of floor space for drying racks to be put up out of sight and ironing to be done within the room."
How Do I Get The Most of a Small Utility Room?
"Even the smallest of spaces, can be transformed to accommodate well-equipped utility rooms," says Martin Moore's Richard Moore. "Custom designing is key. Take the time to consider not only how you will use the space but importantly, what will need to be stored. This will allow you to incorporate clever storage solutions and include only what you need within the space.
"Where space permits include storage for coat hanging, shoe storage and shelving for things like light bulbs/ tool kits etc," adds Richard Atkins.
Assistant Editor Amy began working for Homebuilding & Renovating in 2018. She has an interest in sustainable building methods and always has her eye on the latest design ideas. Amy has interviewed countless self builders, renovators and extenders about their experiences for Homebuilding & Renovating magazine. She is currently renovating a mid-century home, together with her partner, on a DIY basis, and has recently fitted her own kitchen.
Homebuilding & Renovating Newsletter
Get the latest news, reviews and product advice straight to your inbox.
Thank you for signing up to Homebuilding. You will receive a verification email shortly.
There was a problem. Please refresh the page and try again.