Utility Room vs Laundry Room: Which is Right for Your Home?
By Amy Reeves published
Choosing between a utility room vs laundry room? Find out what the differences are and how to choose the right option for your home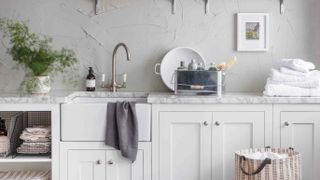 (Image credit: Garden Trading)
Utility room vs laundry room — it may seem as though they're one and the same, but the different nuances between the two will make a large impact on the cost, design and purpose of the space.
If you're thinking of installing or remodelling one (or both!) into a home, it can help to weigh up the pros and cons, as well as what to consider at the design and build stages.
Utility room ideas are in abundance at present, as our modern-day penchant towards open-plan living means such hard-working spaces are even more vital, housing noisy appliances, laundry and fulfilling many other purposes. However, that's not to say a separate laundry room could be a great alternative in your home.
Find out how to choose between utility rooms and laundry rooms with our handy guide, including costs, different design inclusions and the space required.
Utility Room Vs Laundry Room: The Key Differences at a Glance
Although utility rooms and laundry rooms may seem like one and the same, the main difference is that while a utility can include clothes-washing facilities, laundry rooms are exclusive for this purpose and won't have extra uses that a utility might.
Utility rooms may include everything from useful storage area, boot room or pet room through to cloakroom or pantry. White goods, less frequently-used appliances and cleaning supplies can all be stored away from the main living areas — something increasingly popular alongside open or broken plan layouts.
Some utility rooms are also acting as secondary kitchens with large appliances such as washing machines, freezers and dishwashers located here to reduce noise and clutter in social spaces.
A laundry room, however, tends to only include a washing machine and dryer alongside space for associated items such as a clothes horse, basket, and an ironing board. Good ventilation is key for this space and it will need a water supply and drainage.
How to Choose Between a Utility and Laundry Room
"Focus on what the area needs to achieve — what are your key objectives for converting the space?" asks Rhian Williams, senior kitchen designer at Harvey Jones (opens in new tab). "Is it additional storage to accommodate awkward household items such as the vacuum cleaner, steamer and ironing board? Is it to accommodate a washing machine or tumble dryer to maximise the kitchen space, or all of the above?"
Laundry rooms tend to be better placed on the first floor, as to avoid lugging washing baskets down stairs only to bring the clean clothes right back up. However, if you don't have space for a dryer and the washing will need to be taken outside, definitely position this space closest to the back door.
Garages can be converted into utility rooms (although Building Regulations will need to be adhered to), beside a kitchen or next to the rear entrance — whatever suits the layout best, but remember knocking down wall to create new rooms will add to the budget.
Utility Room vs Laundry Room: Which is More Expensive to Create?
As utility rooms fulfil multiple purposes, they tend to be more expensive to create than laundry rooms.
"If you're starting from scratch, the basic cost will be around £8,000," advises homes journalist Rebecca Foster. "However once you start picking out fixtures and fittings for a utility room, the cost can start to creep up quite quickly. If you're looking to keep your outlay to a minimum, off-the-shelf units from the likes of Ikea, Wickes and B&Q won't set you back more than a few hundred pounds.
"If things like heating, electrics and plumbing are in place you could probably complete the project for a lot less, depending on the spec of the appliances and cabinetry you choose."
"Incorporating a utility room within your existing floorplan can significantly save on costs compared to an extension," adds Helen Gulutu Chelmsford, showroom manager at kitchen and utility specialist Burlanes (opens in new tab).
What's more, while a utility will cost more, when asking 'does a utility room add value', the good news is that it can add in the region of 5% to the value of your home.
Laundry rooms don't necessarily need built-in storage which will also hugely reduce costs compared with a utility, although a stable work surface for folding clothes is helpful.
What Items Belong in a Laundry Room?
A laundry room at the very least will need to have access to a water supply and waste for the washing machine, electricity supply for the tumble dryer, and decent ventilation (either by window or extractor fan).
Space for empty and full clothes baskets will be helpful day-today and a clothes horse is handy for drying without using electricity. Shelving for clean washing that would normally be stored in an airing cupboard is also smart — think bed sheets and towels. Organised storage for stain removers, detergent and pegs is essential.
Some homes with the laundry room on the ground floor include a shoot from the first floor to save trudging down with armfuls of dirty clothes.
Choosing stackable or top-loading appliances will also dictate the layout of a laundry room.
What is Usually in a Utility Room?
Utility rooms can wear many hats so defining what is 'normally' in a utility is tricky. However, utility rooms can include:
Laundry facilities (washing machine and dryer)
Belfast sink
Space for cleaning supplies (ironing board, vacuum)
Pet bed
Boot room ideas (space for coats and shoes)
Extra pantry space
Outsourced large appliances like dishwashers or freezers
Storage for lesser-used crockery and tablewear
A plant room store for any renewable technologies in the home
"When it comes to establishing a new utility zone, a lot depends on the scale of your project and your budget," says Rebecca Foster.
For small utility room ideas, prioritising uses will be essential. "Being space savvy is key; measure every item of the 'utility space shortlist' for precise planning," agrees Rhian Williams.
If updating a kitchen, reusing the cabinets in a utility is a good idea; bespoke units can be expensive.
Which Will Suit my Home?
A deciding factor between a utility room and a laundry room will be space and location. Laundry rooms require less space than utilities due to their singular purpose and reduced appliances — in theory a 'laundry room' can be as simple as including a washer-dryer alongside downstairs bathroom ideas.
Also, if the only space suitable for either of the spaces is on the first floor, the natural choice is a laundry room.
For more sizable spaces on the ground floor, a utility room with laundry facilities will be best best of both worlds, but be sure to check if the utility room needs an extractor fan.
Assistant Editor Amy began working for Homebuilding & Renovating in 2018. She has an interest in sustainable building methods and always has her eye on the latest design ideas. Amy has interviewed countless self builders, renovators and extenders about their experiences for Homebuilding & Renovating magazine. She is currently renovating a mid-century home, together with her partner, on a DIY basis, and has recently fitted her own kitchen.
Homebuilding & Renovating Newsletter
Get the latest news, reviews and product advice straight to your inbox.
Thank you for signing up to Homebuilding. You will receive a verification email shortly.
There was a problem. Please refresh the page and try again.