Plant Rooms: How to Design an Efficient Space
By David Hilton published
Plant rooms offer an effective way to group your home's technical equipment, making inspection and maintenance easier. Here's what you need to know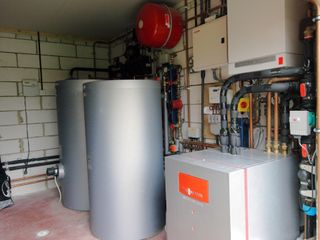 (Image credit: Viessmann)
Plant rooms are a new necessity for self build homes, especially those relying on renewable technology to provide heating and electricity. While it may not feel like the most useful use of your floor space, including a plant room in your home design will make it easier to inspect and maintain your home's most important technology.
But where should a plant room be located in your home? And how can you make the most out of the space you dedicate to it? Our expert answers all the questions you need to know in regards to planning a plant room.
What is a Plant Room?
A plant room is a room or space where you can fit the technical paraphernalia such as cylinders, boiler, pumps, control boards, ventilation systems, etc so that they are in a centralised place and are easy to access for periodic inspection, routine maintenance and occasional repair.
What is a Plant Room Used for?
The plant room would possibly have (but not be limited to) the following technologies:
Mechanical Ventilation Heat Recovery (MVHR) system
boiler
heat pump hydrobox
hot water cylinder
buffer tank
low loss header
central heating manifolds
smart home wiring centres
main electric board
Photovoltaic inverter
battery storage
water softener.
(MORE: Hot Water Storage)
Where Should a Plant Room be Positioned in a House?
Plant rooms should ideally be positioned in a central area in the property but also with access to an outside wall for services to enter the property. Sometimes the plant room can also be in the loft if the structure is designed to accommodate the weight loads.
The centralised location allows for shorter pipe runs to the take off points and results in less heat loss in the pipes and quicker delivery of hot water. Duct runs for ventilation will also be shorter and can therefore even be potentially smaller ductwork or a smaller fan unit due to lower duct resistance.
The plant room should ideally not be located on the end of a property, especially in a single storey add-on, where access to the main part of the property is limited and service routes cannot be made very discreetly.
Can I Position a Plant Room in a Garage?
The plant room is often positioned in the garage but as this is a cold space and is often on the edge of the home, or even detached from the home, there would need to be a high level of insulation on all the equipment and distribution materials to avoid condensation and resultant corrosion, as well as to mitigate heat loss in the distribution pipework and ducting.
There could also be a long lag time before hot water reached the hot water taps and the pipework may need to be designed to circulate which would then deliver the heat quicker but also has a heat loss penalty.
How Big Should a Plant Room be?
Plant rooms can vary in size depending on the amount of technology that needs to be sited there.
A typical property may combine a plant room with a utility room. If this is the case it is best to try and design it as a galley layout with the plant on one side and the utility on the other. Allow around 2.5m length by about 800mm depth for the plant side and 700mm depth on the utility side. If we assume a one metre path in the middle then we can assume that a room around 2.5m by 2.5m should be enough.
If you are installing a ground source heat pump then you will need more space. Also if you have more than two doors or the doors are on adjacent walls then the usable space could also be restricted. Look into the use of pocket doors to maximise the internal usable space but be aware that services cannot pass through a wall that houses a pocket door.
The hot water cylinder could be around 1800mm tall by 600mm diameter but allow 800mm x 800mm of floor space so that the plumber can access fittings and pipework. A buffer cylinder also needs around 800mm x 800mm of floor space but is only around 900 tall. An MVHR unit usually hangs on the wall (that will need to be reinforced with an 18mm sheet of plywood) and measures around 700mm height by 700mm depth by around 400mm deep.
There will be ducts above the fan unit and the bottom of the unit is usually around 1200mm off the floor so could be above another appliance. These sizes are generic so it is best to check with the system provider for the actual dimensions and clearances required.
Underfloor heating manifolds can be around a metre wide and will be around 300mm to 500mm off the floor with all the circuit pipes dropping down into the floor.
A ground source heat pump will be about the same size as a fridge and depending on the output capacity will depend on whether it is closer to a bar fridge or a tall fridge freezer.
How Do You Design a Plant Room?
When designing a plant room it is best to get the brief defined so that you know what technologies will be included in the project and then speak with the installers to understand how much space is required for the technology and also the clearance required around the products for maintenance.
A plant room should be designed right at the beginning of the design stage. Not only should the space be big enough to house all the technologies but there also needs to be enough space allowed in the fabric of the building to get all the services and ductwork to the appliances without being aesthetically intrusive or clashing with any structural elements or other critical services.
The time to get all the services designed in is after you have planning drawings but before you have the completed building control drawings and certainly before the construction drawings are frozen.
All the services in a plant room should ideally be grouped together as much as is feasible. Wet appliances should be in one area, ventilation in another and electrics also in a separate area. Naturally there will be a mix due to the requirement for electrics on appliances but try to separate them as much as you can and design in risk mitigation.
:What are the Best Conditions for a Plant Room?
A plant room could have a build up of heat so should ideally be ventilated but depending on the appliances housed in the room it may also need to be a designated fire control area with fire doors and appropriate fire mitigation products designed into the service areas.
Is a Plant Room Worth it?
All new or modernised homes should have a designated plant area. The plant area may just be a cupboard and it may be two smaller areas but they need to be purposely designed so that on going maintenance is easy and periodic inspections do not involve any disruptive construction works.
If you have anything more than a hot water cylinder and a boiler then it is worth planning for a designated plant area. If you plan to have the utility room also act as a plant room then ventilation is important so that there is no excessive build up of water vapour that could then manifest itself as condensation and deteriorate the fabric of the building.
David is a renewables and ventilation installer, with over 35 years experience, and is a long-standing contributor to Homebuilding and Renovating magazine. He is a member of the Gas Safe Register, has a Masters degree in Sustainable Architecture, and is an authority in sustainable building and energy efficiency, with extensive knowledge in building fabrics, heat recovery ventilation, renewables, and also conventional heating systems. He is also a speaker at the Homebuilding & Renovating Show.
Passionate about healthy, efficient homes, he is director of Heat and Energy Ltd. He works with architects, builders, self builders and renovators, and designs and project manages the installation of ventilation and heating systems to achieve the most energy efficient and cost effective outcome for every home.
Homebuilding & Renovating Newsletter
Get the latest news, reviews and product advice straight to your inbox.
Thank you for signing up to Homebuilding. You will receive a verification email shortly.
There was a problem. Please refresh the page and try again.