Do Designated Areas Make Good Building Plots?
By Sally Tagg , Mark Stevenson , Ken Dijksman published
Plots in designated areas, such as an AONB or Conservation Area, hold strong appeal to self builders - but can you actually get permission from the local planners to build?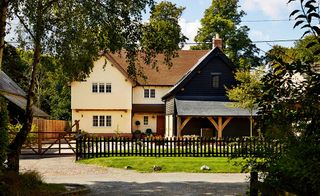 (Image credit: Darren Chung)
To the untrained eye, finding a building plot doesn't seem that hard. After all, there are endless fields and paddocks that look like ideal spots. However, finding a plot that stands a chance of securing a planning permission is another matter.
Whether we agree with it or not, much of Britain is made undevelopable by planning policies imposed by our government. Taking South Cambridgeshire as an example, only 6% of its land mass is built on; much of the rest is being used as farmland and therefore unsuitable for development from a policy perspective. While there are good reasons to prevent houses being built in the open countryside, this doesn't change the fact that planning policy severely restricts the supply of developable land.
To be able to sort the dead ends from the hot prospects, plot hunters must understand those nuances of planning policy that relate to the question of what land can be developed.
(MORE: How to Get Planning Approval)
Taking on a Project in a Designated Area
All the designations referred to are designed to protect an intrinsic quality or character which could be damaged or lost as a result of a new development. It is important, from the very outset, to understand what designations may relate to your property or site as there is the potential that the nature of a conservation area, for example, may severely restrict or even stymie what you are trying to achieve.
A key thing to remember is that there is a degree of subjectivity when it comes to dealing with heritage and landscape designations. There is no real measure of impact, more of a consideration or weighing up of factors in coming to a determination. As such there is often a degree of divergence between the view of the planning authority and applicant.
This is where a thorough pre-application will pay dividends. A designation, as discussed, should in itself not put you off buying a site or dwelling or even embarking on a project. However it should add an air of caution to the approach.
Planning consultants will be able to provide advice on how to navigate the planning policy issues and also assist in the likely nature of the design considerations in this context, providing guidance to ensure that the design is appropriate.
(MORE: Secrets to Planning Success)
Planning Policy Land Designations
The chances of securing planning consent to build on a site depend upon its designation. It therefore stands to reason that self-builders must figure out what designations are at play within their search area. By doing so, they'll be able to narrow their search to locations that are likely to yield success.
When it comes to finding a building plot, understanding land designations from a planning policy point of view offers a great start.
Will I Get Permission to Build on a Plot Within a Settlement Boundary?
Most settlements in the UK are surrounded by a theoretical boundary that defines their limits and crystallises the chances of winning planning consent on either side of the divide.
Land within settlement boundaries is generally viewed by LPAs as developable, with a few exceptions such as protected open spaces and employment land. This is where you'll find opportunities such as garden plots and infill developments.
Provided your proposals fit in with the urban context, securing planning consent for such plots should be straightforward. Land outside of settlement boundaries is defined as 'open countryside', and generally cannot be developed without a cast-iron justification. Such justification could take the form of meeting a local housing need, replacing an existing dwelling, or reusing brownfield land.
A quirk of planning policy is that some settlement boundaries run through urbanised areas, meaning that 'open countryside' isn't always open countryside. As you'd expect, houses inside the boundary are within the settlement, but houses outside, reside – in policy terms – within open countryside even though it looks like an urban area.
Land outside of the settlement boundary seems plentiful, but from a self build point of view, the odds of building a house there are slim.
LPAs will seek to prevent encroachment into the open countryside, even if it's already full of houses. You may wonder how large developers get approval for new housing estates outside settlement boundaries. These consents are often won by arguing that they meet local housing need; their scale is exactly why they're approved.
Unfortunately, a single self build on previously undeveloped land is not considered a significant contribution to the supply of housing and will typically be refused unless it's of exceptional architectural merit — more on that another day.
Is Brownfield Land a Designated Area?
Many think of brownfield land as disused and contaminated, but the National Planning Policy Framework (NPPF) applies the term more broadly, defining it as: 'land which is or was occupied by a permanent structure, including the curtilage of the developed land'.
Brownfield land can offer great plot prospects if you apply for a change of use, but there are a few caveats.
Land occupied by agricultural or forestry buildings is excluded, as are parks, recreation grounds and allotments.
One exclusion to watch out for especially is 'land that was previously developed, but where the remains of the permanent structure have blended into the landscape in the process of time.' Buildings like this might look like a great replacement plots, but in policy terms they've lost their residential status.
Steer well clear.
Can I Find a Viable Plot in a Conservation Area?
In England alone there are around 7,000 conservation areas, which differ widely with regard to their character and the reasons for being designated. Conservation areas may include examples such as historic town or city centres, areas relating to local or industrial heritage, and 18th- and 19th-century suburbs, to name a few.
Contrary to popular belief, conservation areas are good places to find fantastic plots. They offer beautiful street scenes, often well within settlement boundaries.
While they may still be affected by issues such as flood risk, the fact that they're established residential areas means their development is usually supported provided that the proposed work will not cause harm.
A conservation area affords an LPA control over the demolition of unlisted buildings and new development to ensure that schemes:
conserve and/or enhance all aspects of the area's character or appearance which define an area's special interest;
protect open spaces, views, road networks;
use materials and other elements which are integral to the character of an area.
The LPA should hold a map which shows the extent of the conservation area, in addition to an appraisal document which sets out the key aspects of the designation. From these documents you should be able to ascertain where your site is in relation to the designation, as well as the key features of the designation and general parameters for development.
You should also note that being close to, but not in, a conservation area is often a constraint, as the development will be considered in relation to how it could impact on the nearby designation and its setting.
For extensions or new buildings over 100m² and new dwellings in a conservation area, a Design and Access Statement is a mandatory requirement with your planning application submission.
In addition, the National Planning Policy Framework (NPPF) sets out that applications in a conservation area should be supported by a statement which establishes the significance of the designation and how it may be impacted upon by a development.
The extent of detail to be included in both documents really depends on the nature of the designation and the complexity/scale of the development. It is therefore crucial to engage with professionals in this regard and, in the majority of cases, seek pre-application advice from the LPA. It would be a reasonable summary to suggest that if any development is allowed on the site at all, the designation will seek to ensure a higher quality of development through design, scale and materials.
But don't be put off. It's possible to find a good plot in a conservation area, you just need to be ready for some back-and-forth on the design front and be willing to accept a reasonable compromise.
Think positively and you may be able to prove that your new house is a real benefit to the location.
---
Examples of building in a conservation area
When Alexa and George Ergatoudis decided to build for the second time, they chose a narrow infill plot in a Surrey conservation area.
"The plot stands in a conservation area so I knew there would be restrictions, but planning permission had already been granted for the site, so it was a case of designing something we liked which the planners would approve of," explains Alexa. "We engaged an architect and devised a three-storey design, which meant that the plot needed to be extensively excavated to lower the roof height to match the adjacent cottages."
Three planning applications were made before the design was approved, mainly due to the glazed element to the rear, which was originally planned as a two-storey structure. While the exterior has a Georgian feel, inside the open plan interiors are reminiscent of an Manhattan apartment.
A vernacular scheme planning permission was already in place for the existing house to be demolished, with approval for two new houses, when Alison Farell-Price and her husband purchased this site in a conservation area. Alison chose to resubmit with plans for two carefully detailed period-style properties (just visible left of shot).
The scheme was designed to emulate a Tudor farmhouse with a black weatherboarded barn alongside it.
"I used designer Pete Tonks to get us through planning," says Alison. "Conservation officers often prefer artistic hand-drawn elevations to show how a finished building will look and how it will sit in the street scene — difficult to achieve with a CAD drawing.
"I also held a meeting in the village hall so that everyone had a chance to see our proposals," she adds. "We had unanimous support from the local residents because our plans were more in keeping with the historic village setting than the designs that had been previously approved."
---
Areas Designated a Flood Risk
All planning applications, no matter where they are located, are assessed for flooding risk.
The Environment Agency is a standard consultee in the planning process and may object to any proposal where floods are a possibility.
Ordinarily, their objections are removed once a flood risk assessment has been completed and proposals submitted to mitigate the risk.
If the assessment identifies a high flooding risk (level 3), the relevant LPA may seek to implement what's known as a sequential test. This asks whether there are less risky locations that could meet the area's housing needs, so if you find, say, a garden plot within a settlement boundary that's ideal for development but subject to flooding risk, the LPA may refuse permission on the basis that it's better to build elsewhere.
(MORE: Planning Conditions)
What are my Chances of Getting Planning Approval for an AONB Plot?
An area of outstanding natural beauty (AONB) is a statutory designation stemming from the Countryside and Rights of Way Act 2000, which applies to England and Wales. The designation means that local authorities have: "a permissive power to take action to conserve and enhance the natural beauty of the AONBs in their areas."
The intention of an AONB is to conserve and enhance the natural beauty of the landscape with the designation being of national importance.
In England there are 34 designated AONBs, with notable examples being the Cotswolds, the Kent Downs and the Surrey Hills.
If you are unsure about whether your site is within an AONB you can use Google Maps as a starting point, in addition to consulting mapping held by the LPA.
An AONB may straddle a number of LPA areas and as such, to ensure a consistent approach and continuity of advice, there is often an AONB Board that will be consulted with regards to planning applications. These applications will also be considered against the specific AONB policies in a local development plan.
If you are undertaking works to an existing dwelling in an AONB such as adding an extension or building a replacement dwelling, the issues relating to any impact upon the designation should be less of a constraint, given the presence of an existing building.
However, a new building in an AONB would be the subject of additional scrutiny. Prominent or stark buildings may not be supported; therefore, it is important to take into account scale, massing and materials so that the development is harmonious within the local landscape.
Do I Have a Chance of Planning Approval in a National Park?
There are 15 national parks in the UK — 10 are located in England. Each has a specific national park authority (NPA) which, in most cases, takes on the planning functions in respect of new development and plan production; the NPA will have specific development plans to establish how new development will be considered.
The legislation upheld by the NPA has two statutory purposes:
to "conserve and enhance the natural beauty, wildlife and cultural heritage"
and to "promote opportunities for the understanding and enjoyment of the special qualities of national parks by the public."
As you can imagine, the restrictions in such areas are greater but development is often still possible depending on the nature of the site and the proposal.
In general terms, an extension or replacement dwelling is often more likely to be considered acceptable compared with a new build scheme.
Design, materials and scale are all again key aspects to consider. However, the focus and nature of each national park is different, and therefore understanding local policy is key before considering a project.
---
Case study for building in a national park
Architectural practice PAD Studio is well versed in designing schemes for the New Forest National Park — this replacement dwelling being a case in point. "To satisfy the stringent planning policies, an economical floorplan was developed and height is used throughout to help the home feel more generous (the guest bedrooms have mezzanine levels above)," says architect Wendy Perring of PAD Studio.
The exterior draws cues from the local vernacular. This blending of old and new is key to the success of the building — showing that contemporary design can embrace natural, crafted materials to effectively satisfy both camps.
Policy Documents to Look For
The planning policy landscape is shaped by a host of documents that professionals use to administer the system. As a self-builder it's not practicable to try to understand all the information these documents contain.
Although national policies have a legal standing, their interpretation at a regional level will be rooted in precedent and case law. Local planning authorities (LPAs) therefore have their own overlapping policies within their development plans. This means that while an appreciation of planning policy is useful, it's a good idea to get help from a professional to determine which policies apply to a prospective self build plot.
In broad terms, planning policies fall into two categories: those that allow land to be developed and those that deal with what can or can't be built. Policies in the latter category are often referred to as 'material considerations', and for anyone wanting to build their own home these will be the primary concern. However, when it comes to plot hunting, finding land that can be built on at all should be your initial focus.
What Kind of Constraints Might I Find in a Designated Area?
With regards to all planning applications, be it for works to a dwelling, replacing an existing dwelling or building a new home, it is crucial to have an understanding of the inherent constraints that may relate to the site and the local area.
Permitted Development (PD) rights – which allow certain works to be undertaken without the need for a planning application – are also restricted. Designated areas come under the banner of 'Article 2(3) Land' in the General Permitted Development Order (GPDO). As such, works to an existing home and conversions, which may have fallen under PD ordinarily, may well need a planning application.
For example, the longer rear extensions (up to 6m on an attached house and 8m on a detached home) allowed under PD will need planning permission in Article 2(3) areas. The same is true of Class Q and the conversion of agricultural buildings to dwellings.
Therefore, Article 2(3) areas limit and restrict some of the available opportunities with regards to PD — there is a higher probability that works would trigger the need for planning permission.
The Importance of Pre-Application Advice
This is where a thorough pre-application will pay dividends. A designation, as discussed, should in itself not put you off buying a site or dwelling or even embarking on a project. However it should add an air of caution to the approach.
Planning consultants will be able to provide advice on how to navigate the planning policy issues and also assist in the likely nature of the design considerations in this context, providing guidance to ensure that the design is appropriate.
Continue reading this article
One-off payment: £4.99 for six months full access to The Planning Hub
The Planning Hub offers in-depth guides to planning permission in England, brought to you by Homebuilding's planning experts
Instant access to planning permission information, vital to the success of your project

Independant advice from leading Homebuilding & Renovating planning experts

Discover what you need to know to get your plans approved with minimum hassle

Get to grips with complex planning rules with our easy-to-read guidance
Continue reading this article
One-off payment: £4.99 for six months full access to The Planning Hub
Ken, a former planning officer, is a planning consultant and owner of Dijksman Planning LLP. He is also the author of The Planning Game.
Homebuilding & Renovating Newsletter
Get the latest news, reviews and product advice straight to your inbox.
Thank you for signing up to Homebuilding. You will receive a verification email shortly.
There was a problem. Please refresh the page and try again.