Charging an Electric Car at Home - Everything You Need to Know
By David Hilton published
Charging an electric car at home may soon become the new normal, and it will be required on some self build homes from 2022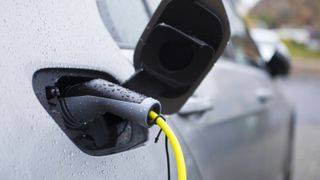 (Image credit: Getty Images)
Charging an electric car at home is easier than you may think and many people have moved over to electric vehicles in recent years. With renewable energy, solar panels and eco homes on the rise, it's no surprise people are switching to low emission electric cars too.
In recent months, the government has made a series of announcements designed to accelerate the development of electric cars. In the net zero strategy, it was confirmed that sales of new petrol and diesel cars will end by 2030, with £620m funding allocated for zero emission vehicle grants.
And in November 2021, the government confirmed that all new build homes and buildings will be required to install electric car charging points from 2022. This doesn't just affect developers but also self builders and renovators.
However, we still don't know whether electric vehicles will be made more affordable as part of the new law. We are also yet to receive clarification on details such as specifications and power outputs.
This guide will explain all about charging an electric car at home, including how to make the most of the grants currently available.
Essential Features for Charging an Electric Car at Home
Types of Electric Car
A pure electric car which only has an electric motor. The biggest drawback on pure electric vehicles is currently the charge range — most electric cars can only cover around an average of 150 – 200 miles per charge.
A hybrid car which has a battery motor and another motor; the latter is currently either a petrol or (less commonly) diesel motor.
Plug-in Charging Capability
When it comes to charging an electric car at home, it is important to note that some hybrids have a plug-in charging facility; but in the case of 'mild' hybrids there is no facility to plug them in.
Driving Range
The biggest drawback of pure electric vehicles is their limited driving range, as most electric vehicles can only cover around 150-200 miles before needing to recharge. However, as vehicles' batteries improve, so will their range.
Available Grants
There is currently a grant of £3,500 available for new, eligible low-emission cars (more on this below). It would be prudent to check the latest information before assuming that you will benefit from this grant.
Can I Use a Normal Socket to Charge an Electric Car?
When we eventually make the switch, most of us will be charging an electric car at home — and that has implications for a self build or extension/remodelling project.
You may think that it is ok to simply plug the vehicle into a standard 13 Amp wall socket. This is possible, but you need to realise that even with current battery capacities, you would still need to charge the vehicle for 12-15 hours.
You need to make sure that the wiring in your home has been checked before plugging a home charger into a wall socket. Old wiring may not be able to cope with the demand from charging a vehicle for many hours, and could cause a fire.
What's the Best Way to Charge an Electric Car?
The best solution for charging an electric car is a dedicated charging point that usually has a minimum capacity of 32 Amps and a resultant charging time of five to seven hours. The latest chargepoints are also 'smart'.
Even though chargers have not yet been standardised, or you may not yet have an electric car, it is well worth planning at least the cable into the build rather than retrofitting this at a later date.
As such, it is prudent to plan this into your building project and include it in the electrician's brief.
What if I Don't Yet Own an Electric Car?
Any homeowner would be well advised to at least put the facility for car charging in your home improvement plans, to avoid any future disruption putting in the cable infrastructure at a later date.
If you don't already have a car then it may not be straightforward as there are a number of different chargers available and it may come down to fitting the cheapest available charger. For affected self builders and renovators from 2022, doing this can help you to comply with regulations and then changing it as (and when) you get an electric car.
What Grants are Available?
There is financial support available from the government for the installation of electric vehicle charging infrastructure.
The Office for Zero Emission Vehicles (OZEV) offers the Workplace Charging Scheme, a voucher-based scheme that provides support towards the up-front costs of the purchase and installation of EV charge points.
You can also get up to £350 towards chargers for certain vehicles, an incentive known as the Electric Vehicle Homecharge Scheme (EVHS). The charger must be OLEV approved and be put in by an authorised installer.
However, this scheme will not be available from April 2022 to anyone who lives in single-unit properties such as bungalows and detached, semi-detached or terraced housing.
From April 2022, the scheme will remain open to:
homeowners who live in flats
people in rental accommodation (flats and single-use properties)
Using Solar Power When Charging an Electric Car
If you have or are planning to install solar PV panels then it makes sense to use as much of the generation as you can. This means an electric vehicle can then potentially be charged for a large percentage of the year for almost free.
Now, that would be fine if you happen to keep your car at home during the day. For most of us though, we need to use the car during the daylight hours. It is then only at night that we would like to recharge the vehicle when there is unfortunately no sunshine power to benefit from.
We also need to know how much energy we actually need for the car. A 4kWp PV array will generate around 30kWh per day on a bright summer day. Some of this will be used in the home and the rest will not recharge more than around 50 miles of energy. (During less bright days the available energy will be even less.)
One solution is solar batteries. You can charge the battery during the day and potentially use that battery to recharge your car at night, benefitting from any free daytime generation.
Home batteries have got better in the past few years but the average capacity of a home battery is around 14kWh, whereas a car battery could be anywhere from 30kWh to 100kWh.
Therefore, using home batteries for charging an electric car would require a lot more batteries and PV panels than you would normally install.
Next Generation Batteries
Nissan have responded to the market for home battery systems and released the xStorage solution, which is a 'second life battery solution'. The system recycles batteries that have already been used in Nissan cars and puts them to use in home battery systems.
Tesla, meanwhile, recover and recycle the material components of their batteries to create new units both for their electric vehicles and their Powerwall home battery systems.
Other electric vehicle manufacturers will undoubtedly follow in offering these types of solutions as their ranges develop. There is also an argument that a vehicle could double as the battery for a home.
During peak times the electric vehicle battery could be used to provide power to the home, which would then be recharged later that night when the grid demand is lower.
This is not currently an option in the UK, but could well be part of the future.
David is a renewables and ventilation installer, with over 35 years experience, and is a long-standing contributor to Homebuilding and Renovating magazine. He is a member of the Gas Safe Register, has a Masters degree in Sustainable Architecture, and is an authority in sustainable building and energy efficiency, with extensive knowledge in building fabrics, heat recovery ventilation, renewables, and also conventional heating systems. He is also a speaker at the Homebuilding & Renovating Show.
Passionate about healthy, efficient homes, he is director of Heat and Energy Ltd. He works with architects, builders, self builders and renovators, and designs and project manages the installation of ventilation and heating systems to achieve the most energy efficient and cost effective outcome for every home.
Homebuilding & Renovating Newsletter
Get the latest news, reviews and product advice straight to your inbox.
Thank you for signing up to Homebuilding. You will receive a verification email shortly.
There was a problem. Please refresh the page and try again.