Local Electrician: How to Choose the Right One
By David Snell published
Need to find the right local electrician for the job? Experienced self builder David Snell details how to avoid any nasty shocks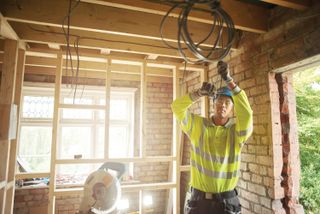 (Image credit: getty images)
Choosing a local electrician for your project is a slightly different process to hiring other trades due to the more overt system of control and regulation that exists for this trade. Although it is possible to carry out some minor works yourself, in the main, electrical installations can, and must, only be carried out by competent contractors registered with one of the recognised schemes in order to comply with Part P of the Building Regulations.
The three main schemes are:
NICEIC – National Inspection Council for Electrical Installation Contractors
NAPIT – National Association of Professional Inspectors and Testers
Jargon Buster
Part P is the section of the Building Regs for England and Wales which relates to electrical installations in domestic properties. Most registered electricians can self-certify that their work is Part P compliant.
Of these three, the first, NICEIC is, perhaps, the most recognisable and to find a local electrician, you simply need to go onto their website and enter your postcode to be presented with a list of approved contractors in your area. All of which is fine and a good starting point. As with other organisations, it tells you the names of approved members but it pays to do a little more digging in order to find the right electrician for your project.
Use Recommendations and Your Own Enquiries to Find a Local Electrician
The fact is that, due to the strict control exercised by the professional bodies and building control, there are very few instances of new electrical installations going wrong. And even if they did, the schemes themselves have a compensation and rectification process that will put things right in short order.
Nevertheless, as with any other trade, it pays to make your own enquiries and, if at all possible, it's best to go by recommendation from friends or trades you're working with. In common with most other disciplines, electricians are usually quite happy to recommend contractors in other fields. So a plumber or a carpenter may well recommend a suitable electrician with whom they have worked on a regular basis, but it's unlikely that an electrical contractor will give you a recommendation for another electrician.
I would always recommend looking at their previous work and talking to their previous clients. As well as efficiency, time keeping and reliability, use your own eyes: look for socket outlets and switches being level, for example.
(MORE: Find an electrician in your area)
If you see their job at the early stages, look to see that all wires are properly fixed and secured in straight lines vertically in the walls and clipped to joists in the horizontal. Make sure that, at the termination point (at the proposed consumer unit), all wires are clearly marked with indelible ink as to their destinations and purpose.
A recommendation from a self-builder or somebody who has recently built an extension in your area, is palpably the best of all worlds. It's unlikely that there will be many issues about their work or the end result and the main observations may be on their personality and how they got on with other operatives. This is important, because the nature of their job means that they have to liaise quite closely with other disciplines and any friction can be detrimental to the site's efficiency and atmosphere.
Electricians have a close association with plumbers as they have to work alongside each other on tasks such as the wiring up of underfloor heating systems and the testing and firing up of any boilers. But be mindful that electricians and plasterers/ tackers are the most likely to clash. It's not unknown for plasterers to plaster over back boxes or tackers to trap or nail through wires — nothing, perhaps, annoys an electrician more.
Getting a Price from a Local Electrician
The main distinction between a trade such as an electrician and the labour-only trades is the simple fact that they have a 'money input' into the job. Although it is, presumably, possible to find an electrician who will work on a labour-only basis, this trade is almost universally 'supply and fix'. That means that they have to buy materials in order to carry out your contract and therefore they will have a vested interest in keeping you happy and satisfied with their work throughout.
Additionally, while they are involved in the early stages of the build – normally as soon as the home is weathertight – they are often one of the last out. Coupled with the fact that payment is usually made in two stages, first fix or carcassing and then second fix and completion, means that they have to show you a degree of trust.
(MORE: Building a House: A Step by Step Guide)
Getting a price from an electrician can be done in various ways. If you're taking on a self build project, you can opt to ask several electricians to quote for a minimal NHBC specification, where they are all theoretically on a level playing field, and then deal with the one who gives you the most advantageous price and/or you like. You can then go back to them and amend the specification to include everything you want and need.
Alternatively you can prepare a plan and specification for exactly what you want and deal with them on that basis right from the start. The important thing, if you do go down this route, is to be honest with them about what you are asking for. It's not easy, especially when the house is either not yet built or is a shell, but the more thought that you give to where you want lighting and sockets, the better.
Remember, you can never really have too many power sockets, especially in the kitchen, and it's so much easier and cheaper to put them in at the beginning. Going back on work for any trade is soul destroying and even more so for electricians where they have had to make careful calculations about loading and, once the house is plastered, the wires are not easy to dig out and relocate.
A simple request for another power point can result in extra costs of between £50 and £70. So think about how each room will be furnished from the earliest stage: consider what electrical equipment and appliances you'll be having in the finished room and exactly where each item will be going.
It's also worth noting that it is unlikely that the larger electrical firms with fleets of vans, all with the company logo on, will be able to give you an advantageous price. More likely is that the local electrician you'll use will be a single contractor who generally works alone.
Prices will obviously depend on the specification you ask for and complexity of the project (the work involved when renovating a house may not be as straightforward as a new build), and an electrician may well work out their price on the basis of how long it's going to take them, working on a rate of between £200- £250 per day, or between £25-£40 an hour (depending on where you are in the country).
Simply agreeing the contract on that basis wouldn't be a good idea, and the tradesperson with the courage of their own convictions and the confidence in their own abilities will happily amortise their time expectations and add them to the material costs in order to arrive at a lump sum price.
Happily, the electrician is quite likely to be the least troublesome and the most reliable of all of the tradespeople you'll deal with on your job. They're not flashy. They're not prima donnas. They just get on with their task.
What Will Your Local Electrician Do?
Fit temporary consumer unit to building supply
Install and connect earth rod
Lay and fix all carcassing wiring
Drill joists where necessary
Fix backplates to outlets and controls
Fix proprietary sheathing over wires in walls
Fix and wire up faceplates to outlets
Fix and wire up light pendants
Fit and wire up ceiling and wall lights
Fit and wire up all external and security lighting
Fit and wire up extractor fans and cooker hoods
Cross bond and earth all pipework and sanitaryware
Fit and wire up consumer unit
Wire up thermostats and programmers
Attend with plumber for firing up and testing of boiler and heating
Test system
The author of Building Your Own Home, David is a serial self builder and has been building homes for 50 years. He has just finished his fourteenth self build project.
Homebuilding & Renovating Newsletter
Get the latest news, reviews and product advice straight to your inbox.
Thank you for signing up to Homebuilding. You will receive a verification email shortly.
There was a problem. Please refresh the page and try again.