How to Build a Timber Frame Post and Beam Home
This step-by-step guide takes you through all the stages of building a timber frame post and beam home, from choosing a plot to working with the supplier on a design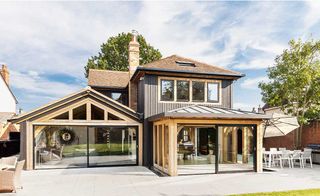 (Image credit: Simon Maxwell)
The natural beauty of timber frame is one of the many reasons it has endured as a favourite building material in the UK. Fortunately, the energy efficiency of this type of home has come a long way since the Medieval timbered homes we are all familiar with. As have the construction techniques and finishes, making it a great choice for traditional and modern style homes.
In this video, we have teamed with oak frame home specialists, Oakwrights, to bring you the ultimate guide to building your own timber frame post and beam home.
What's in this video?
It's likely that your timber frame house builders will hear about plots before you will, so they may well be able to help you find the land you need.
Other options are:
National land databases such as Plotfinder.net
Local press
Auctions
Estate agents
Builders
Never buy a plot without at least Outline Planning Permission (OPP) or conditional on OPP being granted, unless you are willing to take a huge risk.
When making sure your plot is big enough, remember you'll need space around the site to store materials, tools and for erecting the structure (this could mean hiring land from a neighbour). You'll also need an access road, that is at least 3 metres wide, for an articulated truck and crane to deliver and erect the house frame and encapsulation.
2. I Have Land. What Happens Next?
The next stage is to sit down with the architectural designers at your timber-framed house supplier. They'll have extensive knowledge delivering blueprints for great homes, whatever style of home you are looking for: traditional, barn style, contemporary or a hybrid.
They'll work with you to make the best of your plot and to gain maximum effect from the resources available. Designers will develop your ideas and work with you to refine the design until it delivers exactly what you want in terms of look, usability, size and budget.
There are multiple ways to make savings or splash out on high-end features, but you can expect the cost of the timber frame to be between 18-33% of the total build cost.
A guide figure would be £20-£45 per square foot for the skeletal frame design, fabrication and erection.
With regard to budgeting for a full build, the cost averages at approximately £160-200 per square foot (£1696–2120 per square metre).
If you are planning to manage the project yourself using local tradesmen rather than a main contractor you can save 15-20%.
If you decide to undertake some of the work yourself there is scope to make further savings – potentially the full cost of labour if you have the time and skill, amounting to 50%.
So, should you design your house from scratch or can you pick from a list of templates?
Most frame designers will have a collection of styles that suit most plots and applications, with a number of floor layouts, from small to quite spacious. There will be options to enable you to pick how much oak framework you would like to see on your home.
Externally, each design can be enclosed with any number of finishes – including brick, stone, render, tile hanging or weatherboarding or varying combinations of the above. This allows the designs to meet the local vernacular and the finish you desire.
3. Foundations
Once the design has been finalised, the architects will calculate the structural load of the frame, and will provide drawings for a building contractor to undertake the laying of the foundations. It's unlikely that the house frame company will do this part of the construction, but they should be able to recommend a reliable local contractor to lay the foundations.
They should be able to work with both serviced plots and non-serviced plots. With a serviced plot, the utilities/services will already be in place up to the boundary of the plot and you will need to arrange for them to be brought to the dwelling. The oak frame and encapsulation needs structurally engineered foundations which your architects will accommodate within the foundation design.
4. What Kinds of Frame Can I Choose From?
You'll need to decide whether you'd prefer a traditional or modern finish, and much of that will come down to whether you opt for a hidden or on-display frame.
The principal characteristic of this style is that the oak is (usually) exposed both internally and externally. Oak is both naturally resistant to insect and fungal attack and impervious to the weather. It requires virtually no maintenance and is one of the few materials that actually increases in strength with age. Internally the principal walls, floor joists, trusses and roof members can all be visible.
Between the exposed oak timbers are the render panels. These consist of extremely thermally efficient foam panels fixed to board and set within the panel timbers.
Hidden framed houses are usually based on a heavy oak frame, although it could be Douglas fir, and they invariably have a more open feel to the structure. Also they are eminently suited to large glazed areas.
External finishes can be a combination of infill panel insulation, external cladding and large scale glazing. Fully vaulted roofs are a feature of this design echoing the spacious feel of the original barn. A major attraction of this style is the flexibility it allows in design and usage.
5. What Kinds of Encapsulation can I Choose From?
So your frame is sorted, but what about the bits that go in-between?
Most timber frame suppliers will offer a variety of infill panels and encapsulation systems (such as the Wrightwall system used by Oakwrights). What is used depends on whether you want an exposed or encapsulated frame frame.
An encapsulated frame is where the entire skeleton on the outside is wrapped in a airtight, highly-insulated exterior shell. This can then be clad in a number of finishes including brick, render, feather-edge weatherboarding or tile hanging.
If you are using an encapsulation system that is supplied by a different company, ensure they can meet your schedule and site deadlines.
6. Thinking Green: What Eco Considerations Might I Have?
There are a number of areas where a timber framed house can deliver on those all important eco-credentials.
What is important in glazing is airtightness. Airtightness refers to the infiltration of cold/hot air into the building and/or the loss of heated/cooled air from inside through gaps, cracks, holes, etc in the building fabric. By limiting the leakage of heated/conditioned air from buildings, it is possible to reduce energy consumption and costs.
Face glazing is a system of applying glass to the exterior face of oak frames to give a contemporary finish. Despite its simple clean look there are many factors to take into account to achieve an air and watertight seal and provide a maintenance-free finish.
It's likely that your timber frame supplier will have various insulation systems to offer, which differ in cost and performance.
You'll be shown values such as U Value, Passivhaus standard, carbon performance, airtightness, fire resistance, acoustic insulation and whether the insulation is made from recycled materials.
There may also be some technology that allows for the natural changes in size of the timber frame through the seasons. Some systems are delivered in a cassette format, slotting in to walls, floors and ceilings in a way that fits together in order to maximize air tightness.
You could integrate solar panels to produce hot water and/or electricity, or consider installing a heat pump which operates well with low-heat-demand heating systems such as underfloor heating.
7. The Building Process
Having major parts of the home (such as the timber post and beam frame and the encapsulation system) manufactured off-site generates a quicker build process with tighter tolerances. This ensures reduced energy consumption and lower heating costs.
The frame and infill panels can be erected in a matter of days.
The overall build programme, depends on your chosen build route and level of involvement. A turnkey build, undertaken by an experienced specialist contractor will be the fastest option.
A turnkey contractor could complete a new house in 4-6 months.
A main contractor could complete a new house in 5-8 months
Shell build and DIY project management is likely to take 8-12 months
DIY project management is likely to take 10-18 months.
Make sure you work with a company that takes health and safety seriously and get the ground conditions tested on site early so that foundations are not delayed.
8. Internal Considerations
Your timber frame home supplier will most likely have an interior design partner or at the very least recommendations, to ensure a personalised aesthetic. From an early stage, you need to consider how much oak you want on show.
The principal characteristic of oak is the traditional jointed and pegged timber frame style that is unique and undeniably beautiful. One of the great features of an oak frame is the magnificent trusses and many clients choose to embellish their homes with one of the more spectacular styles of truss in fully vaulted rooms.
It is possible to save money by having a normal softwood floor within the frame rather than the jointed oak beam. It is also possible to have softwood-trussed rafters rather than a vaulted roof with exposed purlins, ridge beam and wind braces. Both are cost saving options but give a very different aesthetic.
9. Finding a Timber Frame Post and Beam Supplier
If you have decided that timber frame post and beam house is for you, what should you be looking for when it comes to choosing a supplier?
Look for a company that can produce the type of home you want, by looking at their brochures and website.
Try and visit their finished houses in person.
Check the company is reputable with a solid trading history.
Find out what the payment terms are. How much will you need to pay as an upfront deposit? How will your money be held?
Choose a company with plenty of experience of building timber frame post and beam and working with self builders.
It is essential that you get on well with them and they have an understanding of your project.
Homebuilding & Renovating Newsletter
Get the latest news, expert advice and product inspiration straight to your inbox.
Thank you for signing up to Homebuilding. You will receive a verification email shortly.
There was a problem. Please refresh the page and try again.