Vaulted Ceiling Extensions: Ideas for Added Height and Style
By Amy Reeves published
Vaulted ceiling extension designs are becoming ever-more popular — find out how to achieve this look, the cost implications and what to consider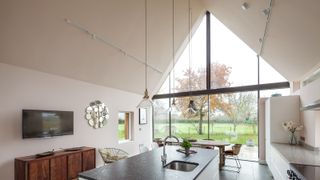 (Image credit: Simon Maxwell)
Vaulted ceiling extensions don't just add value and space to a home, but also an architectural drama to any style of interior.
Including this design feature while building an extension has become more popular over the years as homeowners value the additional volume they provide and the unique spaces they can inspire.
That said, vaulted ceilings can be a fairly tricky thing to pull off while extending. If done incorrectly, the sense of visual interest will be hampered by dark corners and inappropriate scales. There's also more to consider from a build perspective; this is a feature that needs planning from the outset, before work starts on your home.
However, done well, vaulted ceilings can bring wow-factor to your new extension. Take a look below of some great examples of vaulted ceiling extensions with expert and homeowner tips for success.
What is a Vaulted Ceiling Extension?
A vaulted ceiling is usually a pitched ceiling which extends higher than a standard flat design. A vaulted space follows the roof line and uses this structure within the room below to create the ceiling. (This is also often called a Cathedral ceiling.)
"Increasing your 'bang for buck' when it comes to extensions, a vaulted space allows for a much greater sense of space through enclosing more volume, and therefore the perception of a more generous and spacious room, even if the dimensions are kept down," says Craig Alexander, architect at Oakwrights, of the benefits.
There are a wealth of vaulted ceiling ideas out there for your extension, but be mindful that this is a design feature which requires planning from the outset.
"There are so many different considerations on how you make your ceiling, but we generally start with how we want the inside to look and feel," begins Matt Loader, director of Loader Monteith Architects.
"Then we get into the technical considerations thereafter. Depending on whether you are making a pitched or flat roof, there are a variety of different ways of making the structural build-up of the roof, many of which can be left exposed inside. Different roofing materials can be used at different roof pitches, and this is a fundamental consideration on how a vaulted ceiling would be formed."
1. Use a Vaulted Ceiling in a Single Storey Extension
"A sense of openness is high on the wish list for homeowners and a vaulted ceiling is a way of answering that request," explains Richard Gill, director of Paul Archer Design. "Clients' often ask for 'wow' or character. Especially in a domestic setting, having a tall space that draws your eye up can provide the 'wow' with relative ease."
Use a vaulted ceiling to add drama to single storey extensions and to contrast with other spaces in the house.
A special impact will be created and you can make the most of the height available — often making a small house extension idea feel larger.
2. Add Height with a Single-Vault Extension Design
A sleek house extension idea is to add a large 'lean-to' style vaulted addition. This can create an interesting interplay between standard-height ceilings in the existing house and the greater volume offered by the single vaulted ceiling. And often, this can present an opportunity to zone open-plan spaces.
"Consider the layout of the spaces in terms of what happens at the transition between the vaulted space and that of the existing ceiling level," begins Craig Alexander.
"Here you will have a bulkhead, between the vault and the lower ceiling hight — so they will potentially feel like different 'zones' or spaces. Try and have distinct spaces occupying both, rather than, for example a dining table or kitchen running between the two if possible."
Here, a bungalow extension has transformed the interior design to suit a young family. The vaulted ceiling plays an essential part in the architectural flow. The sectioned-off kitchen area opens beautifully into the dining space while a rooflight floods the space with light — a popular feature in vaulted designs.
The increase in ceiling height also lets the tall brick chimney breast take centre stage.
3. Go Double-Height with a Vaulted Ceiling Extension
Take the design one step further by adding a double-height vaulted ceiling. This style allows for a mezzanine to be added, or for first-floor rooms to look down on the social space below.
"Exposed structural members, maximising glazing or lighting are ways to make the most of the additional space. In some instances a mezzanine floor or crows nests can provide additional living space whilst adding a point of interest," says Richard Gill.
4. Expose Beams for a Characterful Ceiling
Exposing a timber or oak frame extension structure in a vaulted ceiling will bring charm to an otherwise blank space.
"Internally, we can design vaulted spaces and fully expose oak framing to make the most of the material's beauty," says Mariyana Hartland, a chartered architectural technologist at Oakwrights.
"When choosing an oak framed extension your vaulted ceiling will feature oak trusses forming the roof structure," adds Craig Alexander. "The trusses can be designed in different ways, so discuss the design with your oak frame designer. For added character and a cosy feel you can use oak ceiling joists."
5. Research Ways to Light a Vaulted Ceiling
Lighting ideas for vaulted ceilings must be customised to the specific space — without a careful curation you might find that the space isn't showcased properly and you're left with shadowy areas at the top where you want full impact.
Use spotlights and downlights to highlight the pitch or exposed trusses, pendants to really show off the height, and wall lights to wash the walls below with light.
Here, the homeowners have cleverly positioned the low-hung pendants so the illumination reaches the small kitchen extension, despite the large beam that remains.
The lighting design also features an adjustable spotlight at the apex of the vault and a roof light for natural and architectural lighting.
6. Add a Vaulted Ceiling to a Master Bedroom
If you have embarked on including double storey extension ideas to a project, seriously consider moving the vaulted ceiling from a downstairs space, to an upstairs bedroom.
This also works well with loft conversions, whee a cold roof type might be adapted to a warm roof, enabling the vault to follow the existing roof pitch.
"Your bedroom is your reward for all the hard work that you put into your build, and for every penny you saved over the years to be able to afford it, so make it special," comments architect Allan Corfield, founder of AC Architects. "Centre the bed in the room and have it looking out through a glazed gable that floods the space with light."
While glazed gables work particularly well with the vaulted style, they can be costly. In this two-storey oak frame extension, the master bedroom features large patio doors between fixed face glazing as a semi-glazed gable alternative.
7. Vaulted an Existing Ceiling without Extending
Vaulted ceilings aren't exclusive to extensions and can be created in some existing spaces.
"We've had quite a few occasions where we've removed a flat ceiling, exposing some existing roof structure, and introduced a roof light above it," says Matt Loader. "It dramatically changes the feel of a space, and can make what is an ordinary space really wonderful."
Loader Monteith Architects completely transformed this small music and living room by vaulting the previously flat ceiling. The result is a far more usable and welcoming space, bursting with character and style.
8. Don't Forget to Discuss Insulation and Ventilation
"Insulation is an important consideration in vaulted spaces; you need to be as focused on the potential for heat-gain as well as heat loss," explains Oakwrights' Craig Alexander.
"If your extension is orientated to the sun, there is possibility for overheating in the summer, so you must make sure the insulation system you use is up for the job. As you are introducing more surface area into the build (rather than having 'loft insulation' [a cold roof] at ceiling level, like in most houses) the building fabric might need to be made a little better performing to compensate.
"Consider rooflights, but also home ventilation — heat rises and having rooflights can be a handy way of ventilating the downstairs of your house (not just the extension, if it's open plan) in an easy and secure fashion, even while you are out and doors and windows are closed.
"Consider electrically operated roof lights, particularly if the height/position will make access difficult."
How Much Does it Cost to Put in a Vaulted Ceiling in an Extension?
"Vaulted ceilings can create fantastic open spaces but come at a price," begins property investor Mike Cruikshank. "Using scissor trusses as opposed to beams/purlins and loose rafters can be a cost-effective was of achieving a vaulted ceiling.
"Also instruct your architect or architectural designer to design to ceiling heights that will accommodate standard plasterboard dimensions — typically 2,400/2,700/3,000mm + 5mm.
"Unnecessary extra costs will result if a ceiling height of, say 2,550mm, is designed, as you'll be paying for 2,700mm sheets of plasterboard, paying labour costs to cut it down 150mm in length and filling up skips with off-cuts incurring landfill costs. However, if it was designed to be 2,705mm you benefit from an increased ceiling height, no additional labour cost, no need for skips and no landfill costs."
"Vaulted ceilings don't have to be expensive provided the structural spans are kept in check," counters Richard Gill of Paul Archer Design. "Exposed rafters reaching up to a standard rooflight would be a good starting point. One should be mindful of roof heights, especially if the proposal is to be carried out under permitted development. For larger spans cranked steels may be required, adding significant cost to the build."
Assistant Editor Amy began working for Homebuilding & Renovating in 2018. She has an interest in sustainable building methods and always has her eye on the latest design ideas. Amy has interviewed countless self builders, renovators and extenders about their experiences for Homebuilding & Renovating magazine. She is currently renovating a mid-century home, together with her partner, on a DIY basis, and has recently fitted her own kitchen.
Homebuilding & Renovating Newsletter
Get the latest news, reviews and product advice straight to your inbox.
Thank you for signing up to Homebuilding. You will receive a verification email shortly.
There was a problem. Please refresh the page and try again.