Timber Frame Houses: 17 Incredible Designs
Timber frame houses are increasingly popular with the self build crowd - take a look at these beautiful designs and plans to inspire your own project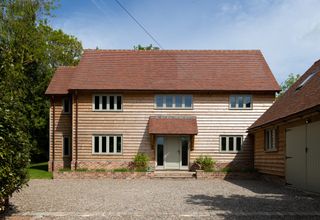 (Image credit: Jeremy Phillips)
Timber frame houses are a strong favourite among self-builders in the UK, and it's not hard to see why. It's a fast and versatile build method, suitable for both traditional and contemporary aesthetics, and is a great option for those building with Passivhaus principles in mind.
Here, we've selected some amazing projects so if you are tempted by the thought of building a timber frame house, take a look to get inspired. Including construction prices, the advantages timber frame brought to each build and insight into different house plans, so you can get to grips with the pros and cons of this system.
If you want to know more details about the timber frame systems available, their benefits and their costs, check out our timber frame beginner's guide.
(MORE: Get a quote for your own timber frame house)
1. Passivhaus Timer Frame Kit Home for £220K
First-time self-builder Paula Harte built her Passivhaus-certified kit home using the Type C plans by Caber House, pre-designed by Colin Potter of Architeco.
After the weathertight shell was erected by Caber House, Paula assumed the responsibilities of project manager to keep to her fixed total budget (including plot) under £280,000.
Build cost: £220,000
Location: Elgin, Scotland
2. Traditional Family Home Build on a Budget
After purchasing a plot with plan for a Border Oak oak-framed home, Wendy and Steve Hunter proved that a beautiful four-bedroomed home can be constructed with a budget of less than £1,500/m².
Build cost: £265,000
Location: Herefordshire
3. Single-storey Self Build on the Coast
A combination of steel and timber frame was used to combat this challenging coastal site.
Homeowner and retired architect Nick Purchase designed the house in timber frame in order to achieve vaulted ceilings throughout.
Build cost: £350,000
Location: West Cornwall
4. Oak and Timber Frame Suburban House
Penny and Michael Young self-built their new home on a suburban infill plot, combining a traditional frontage with a contemporary interior rear elevation.
The oak frame and timber encapsulation system was supplied by Oakwrights.
Build cost: £500,000
Location: Coventry
5. A Contemporary, Future-proofed Timber Frame House
Accessibility and energy efficiency were high on the list for Kenneth and Marion MacLean when they approached Allan Corfield Architects to design their forever home.
Structural insulated panels (SIPs) were chosen to construct the house thanks to their high levels of thermal efficiency and were paired with a 'fabric first' approach to self build.
Build cost: £850,000
Location: Edinburgh
6. Traditional New Build, Filled With Design Innovation
Adrian and Sandra Girling were keen to build their traditional style home with timber frame and opted for a stick-build self build route over SIPs so that they would have the option to change things on site (which would not have been possible had they chosen SIPs).
Build cost: £260,000
Location: Essex
7. Striking Timber Frame House in Surrey
Homeowners Melvin and Sandy built their striking home in under a year thanks to the speed benefits of building with timber frame.
Build cost: £600,000
Location: Surrey
8. Contemporary Timber Frame House on the Coast
This self build timber frame house embraces upside down living to make the most of the surrounding views.
By constructing in timber frame, a dramatic glazed gable was featured alongside the expansive aluminium windows in the design, meaning this villa-style home is filled with natural light.
Build cost: £470,000
Location: Fife coast, Edinburgh
9. Stone-clad Timber Frame House in a Conservation Area
Andrew and Toni Leese worked with Potton to build their stunning timber frame house, located in a conservation area in Wiltshire.
Build cost: £316,000
Location: Wiltshire
10. Timber Frame Kit Home on a Sloping Site
These homeowners have created an energy-efficient contemporary-style home that successfully navigates the challenges of its sloping site on the Isle of Man.
Build cost: £398,000
Location: Isle of Man
11. National Park Setting for a Modern Timber Frame House
Marina Dennis' home, Inchdryne Lodge, sits in a secluded birch wood on the edge of the Abernethy forest, a conservation area in the Scottish Highlands.
The timber frame structure is also clad in timber to ensure it sits sympathetically with its surroundings.
Build cost: £250,000
Location: Scottish Highlands
12. Accessible Eco Home in Hampshire
Mike and Linda Bray's timber frame self build may have been subject to many challenges, but the end result, designed by their architect son Oliver, is an energy-efficient, low-maintenance building.
The property features untreated timber cladding, as well as zinc and self-coloured render for an almost maintenance-free finish.
Build cost: £630,000
Location: Hampshire
13. Timber Frame House Complemented by Woodland Plot
Architect Liam Denny, and his partner Mark Camillin (also an architect) spent seven months building their cedar-clad, timber frame home in a fir tree forest in Devon.
Even though they had to demolish the original bungalow that occupied the plot, Liam and Mark benefited from the existing electricity supply and were able to save money by using the existing concrete foundations and septic tank.
Build cost: £237,000
Location: Devon
14. Lake District Self Build Constructed with Timber Frame
Mike and Gill Tate chose a timber frame construction for their Lake District self build to echo the traditional design of other homes in the area. They chose Rob Roy as their suppliers.
Build Cost: £565,000 (incl. £35,000 for the garage and £40,000 for landscaping)
Location: Lake District
15. Contemporary Self Build on a Former WW2 Airbase
This modern, timber frame farmhouse sits on a spacious plot that is steeped in military history. The owners, James and Claudia Grey, were keen to build a sustainable home that would not only sit low on the landscape, but also complement its existing surroundings.
Build cost: £600,000
Location: Essex
16. Sustainable Timber Home in the Scottish Highlands
For their third self build project, David and Anne Walker chose a timber frame design that sits sympathetically in the landscape. For the cladding, the couple chose locally-sourced and chemically untreated timber.
Build cost: Undisclosed
Location: Scottish Highlands
17. Contemporary Timber Frame Build in a Conservation Area
Self builder Merula Frankel worked with German supplier Baufritz on her barn-style timber frame home in Hampshire. Keen for the project to be as sustainable as possible, renewables have been included where possible.
Build cost: £750,000
Location: Hampshire
Get a Quote for Your Own Timber Frame House
Homebuilding.co.uk partners with the UK's best timber frame suppliers to match your requirements with their products. Simply answer a few questions about your project and we'll put you in touch with a suitable partner.
How It Works
1. Enter your details below. Tell us a bit about your project and what you are looking for, and leave some contact details.
2. We search our database. We'll match your requirements with the products and services that our partners offer.
3. Partners will contact you. Don't worry about being bombarded - only the suppliers that match your requirements will contact you.
Homebuilding & Renovating Newsletter
Get the latest news, expert advice and product inspiration straight to your inbox.
Thank you for signing up to Homebuilding. You will receive a verification email shortly.
There was a problem. Please refresh the page and try again.