28 Timber Frame Houses to Inspire Your Build
By Sarah Handley , Amy Reeves
Timber frame houses offer self builders and extenders an efficient and versatile build route — what can your budget achieve?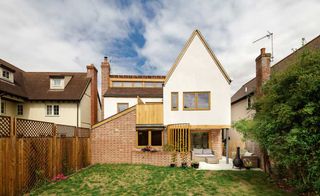 (Image credit: Simon Maxwell)
Timber frame houses are a lasting favourite among self builders in the UK, and it's not hard to see why. Not just a speedy method of construction, the flexibility of timber frame can suit both traditional and contemporary aesthetics. Plus, the inherent energy-efficiency of the build method means it is a great option for those building with Passivhaus principles in mind. 
The cost of timber frame houses can vary depending on the difficulty of design, so we have included selected prices where possible, as well as the benefits timber frame brought to the project, so you can get to grips with the pros and cons on this system.
1. A Modern Timber Frame House with Wow-factor
After spending time abroad, Andrew and Chris Tindsley replaced a tired bungalow with a contemporary home to suit their idyllic plot. A cantilevered overhang has been clad in a contemporary zinc and lined with Iroko timber (treated to fade evenly to a soft grey) to provide a striking contrast with the tumbled Great Tew ironstone-clad walls below. 
(MORE: Zinc Roofs)
Build cost: Approx. £750,000
Location: Oxfordshire
2. A Charming Home for Life Built with Timber
Sheila Krasno built her new oak frame home in the garden of her previous period property. The one-and-a-half storey home — with two bedrooms in the eaves spaces — has been built in oak frame and structural insulated panels (SIPs) and is clad in cedar. 
Build cost: £449,000
Location: Hampshire
3. Steel and Timber Frame Extensions to Transform a Dilapidated Bungalow
Once a run-down bungalow, this contemporary home was born through a steel and timber frame extension that makes the most of the historic and exposed waterfront site. Local stone and slate sit beside modern materials like zinc and crisp render while the sloping plot has been landscaped to create pockets of purposeful spaces. 
Build cost: £350,000 plus £50,000 on landscaping
Location: West Cornwall
4. A Timber Frame House Extension Built for Under 90K
Philip Handley (of Studio Bloc) designed two small extensions to a derelict blacksmith's forge in Shropshire and took on much of the project DIY with his wide Elly. The result is a charming, characterful home on a reasonable budget. 
Build cost: £85,000
Location: Shropshire
5. Timber Frame Self Build Like no Other
Jame and Tim Meggit used Passivhaus principals when designing their contemporary dream home with a close panel timber frame. 
Triple glazing, high levels of airtightness, sheep's wool wall insulation and 400mm-think floor insulation form the fabric first approach while a natural swimming pool, replenished by rainwater harvesting completes the idyllic landscape. 
Build cost: £900,000
Location: West Sussex
6. A Timber Frame Passivhaus on a Tiny Site
Elizabeth Sharp used SIPs to construct her energy-efficient home on the site of her former garage. 
(MORE: Finding a Plot)
Build cost: £245,000
Location: London
7. A Modern Cottage Built Using Timber
Architect James Risebero and his wide Kate Rudman chose cross-laminated timber (CLT) to build their contemporary cottage in Devon for their family. The design is based on a rural barn style with some additions, including an L-shape form to protect the seating area from easterly wind. 
Build cost: Unknown
Location: Devon
8. Using Timber Frame to Build a Sustainable New Home
Are timber frame houses any good?
Generally, as timber frame houses are built with high-spec insulation and enable self-builders to achieve great levels of airtightness they are comfortable and low-cost to live in. 
Jake Edgley (of Edgley Design) constructed this large timber frame house on the plot where his grandparent's house once stood. An important aspect of the build was to ensure the house was designed sustainably and flexibly so it can be used and adapted for decades to come. 
Working with a fabric first approach, the house features high levels of airtightness and thermal efficiency — using a timber frame structure which was prefabricated off-site. 
Build cost: £900,000
Location: Maidenhead
9. Small Timber Frame Home for Under £80K
While renovating a larger property to use as a holiday let income, George Bannister built a one-bed timber frame house to kickstart his design and build company BlackOak. 
The trick to making the new structure feel like it has stood for decades was in the reclaimed and 'rustic' materials used throughout — such as a brick floor and copper pipe work. 
(MORE: How to Build a House for Less Than £150,000)
Build cost: approx. £72,000
Location: Taunton
10. Timber Frame Kit Home for Multigenerational Living
Are timber frame houses cheaper to build?
While timber frame is not typically cheaper than a more traditional system, such as brick and block, their quick construction and inherent minimal waste make them a desirable option for those building to a tight budget. 
Dawn and Kevin Truscott chose Welsh Oak Frame's pre-designed barn-style home to adapt to suit their family. 
The exterior of the building was left in the majority the same as the original plan (aside from a small tweak to the front door angle) while the interior layout was reconfigured to make it more accessible and future-proofed for their disabled daughter. 
(MORE: Lifetime Homes: How to Make a Home More Accessible)
Build cost: £400,000
Location: Essex
11. A Timber Frame Kit Home
This stunning kit home was designed the high sustainability standards and finished in high quality materials. The homeowners chose a turnkey package route for a hands-off self-build, leaving Baufritz to construct the Bauhaus-inspired home. 
Build cost: Unknown
Location: Berkshire
12. Oak Frame Starter Home for Under £270K
Can you get a mortgage on a timber framed house?
While modern panel timber frame is fully accepted as 'conventional construction' by mortgage lenders, they still mostly asks the surveyor to specify where constriction is timber frame. This is because unless the outer leaf is build in masonry to a significant extent, it will not comply with their lending policies. - Ian Rock
First-time self-builders Lucy Newton and Sam Hopkins chose an oak frame with  SIPs encapsulation for their first home. 
Keen to build an energy-efficient house, they designed the plans themselves to cut costs (detailed drawings by a family friend) and installed an air source heat pump to provide hot water and underfloor heating. 
(MORE: Self Build Homes for Every Budget)
Build cost: £267,000
Location: York
13. Timber Frame House on a Challenging Site
Frame Technologies closed panel Tech Vantage E timber frame system was used to construct this energy-efficient self build on a challenging site. 
The timber frame upper level features timber shingles; the lower floor, built into the sloping site, features a solid masonry plinth.
(MORE: How to Build on a Sloping Site)
Build cost: Unknown
Location: Sheffield
14. Timber Frame House Extension to Granary Barn
Wilma Geddes converted and extended a once-derelict mill. Timber frame was chosen to sit atop the barn for the main living areas while highly efficient Scandinavian windows were specified to combat the open Scottish countryside. 
Build cost: £310,000
Location: Aberdeenshire
15. Timeless Country Self Build
An energy-efficient timber frame panel system was used alongside a green oak frame to create this timeless home. 
Delicate dormers and a veranda create a quintessential cottage charm, while the home boasts U values of just 0.14. 
Build cost: Unknown
Location: Surrey
16. Barn-style Timber Frame Kit Home
After visiting Potton's showhome, Brian and Loveday Ellis fell in love with timber frame and the quick construction it offered — as well as Potton's opportunities for a customisation of a pre-designed home. 
The couple chose to reflect the local traditional of a flint and brick cladding. They also specified an air source heat pump, underfloor heating and solar PV panels. 
Build cost: £759,000 (built to extremely high spec)
Location: Hampshire
17. Timber Frame Package Replacement Home
Jim and Mary knocked down a dated bungalow an in its place constructed a sustainable prefabricated kit home, made from Facit Homes' Chassis™ system, and designed precisely for their lifestyle.
Build cost: Unknown
Location: London
18. Passivhaus Timber Frame Kit Home for £220K
First-time self-builder Paula Harte built her Passivhaus-certified kit home using the Type C plans by Caber House, pre-designed by Colin Potter of Architeco. 
After the weathertight shell was erected by Caber House, Paula assumed the responsibilities of project manager to keep to her fixed total budget (including plot) under £280,000.
(MORE: What is a Project Manager?)
Build cost: £220,000
Location: Elgin, Scotland
19. Traditional Family Home Build on a Budget
After purchasing a plot with plan for a Border Oak oak-framed home, Wendy and Steve Hunter proved that a beautiful four-bedroomed home can be constructed with a budget of less than £1,500/m². 
Build cost: £265,000
Location: Herefordshire
20. Single-storey Self Build on the Coast
A combination of steel and timber frame was used to combat this challenging coastal site. 
Homeowner and retired architect Nick Purchase designed the house in timber frame in order to achieve vaulted ceilings throughout. 
Build cost: £350,000
Location: West Cornwall
21. Oak and Timber Frame Suburban House
Penny and Michael Young self-built their new home on a suburban infill plot, combining a traditional frontage with a contemporary interior rear elevation. 
The oak frame and timber encapsulation system was supplied by Oakwrights.
(MORE: Guide to Plot Types)
Build cost: £500,000
Location: Coventry
22. A Contemporary, Future-proofed Timber Frame House
Accessibility and energy efficiency were high on the list for Kenneth and Marion MacLean when they approached Allan Corfield Architects to design their forever home. 
SIPs were chosen to construct the house thanks to their high levels of thermal efficiency and were paired with a 'fabric first' approach to self build. 
Build cost: £850,000
Location: Edinburgh
23. Traditional New Build, Filled With Design Innovation
Adrian and Sandra Girling were keen to build their traditional style home with timber frame and opted for a stick-build self build route over SIPs so that they would have the option to change things on site (which would not have been possible had they chosen SIPs).
Build cost: £260,000
Location: Essex
24. Striking Timber Frame House in Surrey
Homeowners Melvin and Sandy built their striking home in under a year thanks to the speed benefits of building with timber frame.
Build cost: £600,000
Location: Surrey
25. Contemporary Timber Frame House on the Coast
This self build timber frame house embraces upside down living to make the most of the surrounding views. 
By constructing in timber frame, a dramatic glazed gable was featured alongside the expansive aluminium windows in the design, meaning this villa-style home is filled with natural light.
Build cost: £470,000
Location: Fife coast, Edinburgh
26. Stone-clad Timber Frame House in a Conservation Area
Andrew and Toni Leese worked with Potton to build their stunning timber frame house, located in a conservation area in Wiltshire.
Their new home had to adhere to certain planning permission requirements — including being clad in Cotswold stone, having a pitched gabled roof of a 45º pitch and four-bar sash windows. Behind the stone cladding lies a timber frame structure, packed with 400mm-thick Celotex insulation. 
Build cost: £316,000
Location: Wiltshire
27. Timber Frame House Complemented by Woodland Plot
Architect Liam Denny, and his partner Mark Camillin (also an architect) spent seven months building their cedar-clad, timber frame home in a fir tree forest in Devon.
Even though they had to demolish the original bungalow that occupied the plot, Liam and Mark benefited from the existing electricity supply and were able to save money by using the existing concrete foundations and septic tank.
Build cost: £237,000
Location: Devon
28. Lake District Self Build Constructed with Timber Frame 
Mike and Gill Tate chose a timber frame construction for their Lake District self build to echo the traditional design of other homes in the area.  They chose Rob Roy as their suppliers.
Build Cost: £565,000 (incl. £35,000 for the garage and £40,000 for landscaping)
Location: Lake District
Homebuilding & Renovating Newsletter
Get the latest news, reviews and product advice straight to your inbox.
Thank you for signing up to Homebuilding. You will receive a verification email shortly.
There was a problem. Please refresh the page and try again.