Lifetime Homes: How to Design an Accessible Home
By Allan Corfield published
A lifetime home has got to work harder than ever before, says architect Allan Corfield. Here's how to design a home that meets your needs now and in the future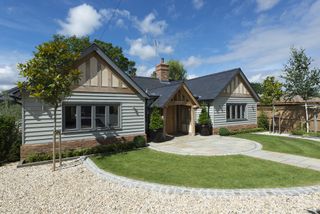 (Image credit: Jeremy Phillips)
If creating a lifetime home, or one that has potential to change with you in the foreseeable future, is a priority, choosing to build your dream home via the self build route, or to renovate, might be the answer.
It's important that your design team know that you want to build a lifetime home and are actively promoting these principles in every area of your self build project. Your requirements and therefore the spaces you inhabit will have to be designed to adapt with you or be futureproofed from the start. For example, do you want to have a staircase wide enough in the future to cater for a stairlift, or an area to include a lift shaft at a later date?
To help you plan a home that will evolve with your changing needs over time, we have outlined our top seven futureproofing features that can be designed into your lifetime home.
(MORE: 5 Great Accessible Homes)
1. Plan Your Access
It's vitally important as mobility decreases that it is easy to get from the car to your front door. Designing in an integrated or linked garage is the best solution here, but if your budget (or space) won't allow for it, then planning a parking space close to your entrance (ideally less than 10m away) is important .
You must also think carefully about the surface material and the gradient of the route to the front door (which should ideally be 1 in 20 or shallower). Smooth, flat surfaces such as concrete or resin will be much easier to cross with a wheelchair, or for someone with limited mobility, than undulating stones or gravel which could prove a tripping hazard.
It's not just your driveway that will need easy, level access to the front door. Introducing a ramp as part of the design will ensure safe access is built in from the outset. When building a new home, it is also likely to be a requirement of Building Regulations.
2. Incorporate Level Thresholds
Once you get to your home, it's important that you can get through the front door (or the access route/entrance that is most often used) comfortably and easily. This will mean a wide enough door leaf — I would recommend going larger than Building Regulation standards with a minimum of 900mm.
You will also need a level access threshold; most door suppliers will give an option of a level threshold (15mm max step). This will mean that you will always have one accessible route in and out of your building, which is fine as a minimum requirement.
However, you don't just go in and out of one door in your home, so don't limit yourself in the future. In addition, make at least one door (or route) to the garden fully accessible; this will ensure that you can still enjoy your outdoor space in later years.
3. Go Big on Circulation Space
Unfortunately, in the UK we are used to mass-produced houses with small doors, narrow circulation spaces and low ceiling heights. This isn't a great design trend to follow if you're intending to stay in a home for the next 30 to 50 years.
For wheelchair users, wider doors and circulation spaces will be easier to navigate, and will make the whole house accessible rather than just certain areas. For doors, 900mm (or wider) is recommended, with a minimum corridor width of 1,200mm. If you go wider then you could even start to utilise the corridor as a study space too, or add in low-level window seating.
Adding volume and light to what could be a dark, utilitarian circulation space can also transform the linking spaces, which are often forgotten about.
4. Consider a Lift
Adding a home lift into your design will sit at the more expensive end of the scale when it comes to futureproofing solutions. However, if you can't have all of your accessible accommodation on the ground floor or still want to see that view from the top floor, then it might be a cost worth investing in.
It's important to design a home lift in from the start, and specify one that's large enough to accommodate a wheelchair and an additional person. Alternatively, if you do not have the budget or need at this stage, it's good to identify a potential place where a lift could be added, making sure you allow enough space for the lift shaft and any associated equipment when planning the house.
Home lifts range from £15,000 to £35,000, and no longer have to look like bland utilitarian access lifts.
5. Design for all Occupants
It can be challenging enough designing a home for one set of needs and requirements, but designing for three different generations under one roof is not for the faint-hearted.
A detailed and well thought-out brief will identify everyone's priorities and almost as importantly, the things they don't want. It's key to work out how the family dynamic will work: do you have your own entrances, do you all eat together, etc. These choices will have a big impact on design and budget.
Create versatile living spaces, which can be easily shared or divided, and a large kitchen diner at the heart of the home.
(MORE: Kitchen Diner Ideas)
It is also really important if an elderly occupant is downsizing that they still maintain some sense of independence. This could be in the form of their own entrance, their own bathroom and perhaps even their own self-contained annexe within the home. Consider how accessible the whole house is for them. If it's over two or more storeys - a stairlift or lift can ensure they too can reach other areas of the home.
6. Introduce a Ground Floor Suite
One of the most useful design ideas we incorporate into all of our homes is a bedroom suite on the ground floor, and this is a must if you're planning to futureproof your house. It may be that this space is initially used as a snug, home office or guest bedroom until your later years.
If you don't want to add an en suite to this room from the outset, then make sure that you locate it next to an accessible bathroom, or that services are in place in an adjacent room so that you're not having to install these at a later date. By doing this, you can add in another door to the bathroom and create a ground floor master suite when the time comes.
Under Building Regulations, you must provide an accessible toilet that has space and provision for a future shower room. However, I would suggest putting this in from the outset.
7. Make Your Home Smarter
Smart home tech may not be something that you associate with growing older in your home. However, most of us are becoming more tech-savvy, and to the future generations, it's second nature.
Linking everyday tasks to a smart home system, such as Loxone, will add automated control to heating, lighting and security. It's important when considering a smart home system that it isn't overly complicated and makes tasks easier — being able to close the blinds at night without getting up, turning the heating on, switching lights on and off, all from an app on your phone or control will go towards making your life easier.
You can also integrate smart locks that don't rely on keys and can be opened remotely if an accident happens. Linking cameras and medical alert devices could allow family or the emergency services to find out immediately about any falls.
If you integrate some of the ideas in this article – along with the Lifetime Homes' principles – you will create a stunning home for now and the future.
Allan is a RIBA chartered architect and has overseen the design of over 350 low energy homes across the UK. He is one of the UK's leading experts on modern methods of construction including SIPs (structural insulated panels), is part of the Structural Timber Association, Passive House Trust and a member of the self build industry body, NaCSBA. He regularly contributes to Homebuilding & Renovating magazine and is a speaker and self build expert at the Homebuilding & Renovating Shows. Since 2009, Allan has grown his custom and self build architectural practice, AC Architects, to a team of 16, and recently created AC Structures, a leading engineering business for self build projects.
Homebuilding & Renovating Newsletter
Get the latest news, reviews and product advice straight to your inbox.
Thank you for signing up to Homebuilding. You will receive a verification email shortly.
There was a problem. Please refresh the page and try again.