Why is my Extension Overheating in the Summer?
By David Hilton published
Our energy efficiency expert David Hilton solves one homeowner's issue regarding overheating in summer — passing on his tips to others building new extensions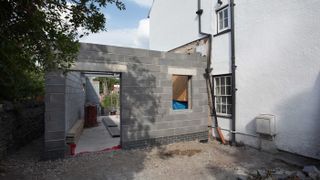 (Image credit: Getty Images)
After the recent hot weather, you might be asking 'why is my extension overheating in summer?'. In this example, we're looking at a kitchen extension with all the features of a sunroom, and this room was overheating even before July's heatwave.
The first thing to do in situations like this is to establish our parameters: How hot is too hot? The kitchen-cum-sunroom had an air temperature of just over 27ºC in early summer, which is too warm for a comfortable existence. When the doors were opened to introduce cross ventilation, the air temperature dropped to 24ºC — still a bit high for the homeowners' tastes, but liveable.
The question we should be asking ourselves is: how did the property end up like this?
Here, explain why this new extension was overheating and how we helped the homeowner solve this issue. The tips may just help you if you're planning a new extension and looking to prevent overheating in your home.
Understanding Why an Extension Might Overheat
It's common for the principles of overheating to be overlooked or forgotten when designing an extension or new home. Very often, homeowners only consider how to keep their properties warm in winter.
Fortunately this issue has now been more formally recognised — Building Regulations Part O launched in summer 2022 to help address the issue of overheating in news homes. This will ensure that mitigation measures are considered as part of the design and build stage. However, this does not aid with overheating in existing homes and extensions.
Standard Assessment Procedure (SAP) reports are instead typically required under Building Regs Part L1B for extensions. That said, on an existing home it could be a SAP report is not required by building control, possibly because of the way the rules have been interpreted.
In all honesty though, even when a SAP is produced, it might only identify a very slight overheating risk at best. This is because it looks at the whole house on average. Thus, if you have a 200m2 property with a 20m2 orangery/extension, the cool temperature in the rest of the house will offset the heat from the orangery in the calculation, especially if the house has thick walls.
But do we really need a calculation to tell us that a south-facing glass room will get a lot of solar gain?
We needed to reduce the radiant heat (from the sun) from coming into the room through the windows in this extended kitchen.
Exacerbating Factors
Home ventilation, and in particular cross ventilation, is essential for keeping the air in a space cool. However, the large hard-landscaped patio adjacent to the extension was also working against this by acting as a heat store, resulting in warmer-than-ambient air being brought in from outside. (This will be exacerbated if the patio is a dark colour.)
The Solution to Overheating in this Extension
The solution in this instance was to include additional shading and high level pocket windows in the glazing for cross ventilation; cooler outside air helps to move the warmest high level air in the room.
If you are hoping to add a sunroom or highly glazed extension, it's wise to think about overheating, even if building control don't question your plan or the SAP says the risk is low.
If a room's window area (including any thin profile panels) is greater than 25% of its floor footprint then you have an overheating risk and the best way to manage that is through shading measures such as a brise soleil, solar control glass and well-planned cross ventilation. Ensuring your extension is well insulated is also key to helping prevent a barrier to heat gain.
David is a renewables and ventilation installer, with over 35 years experience, and is a long-standing contributor to Homebuilding and Renovating magazine. He is a member of the Gas Safe Register, has a Masters degree in Sustainable Architecture, and is an authority in sustainable building and energy efficiency, with extensive knowledge in building fabrics, heat recovery ventilation, renewables, and also conventional heating systems. He is also a speaker at the Homebuilding & Renovating Show.
Passionate about healthy, efficient homes, he is director of Heat and Energy Ltd. He works with architects, builders, self builders and renovators, and designs and project manages the installation of ventilation and heating systems to achieve the most energy efficient and cost effective outcome for every home.
Homebuilding & Renovating Newsletter
Get the latest news, reviews and product advice straight to your inbox.
Thank you for signing up to Homebuilding. You will receive a verification email shortly.
There was a problem. Please refresh the page and try again.