Patio Door Ideas: 11 Ways to Connect with the Garden
By Amy Reeves
Patio doors make the most of every inch of space you have — find out how to open up in a style which suits your home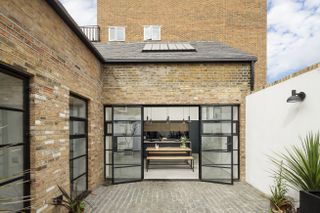 (Image credit: Simon Maxwell)
The best patio door ideas don't just allow access from inside to out, but also influence a crucial aspect of home design. The transitions between the garden and inside the home are equally important in winter as they are in summer, so it pays to think ahead before installing. 
From large swathes of aluminium sliding doors to timeless timber french units, take a look at these amazing patio door ideas that will help you get inspiration flowing and your foot in the door towards your dream home… so to speak. 
Head over to our handy guide on choosing patio doors if you're struggling to decide between the different functions, materials and trends.
(MORE: Genius Ideas for Bringing the Outside In)
1. Go Big in Your Home with Sliding Doors
Large format sliding doors offer the benefits of fewer joins and sightlines than french or bifold doors, meaning uninterrupted views to the garden even when closed. 
If such swathes of glazing have you feeling a little concerned about overheating, take a leaf of out this home which recessed the 7m of sliding doors (5m of which can be opened to the outside) back 600mm from the south-facing elevation. 
2. This Traditional Patio Door Idea Works Well on Period Homes
In a renovation or period-style self build, the current trend towards mass amounts of windows doesn't always look quite right. 
Adding classic french patio doors out to a garden will add a certain traditional charm that will never go out of style. 
3. Incorporate Industrial Style into Your Patio Door Idea
Belgian – sometimes called Crittall doors – are making a come back in a big way. Once only seen in restored Victorian properties, the huge boom in passion for industrial window styles has seen these delicate patio doors come to the fore. 
4. Embrace a New Space with Fabulous Pivot Patio Doors
Pivot doors never fail to make a statement and when added to a contemporary extension can become the perfect feature to open out to the outside. 
They turn on an asymmetrical axis and can fit enormous openings with minimal framing. 
(MORE: Building an Extension)
5. Bifolds are a Popular Idea for Patio Doors
Is there anything better than folding back panels of bifold doors and having no barriers between inside and out of a warm summer's day? 
We don't think so and neither did the self-builders who designed this gorgeous space. They wanted to be able to walk directly from the kitchen out to the patio as if it was one large entity. 
Laying the same flagstone flooring inside and out also attributed to the seamless transitions between the spaces. 
6. Add Patio Doors to Elsewhere in the House
Not everyone's kitchen faces directly onto the best spot for sitting in the sun, so work with the space you have and discover alternative places to set up a suntrap — possibly meaning adding a patio door to a living room or study. 
The sloping plot of this cottage renovation meant the natural place for sitting outdoors was adjacent to the moodily-styled snug and the aluminium pivot door introduces beautiful natural light.
(MORE: Renovating a House)
7. Add a Splash of Colour to Your Patio Door Idea
Contrary to popular belief, anthracite is not the only colour aluminium windows can come in, so why not add a splash of sunshine like this modern extension? 
8. Or Make a Statement with an All-black Look
Black sliding patio doors matched with dramatic cladding and a dark decking makes this London extension pop. 
9. Choose Pocket Doors for a Seamless Patio Door Idea
If designing a new extension or self build, planning an internal pocket in the wall for sliding doors to roll back into is a great way to fully open up to the garden.
10. Combine Adding Patio Doors with a Whole House Remodel
There's nothing worse than an ill-thought-out add-on so planning the entire look of a house in advance will help steer clear of unsightly mis-matching. 
This New England-style bungalow remodel features a series of stunning french patio doors which lead out to the pool and patio area. 
11. Think about Year-round Access
Last, but by no means least, taking how you will interact with the garden throughout the year into careful consideration will most certainly improve the overall enjoyment of your patio doors. 
Including a master door which can be opened individually works wonders in winter — this could be a single panel in a set of bifolds or an entirely separate pivot door. 
Homebuilding & Renovating Newsletter
Get the latest news, expert advice and product inspiration straight to your inbox.
Thank you for signing up to Homebuilding. You will receive a verification email shortly.
There was a problem. Please refresh the page and try again.