Patio Door Ideas: 11 Ways to Connect with the Garden
These patio doors ideas will help you make the most of every inch of space you have. Take a look to find out how to open up in a style which suits your home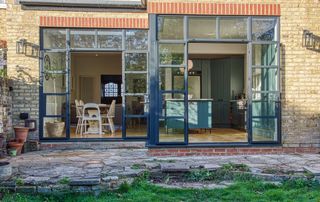 (Image credit: Ed Datson Photography c/o ID Systems)
The best patio door ideas don't just allow access from inside to out, but also influence a crucial aspect of home design. The transitions between the garden and inside the home are equally important in winter as they are in summer, so it pays to think ahead before installing.
From large swathes of aluminium sliding doors to timeless timber french units, take a look at these amazing patio door ideas that will help you get inspiration flowing and your foot in the door towards your dream home… so to speak.
Head over to our handy guide on choosing patio doors if you're struggling to decide between the different functions, materials and trends.
(MORE: Genius Ideas for Bringing the Outside In)
1. Look at Patio Door Ideas which Compliment the Style of Your Home
When looking for patio doors ideas, it's difficult not to get swept away by images of large swathes of aluminium windows or Crittall-style glazing. However, always bear in the mind the style of your house when deciding on the type or size.
Traditional timber frames might look odd when placed next to an ultra-modern extension, just as large doors plonked on a cottage can ruin it's character.
For more information on choosing windows, take a look at our guide Window Styes: Which is Right for your Home?
2. Go Colourful with Modern Patio Doors
Anthracite and white are not the only options when it comes to patio doors anymore. Many companies offer aluminium, timber and uPVC frames in a variety of colours, and some can even be specified differently inside and out.
3. Bigger is Not Always Better with Patio Door Ideas
Opting for small French doors can be a charming choice that offers both a direct connection to the garden while staying true to a period house.
Made with FSC redwood or oak timber, these Performance French doors Green Building Store have triple glazed windows.
4. Sliding Patio Doors are an Elegant Way to Open Up
Sliding doors offer the benefits of fewer joins and sightlines than french or bifold doors, meaning uninterrupted views to the garden even when closed.
5. Install Patio Doors in a Home Office
With more of us working from home than ever before, many self-builders and extenders are looking for places to set up a more permanent home office.
This barn conversion and extension in Shropshire is a perfect example of how to separate work spaces from the rest of the home, while still opening up onto a small courtyard garden with patio doors.
6. Use Patio Doors Ideas to Create Special Features
This oak frame home features plenty of glazing so the homeowners chose to specify their French doors out onto the patio and single door inset in the glazed gable in a contrasting colour.
The result is a subtle yet important colour pop which adds visual interest against the oak frame and timber cladding.
7. Think Outside of the Box When Looking for Patio Door Ideas
Patio doors don't just have to open out onto a garden, as this small yet creative self-build shows. Faced with a small brownfield plot – just 1340m2 and less than 4m deep– with limited options for a garden, the homeowners decided to create an internal courtyard between the kitchen and lounge.
The sliding doors recess into wall pockets, meaning the space can be opened up — creating a real inside/outside experience.
(MORE: How to Choose Pocket Doors)
8. Frame Your Favourite View with Patio Doors
Patio doors are great for capturing the perfect vista, even when the weather is keeping you indoors.
9. Design Banks of Small Patio Doors for Extra Wow-factor
Small-format French doors have been repeated in the three distinct sections of this self-build to give an amazing effect, both inside and out.
10. Keep it Classy with Crittall-style Patio Doors
Belgian – sometimes called Crittall doors – are making a come back in a big way. Once only seen in restored Victorian properties, the huge boom in passion for industrial window styles has seen these delicate patio doors come to the fore.
With an Art Deco style and a thermally broken aluminium system, these Heritage patio doors are from IDSystems.
11. Go Big in Your Home with Sliding Doors
Creating a connection with the garden has been a priority for many in the last couple of years and we don't see the trend going away any time soon. Specifying oversized walls of glazing is an unparalleled way to bring the outside in and increasing natural light into interior space.
If such swathes of glazing have you feeling a little concerned about overheating, take a leaf of out this home which recessed the 7m of sliding doors (5m of which can be opened to the outside) back 600mm from the south-facing elevation.
(MORE: 15 Great Glazing Ideas)
12. This Traditional Patio Door Idea Works Well on Period Homes
In a renovation or period-style self build, the current trend towards mass amounts of windows doesn't always look quite right.
Adding classic french patio doors out to a garden will add a certain traditional charm that will never go out of style.
13. Incorporate Industrial Style into Your Patio Door Ideas
Steel-framed patio doors effortlessly embrace an urban-inspired design and looks good alongside period and contemporary houses alike.
14. Embrace a New Space with Fabulous Pivot Patio Doors
Pivot doors never fail to make a statement and when added to a contemporary extension can become the perfect feature to open out to the outside.
They turn on an asymmetrical axis and can fit enormous openings with minimal framing.
(MORE: Building an Extension)
15. Bifolds are a Popular Idea for Patio Doors
Is there anything better than folding back panels of bifold doors and having no barriers between inside and out of a warm summer's day?
We don't think so and neither did the self-builders who designed this gorgeous space. They wanted to be able to walk directly from the kitchen out to the patio as if it was one large entity.
Laying the same flagstone flooring inside and out also attributed to the seamless transitions between the spaces.
16. Add Patio Doors to Elsewhere in the House
Not everyone's kitchen faces directly onto the best spot for sitting in the sun, so work with the space you have and discover alternative places to set up a suntrap — possibly meaning adding a patio door to a living room or study.
The sloping plot of this cottage renovation meant the natural place for sitting outdoors was adjacent to the moodily-styled snug and the aluminium pivot door introduces beautiful natural light.
(MORE: Renovating a House)
17. Add a Splash of Colour to Your Patio Door Ideas
Why not add a splash of sunshine to your patio doors like this modern extension?
18. Or Make a Statement with an All-black Look
Black sliding patio doors matched with dramatic cladding and a dark decking makes this London extension pop.
19. Choose Pocket Doors for a Seamless Patio Door Idea
If designing a new extension or self build, planning an internal pocket in the wall for sliding doors to roll back into is a great way to fully open up to the garden.
20. Combine Adding Patio Doors with a Whole House Remodel
There's nothing worse than an ill-thought-out add-on so planning the entire look of a house in advance will help steer clear of unsightly mis-matching.
This New England-style bungalow remodel features a series of stunning french patio doors which lead out to the pool and patio area.
21. Think about Year-round Access
Last, but by no means least, taking how you will interact with the garden throughout the year into careful consideration will most certainly improve the overall enjoyment of your patio doors.
Including a master door which can be opened individually works wonders in winter — this could be a single panel in a set of bifolds or an entirely separate pivot door.
Get the Homebuilding & Renovating Newsletter
Bring your dream home to life with expert advice, how-to guides and design inspiration, direct to your inbox.
Assistant Editor Amy began working for Homebuilding & Renovating in 2018. She has an interest in sustainable building methods and always has her eye on the latest design ideas. Amy has interviewed countless self builders, renovators and extenders about their experiences for Homebuilding & Renovating magazine. She is currently renovating a mid-century home, together with her partner, on a DIY basis, and has recently fitted her own kitchen.