Inspiring Living Room Layout Ideas For Every Style of Home
By Natasha Brinsmead published
If you are in need of some great living room layout ideas you are in exactly the right place — we've compiled some of the best ways to create a restful retreat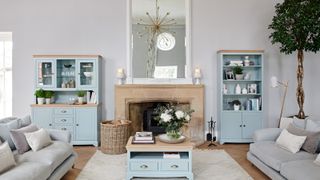 (Image credit: The Painted Furniture Company)
Living room layout ideas can be tricky to get right given that this is often a space that is used for many purposes and by various members of the household. While living rooms should undoubtedly be areas in which to unwind and relax and provide comfort and warmth, they often also need to be spaces in which to entertain guests, for children to play in and for the whole family to watch television or films.
This can make it hard to know how to approach the design of the living room but looking at your individual space alongside your needs will make it easier. Perhaps you are searching for modern living room ideas or need to overcome the issue of a lack of natural light or low ceilings, or maybe you just want a bit of a remodel for an existing space.
Whatever it is you want from your living room design, we are bound to have something for you in our collection of ideas.
Which Living Room Layout Ideas Will Suit You?
There is much more to living room design than just pushing all your furniture up to the walls and pointing sofas at the TV.
In order for this to be a space which can be enjoyed at all times of the day and by all members of the household, you need to ask yourself a few key questions before getting started.
Will this be the only living room? If you are lucky enough to have space for a separate 'adult' living room, snug, teenage den or similar elsewhere, you may find yourself looking for something very different than if you need to provide entertainment, relaxation and socialising spaces all in one room.
What kind of heat source will you be relying on? A fireplace makes for an easy focal point while if you plan on having radiators you will need to plan your furniture layout around this. Options like underfloor heating, on the other hand, free up wall space.
Are there any architectural features to take account of? For example, if you have particularly low or high ceilings, or are working with an awkward site you should take this into account in your living room layout.
Are there any views to take advantage of? Your windows and their location should form a big part of your living room layout. If you have large windows offering views of outside, you need to factor this into your plans.
Is the layout open plan? A living room that is open to other spaces, such as your dining room or kitchen, will ideally need some form of zoning to work well.
Will the room be used as a thoroughfare? If so, you need to ensure there is a clear pathway that ideally runs behind the main items of furniture as opposed to directly through the middle of the room.
Will you have a coffee table in front of the sofa? If so, bear in mind that the ideal distance between sofa and table is 14 to 18 inches.
What size is your living room? Are you specifically looking for small living room ideas when it comes to the layout, for instance?
Armed with these considerations, you should be able to form a better idea of which living room layout ideas will work best for you and which are definitely out.
Take a look at our inspirational round-up in order to turn these initial thoughts into a design plan.
1. Create a Two-in-One Living Room
Living rooms often have to please more than just one member of the household meaning they need to be able to take care of multiple activities.
Use furniture or room dividers to split your space in two — a space for watching television or hanging out with friends and another, more restful space for curling up with a good book or to while away the hours enjoying the view.
Using different shades of paint in each section of the room or using your living room flooring ideas to define the areas are also brilliant ideas.
In this beautiful living room, sofas have been placed back-to-back to achieve this result — one points at the television (tucked away in a storage unit) while the other looks out at first at the cosy woodburning stove, then at the views beyond the glazed gable.
2. Go For Sophisticated Symmetry
A symmetrical layout is smart and stylish and works in all kinds of spaces, but particularly in small rooms where a neat and ordered approach is key to the space feeling uncluttered.
Using two matching sofas with a central coffee table is the ideal way to get the look. In terms of fireplace ideas, aim to keep this feature, or any other main focal points, such as the mirror here, between the two sofas.
Bear in mind that placing a television on the wall between the two sofas in this kind of layout can be awkward as you have to turn or lie down to view it.
3. Consider a Sunken Seating Space
Sunken seating or living areas are fantastic and create a cosy, welcoming feel, particularly in open-plan living areas. They are also the ideal solution for many people building or extending on a sloping site.
In this living room, the sofas are nestled into the wall forming the sunken area, positioned to look out to the views beyond. Using a timber trim that matches the flooring adds a nice cohesion to the whole look.
4. Choose the Right Furniture for Low Ceilings
If your living room has low ceilings you need to think carefully about your furniture choices — some designs will make the space feel oppressive or highlight the vertically challenged nature of the room.
Opt for low-slung furniture in order to visually stretch the distance between it and the ceiling. It is also wise to keep to a colour palette of just one or two shades — here, the low sofa is a soft brown just like the ceiling and coffee table which means the furniture almost disappears into the scheme.
5. Ensure High Ceilings Don't Leave The Space Feeling Cold
High ceilings too come with their issues. If not dealt with properly, a living room with high ceilings can feel a little cold and unwelcoming.
To overcome this challenge, create lots of interest on the walls and opt for low-slung pendant lighting as opposed to recessed downlighters. Ceiling lighting ideas for living rooms such as this are great ideas for tall ceilings.
When it comes to the furniture, choose high-backed sofas and aim to incorporate pieces of various heights.
Here, an alcove in the wall, adorned with artwork, distracts from the soaring ceiling, while a selection of tables and sideboards of different statures mixes things up. The low pendants add a cosy feel.
6. Incorporate Multiple Focal Points
Although there is often much talk about creating a focal point in the living room, there is certainly nothing to stop you from having more than one — particularly in open plan or large living rooms, which will actually benefit from more visual interest.
While you obviously don't want the space to feel too decoratively busy, having a couple of points of interest – other than the television – is a great idea.
Here, the television takes the back seat, despite being fitted to the wall, thanks, in part, to the bold choice of furniture and the interesting ceiling design.
7. Fit Wall Panelling For a Handy Shelf
Wall panelling ideas can add character and warmth to all kinds of spaces, whether you opt for a traditional grid-style panelling, New England style tongue-and-groove boards or something super contemporary.
Character aside, wall panelling can also come in useful when it comes to living room layouts where it can provide extra storage in the form of shelving.
Here, placing the sofa up against half-height panelling provides an extra space for setting drinks down as well as forming a useful shelf to display pictures and other decorative objects.
8. Take Advantage of a View
If you've got it, flaunt it — the view that is. If you are lucky enough to have a fantastic view from your living room, then do incorporate large windows, sliding or bi fold doors in order to make the most of the vista.
Positioning seating to face out to the garden need not mean compromising on TV watching opportunities either. Here, the largest of the sofas faces the sliding doors while the other is directed towards the television, located discreetly on the end wall.
9. Include Plenty of Storage
In order for your living room to act as a multi-functional space that is both practical and restful, storage is key.
If you have an original fireplace you are likely to have alcoves to either side and these make the perfect spots for built-in storage ideas, as has been incorporated here. Floor-to-ceiling shelving, cabinets or a combination of the two are all great solutions.
Other brilliant living room storage ideas include window seats, high-level shelving above and around doorways and ottoman coffee tables.
10. Go Large in Small Living Rooms
Don't be fooled into thinking that small rooms should only be furnished with small items — in fact, very often, the complete opposite is true.
You need to get maximum seating space from a small living room and this is where modular and built-in furniture is ideal. Modular sofas offer a flexible solution, designed to be configured in a number of ways. In their simplest form they consist of just two parts, often a small two-seater sofa designed to be connected to a cube-style foot rest — resulting in a neat little L-shaped unit. However, the options are far wider than this.
Bespoke built-in seating is another brilliant choice in small spaces as it can be designed to snuggle into awkward spaces so that not a millimetre of space is wasted.
This gorgeous snug was designed by interior design consultancy Zulufish (opens in new tab), and features elegant wall panelling, along with a low corner sofa.
11. Position Sofas For Socialising
To create a sociable, welcoming vibe in your living room, the positioning of your seating is key. Avoid placing sofas and armchairs so that they all face towards the television or a fireplace.
Instead, nestle them around a central coffee table so that, when everyone is sitting down, they are all facing one another.
12. Create a Strong Focal Point
Although an original fireplace is often thought of as the holy grail of focal points in a living room, there are plenty of other ways to create a strong point of interest in a room.
Of course a stand out fire will draw attention, as can be seen here, but so too can a feature wall, created using a bold paint or wallpaper choice or internal cladding. Focal points can also be picture windows, types of ceiling, a fantastic piece of artwork or a freestanding stove.
13. Use Internal Glass Doors For Division
In larger living rooms that need to be used for more than just relaxing in, some form of room divider is needed — and internal glazed doors are perfect.
Whether you choose standard, sliding, bi-folds or even barn-style doors, this is a perfect idea for anyone needing to section off part of their living room. Perhaps you need a quiet home office space, or maybe you are looking for ways to shut off play room clutter at the end of the day. Using glass doors means you won't be blocking any light from entering the room.
This stunning living space, from interior design consultancy Zulufish (opens in new tab), has been separated from the library by a double-sided fireplace and two floor-to-ceiling Crittal doors.
14. Look Beyond the Book Shelf
Book shelves laden with well-thumbed tomes look brilliant in living rooms, but why stop at a regular bookcase when you could build in a library wall instead?
Stretching from floor to ceiling and even around doorways, library walls are hugely popular right now, creating a wow feature as well as playing a practical storage role.
The best library walls are usually made to measure to make the most of the space, but it is also possible to buy large bookcases that are designed to be fixed to and span entire walls.
In this stunning refurbishment and extension project, designed by Mulroy Architects (opens in new tab), the owners' collection of books has been catered for with an expanse of shelving, accessed via a sliding ladder.
15. Make Your Lighting the Star of the Show
Your living room lighting ideas will really ensure your new space is a pleasure to be in all through the day and can totally alter the look and feel of the space.
Ideally you want to use layers of light in a living room, which should include background lighting to provide overall illumination, task lighting for activities such as reading and accent or mood lighting to highlight points of interest and set the tone.
This living room was designed by Brian Woulfe of Designed By Woulfe (opens in new tab) and uses lights from John Cullen Lighting (opens in new tab) — Polespring downlights to light up the art and the centre of the coffee table and Contour HD27 LED strips behind the drinks cabinet for further interest.
16. Zone an Open Plan Living Room
In open-plan living rooms, use large items of furniture to zone the space. Using either an L-shaped or U-shaped sofa is a great way to create an intimate-feeling space for the living area, creating the feel of a room within a room.
Long sideboards, open freestanding shelving and double-sided fireplaces are also brilliant ways to split an open space up.
Natasha is Homebuilding & Renovating's Associate Editor and has been a member of the team for over two decades. An experienced journalist and renovation expert, she has written for a number of homes titles. She has renovated a terrace and is at the end of the DIY renovation and extension of her Edwardian cottage. She is now looking for her next project.
Homebuilding & Renovating Newsletter
Get the latest news, reviews and product advice straight to your inbox.
Thank you for signing up to Homebuilding. You will receive a verification email shortly.
There was a problem. Please refresh the page and try again.