Ceiling Lighting Ideas for Living Room — How to Light a Snug
By Amy Reeves published
Get ceiling lighting ideas for living rooms sorted with our helpful guide on what to include and what to avoid to achieve a cosy room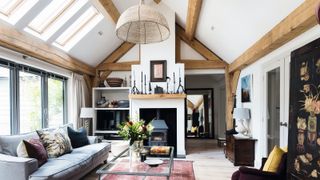 (Image credit: Jeremy Phillips)
Ceiling lighting ideas for living rooms will impact the atmosphere of this versatile room. The lighting required for use during the day – say, for reading or working – is very different than the type of light needed to ensure a living room feels cosy while curling up on the sofa at night.
In order to achieve a great lighting design, it's a good idea to be keep well-versed on the three essential types of lighting and how they can be applied to the living room.
Task lighting is for illuminating specific areas for the user to carry specific jobs, like reading. Ambient lighting provides the background lighting which lets people see clearly wherever they are in the living room. Finally, accent lighting illuminates pictures, objects and features you want highlighted.
How you layer the different types of lighting will depend on the room and how it is used. Take a look below for guidance on which ceiling lighting ideas are best for living rooms and how to adapt a good lighting scheme to any snug.
Ceiling Lighting Ideas for Living Rooms: Points to Consider First
"Lighting is often neglected or added as an afterthought to the design of a new home — but it shouldn't be, given its importance," says Allan Corfield, founder of AC Architects (opens in new tab). "As part of the design process your architect or designer may offer you some advice on lighting your interiors; however, this usually is little more than a basic discussion of compliance with the Building Regulations. Most of our clients opt to hire an experienced, independent lighting designer."
"Layering the lighting will allow you to set the tone according to the mood and time of day," explains Natalie Mann, new product development co-ordinator for Iconic Lights (opens in new tab). "When it comes to the living room, a striking pendant will provide overhead lighting and create a focal point, while floor and table lamps create an ambient glow during the evenings and help to anchor the overall scheme."
"In general, a combination of downlights, table and floor lamps and accent lighting such as spotlights within fireplaces, picture lights and concealed cabinet lighting works really well — although some people love the idea of a central pendant that can act as a focal point," associate editor Natasha Brinsmead adds.
1. Use Modern Ceiling Lighting for Different Uses
"One of the benefits of careful lighting design is the ability to tailor the light in a space to the activities that will take place there. Sitting in a living room and entertaining guests will require different lighting to relaxing with a book or watching TV," explains Allan Corfield.
In you have an open plan kitchen and living space that will perform functions such as tea with friends, or a place for kids to play, then focus on warmer, ambient living room lighting ideas in a separate snug.
However, if your space will perform all of these functions, try to design different circuits with your electrician that create different combinations of ceiling lighting depending on the time of day and the use.
2. Keep a Small Living Room Cosy with Lighting
Small spaces work best when they are dedicated to a primary function — in the living room's case, this is generally watching TV.
"Bear in mind that televisions emit their own light and you don't want your lighting conflicting with it. 'Bias lighting' involves placing lighting behind the TV to avoid glare or eye strain," says Natasha Brinsmead.
This comforting mid-century room has been finished with an eye-catching but understated pendant light hanging from the ceiling.
3. Keep it Simple in a Living Room with Low Ceilings
Lucky for many of us, living rooms with low ceilings work very well as they provide a homely atmosphere and a place where we want to settle for the evening.
Lighting low ceilings well depends on how much emphasis you want to place on this 'cosy' vibe. Low-hung pendant lights make the ceiling feel lower for instance.
Spotlights or downlights on dimmer switches will do the opposite trick here as they can recede into the ceiling, drawing little attention to themselves, and thanks to the number of them also avoid dimmer spots.
4. Draw The Eye Upwards in a Living Room with a Statement Ceiling Pendant
"A consideration with high ceilings is how you will light the space. Large windows and rooflights will provide natural lighting that changes through the day, constantly evolving as the sun tracks around the space. For all other lighting we recommend getting specialist advice from a lighting designer," says Allan Corfield.
The best lighting ideas for vaulted ceilings, in addition to rooflights, include statement pendant lights (such as this light shown here), a mix of downlights and even LED strip lights to provide a wash over the interesting ceiling.
5. Set Any Mood with Smart Ceiling Lighting
With advent of smart lighting not only can lights be set on a timer and turned on using voice control, but if you're designing a living room and want a cinema influence, the best smart light bulbs can also be set up to adapt and change with whatever you're watching on TV.
6. Let Ceiling Spotlights Disappear
If you want your living room lighting to disappear, try to coordinate the style of light fixtures with the finished ceiling style.
This stunning kitchen diner utilises angled spotlights on tracks which almost look invisible against the cream ceiling colour. Note also that the lights above the TV are angled to wash down the wall, rather than towards the users, or the TV to avoid an uncomfortable glare.
What Ceiling Lights are Best for Living Rooms?
The best ceiling lights will very much depend on the height of your ceiling, and the ambiance you're looking to achieve. Pendant lights create a striking centrepiece while a cluster of downlights, particularly those with a white bezel, will discreetly blend into the ceiling.
Not matter what fixtures you go for, dimmer switches enable users to adapt the set lighting to the mood they require — an incredibly helpful function for living rooms.
How Do I Make Cosy Lighting in my Living Room?
"To create a cosy ambience, consider using pendant lighting for the ceiling," advises David Amos, CEO at Amos Lighting. "As pendants create a more intimate feeling in a room. For optimum cosiness, dimmable lights are recommended because they make the lighting gentle, shades made from fabric or thin material will also diffuse the light to create a cosy feel."
Assistant Editor Amy began working for Homebuilding & Renovating in 2018. She has an interest in sustainable building methods and always has her eye on the latest design ideas. Amy has interviewed countless self builders, renovators and extenders about their experiences for Homebuilding & Renovating magazine. She is currently renovating a mid-century home, together with her partner, on a DIY basis, and has recently fitted her own kitchen.
Homebuilding & Renovating Newsletter
Get the latest news, reviews and product advice straight to your inbox.
Thank you for signing up to Homebuilding. You will receive a verification email shortly.
There was a problem. Please refresh the page and try again.