Built-in Desk Ideas: 11 Creative Designs for a Home Office
By Hugh Metcalf published
The right built-in desk ideas will help you make the most of every last inch in your home office. Here's 11 clever ways to incorporate one in your space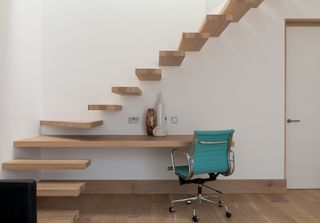 (Image credit: French + Tye, c/o Alpex Architecture)
Built-in desk ideas are a smart way to get the most from what is often a compact space. Going for a built-in design means you can go bespoke and make your desk to perfectly fit your space, while you'll also find that you can implement plenty more home office ideas such as built-in storage, space-saving lighting and even a desk that hides away when not in use.
We've found 11 brilliant examples of built-in desks to serve as inspiration for your own grand home office plans — which is your favourite?
1. This Built-in Desk Idea Stores Away When You're not Using it
Image 1 of 2
Image 2 of 2
Tasked with reworking the internal layout of this Barbican flat to include an extra bedroom and flexible home office design, Studio Ben Allen designed a clever built-in desk idea that folds down, but is strong and well supported. Not only does this increase the workspace when required, but can also hide a messy desk from view when folded away — perfect for this live-work space.
2. Incorporate a Built-in Desk Idea Into Your Kitchen
With working from home growing in popularity, many kitchen makers are also offering built-in options for home offices and desks, making incorporating one into your kitchen space easier and more cohesive than ever.
This design from Herringbone kitchens has included a built-in desk where a large pantry unit would have otherwise created a dead space in the corner of the room.
3. Create a Built-in Desk Under the Stairs
If you're not sure what to do with the space under your stairs, there's plenty of under stair storage ideas around that can incorporate a built-in desk. This solution is best suited in open plan homes without high traffic hallways that would be a less than ideal working environment.
4. Or try This Built-in Desk Idea That's Part of the Stairs
This clever built-in desk design from Alpex Architecture takes the idea of an under the stairs desk to the next level, incorporating a floating desk as a step in a floating staircase.
5. Slot a Built-in Desk into an Alcove
Alcoves can be difficult spaces to make use of, but a small built-in desk is a perfect solution for those who need a dedicated workspace. Making use of clever built-in storage ideas will help make up for the shortness of desk space.
6. Or Create an L-shaped Built-in Alcove Desk
Another idea for inserting a desk in a room with alcoves is to create an L-shaped set-up. This will increase the amount of desk space, and means you could also include built-in storage to keep your home office essentials close at hand.
7. Hide Workspace With This Desk Idea Built Into a Cupboard
To keep your home office out of space and out of mind at the end of the working day, consider this desk built in to a cupboard idea. When not in use, close the doors and hide away papers and equipment, ensuring you have a self-contained workspace to avoid your important documents going missing.
This brilliant idea also shows it's a great idea for children — ideal for homework or craft time.
8. Create a Door for Your Built-in Desk
Another option for hiding your home office away when it's part of an open plan space is to use pocket doors, as Roselind Wilson Design in this clever design.
9. Play With Lighting Ideas for Built-in Desks
Choosing a built-in desk means a chance to get more creative when lighting a home office. Recessed LED lighting is a perfect fit for a built-in desk, not only ensuring you have great, even task lighting over a desk, but also meaning you don't need a table lamp, ensuring you have the maximum amount of desk space possible.
10. Ply is a Great DIY Material for Creative Built-in Desk Ideas
Ply is a brilliantly versatile carpentry material that brings warmth and character to a space. In a design like this loft conversion from IBLA, it's not only been used as internal wall cladding, but also to create a simple built-in desk and seat, creating a multi-functional space that retains a simplicity in its overall design.
11. Work With a View With This Mezzanine Built-in Desk Idea
Image 1 of 2
Image 2 of 2
A built-in desk can be used to great effect on a divide in an open plan living space, especially where there's a change in floor level, such as a split-level space. However, for the ultimate example, how about this desk built into the top of the staircase on a mezzanine in this double height space, creating an inspiring spot to work from.
Hugh is Digital Editor of homebuilding.co.uk and has worked on a range of home, design and property magazines, including Grand Designs, Essential Kitchens, Bathrooms, Bedrooms and Good Homes. Hugh has developed a passion for modern architecture and green homes, and moonlights as an interior designer, having designed and managed projects ranging from single rooms to whole house renovations and large extensions. He's currently renovating a Victorian terrace in Essex, DIYing as much of the work as possible. His current project is a kitchen renovation which involves knocking through walls and landscaping a courtyard garden.
Homebuilding & Renovating Newsletter
Get the latest news, reviews and product advice straight to your inbox.
Thank you for signing up to Homebuilding. You will receive a verification email shortly.
There was a problem. Please refresh the page and try again.