Garden Room Lighting Ideas: Illuminate Your Space in Style
By Natasha Brinsmead published
Great garden room lighting ideas are vital if you want to get the very most out of the space both night and day, as well as highlight any interesting features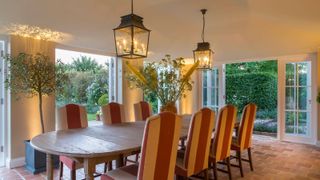 (Image credit: John Cullen)
Garden room lighting ideas can often be forgotten when planning out the interior of an outbuilding or summer house. While you might have carefully thought through your furniture and décor scheme, it is really important to understand the effect of lighting too — it can make or break the success of your garden room ideas.
Not only can your garden room lighting play a practical role in ensuring the space can be used whatever time of day it is, they can also highlight particular features, zone the space and ensure that it is suitable for a number of different uses too.
Here, we run through some of favourite garden room lighting ideas to illuminate your outdoor space throughout the seasons.
How to Choose Garden Room Lighting Ideas
When creating a garden room or outbuilding you need to ensure that it will fulfil all your needs. For this to be possible you need to address a number of different factors, lighting included.
To ensure your garden room ideas are perfectly suited to your space, ask yourself the following questions:
What do you plan on using your garden room for? If you want to use the space for a hobby room or as a garden office, you will need to ensure you have good task lighting, for example. If you want to use it as an outdoor dining room then intimate, low-slung pendant lighting is ideal.
Who will be using your garden room? Perhaps your garden room will need to multi-task at times — in which case your lighting scheme will need to reflect this. A space for teenagers to hang out in and a home office have different lighting needs.
What is the orientation of your garden room? Take into account where and when the sun rises and sets as this will play a role on the kind of artificial light you will need.
What natural light sources will you be including? If you only have a few small windows, your lighting needs will be different than if your garden room has a swathe of bi-fold doors for example.
Does your garden room have an electricity supply? Not all summer houses have electricity — in which case you will need to look at portable lights and those that rely on solar power.
1. Tackle a Low Ceiling With Wall Washers
Garden rooms and summer houses are not always known for their soaring ceilings, but through the clever use of lighting, low ceilings heights can be made to seem a little more lofty than they really are.
Wall washers are actually a great summer house interior idea, shedding light up and across the horizontal planes of a space as opposed to drawing the eye to its vertically challenged proportions.
2. Combine Heat With Light
In order to enjoy your garden room all year round, a good source of heat is vital — but had you considered combining your heat and light sources?
It is now possible to find outdoor heaters that also act as lights and these can create a lovely, warm sociable feel in a garden room, particularly when in the form of pendants slung low over a large, welcoming table.
These oversized Heatsail Dome Patio Heater Pendant Lights are from Cuckooland.
3. Don't Forget Natural Light Sources
It isn't just artificial light sources that need to be taken into consideration when planning out your garden house interior.
Whether you choose to introduce natural light through bi-fold or sliding doors, rooflights or standard windows, take the orientation of the building into account and, in the case of garden offices, think about whether your windows might interfere with computer screens.
4. Make The Most of a Vaulted Ceiling
If you are lucky enough to have a beautiful oak frame garden room, such as this one from Carpenter Oak, with a vaulted ceiling, then be sure to use your lighting scheme to highlight it.
There are many lighting ideas for vaulted ceilings we love, but one of our favourites is to hang a selection of exposed bulbs on cords at various heights.
5. Don't Forget Outdoor Lighting
A garden room should work in harmony with the rest of your garden design scheme so it makes sense to ensure that the lighting you use in this space enhances and works alongside your exterior lighting choices.
If your garden room has a deck or patio area leading off it, make sure it is well lit. Here, a lighting scheme by John Cullen uses recessed downlighters to illuminate the deck while the garden lights around the perimeter of the space draw the eye outwards.
6. Harness The Power of The Sun
The best garden solar lights are not just for outdoors — they can make a great, low energy option for the interior of a garden room too.
Obviously solar lights need natural light for power so ensure you position them so that they can 'charge up' during the daylight hours.
These large decorative flower-shaped pendant lights from Ella James have warm white solar LED bulbs which work for eight hours at a time.
7. Choose a Wireless Light For Flexibility
Wireless lighting makes perfect sense in garden rooms, making it possible to light up even summer houses with no sockets or electricity supply. It also makes it easy to take the lights from inside to out and to move them around the space as required.
Here, the warm tones and natural grain of the internal timber cladding have been highlighted by the Thierry le Swinger lamp from Nedgis. This is a multifunctional wireless lamp that lasts between 6.5 and 42 hours. It is supplied with a cable that makes it easy to hang anywhere using the beech support specially designed for this purpose.
8. Create a Little Magic With String Lights
Fairy lights have the power to pretty up any space, but seem particularly at home in summer houses where they add a ditsy, relaxed feel.
You could choose solar or battery powered if you have no power supply. Sling them over shelves, through rafters, around the walls and even over the front of your garden room to add a touch of magic to the space when the sun sets.
These pretty flower-shaped lights are from Lights4Fun.
9. Create an Area For Sitting Out
To ensure you get the very most use out of your garden room, it is important to treat any external areas as an extension of your interior space.
Good lighting on your garden room deck or any patio spaces that branch off the structure will mean that you can sit out for as long as temperatures allow. This oversized floor lamp from Nedgis is by Spanish designers Faro and can be used both indoors and out.
10. Use Portable Lamps For Flexibility
Portable, wireless and rechargeable are all noteworthy features when it comes to garden room lighting, making it possible to make the transition from inside to out simple and allowing for a flexibility that can be lacking with lights that rely on a socket or other electricity supply.
The Amelia Rechargeable Table Lamp from Pooky has a battery life of at least 10 hours and comes with a choice of shades — perfect for turning your garden room into an elegant indoor outdoor dining space.
Natasha is Homebuilding & Renovating's Associate Editor and has been a member of the team for over two decades. An experienced journalist and renovation expert, she has written for a number of homes titles. She has renovated a terrace and is at the end of the DIY renovation and extension of her Edwardian cottage. She is now looking for her next project.
Homebuilding & Renovating Newsletter
Get the latest news, reviews and product advice straight to your inbox.
Thank you for signing up to Homebuilding. You will receive a verification email shortly.
There was a problem. Please refresh the page and try again.