Garden Steps Ideas for any Outdoor Space
By Amy Reeves published
These garden steps ideas will help you get the best from your space, from clever designs to important safety consideration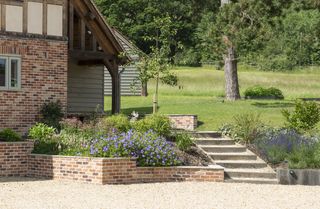 (Image credit: Jeremy Phillips)
Integrating garden steps ideas into a new landscaping scheme or during an update to an existing outdoor space can create a beautiful focal feature that is both elegant and inherently practical.
Whether you use sleepers, brick or wood-effect decking is entirely up to you and your style, but it is essential to ensure the material you choose is secure and suitable for the area.
When planning a garden design which features steps, you may also need to consider building regulations regarding handrails and the height and depth of the tread.
Below, we've collect our favourite garden steps ideas and designs that can be applied to any style or size of garden with some top landscaping tips along the way.
Consider Garden Steps Ideas in the Context of the House
Let your house inspire the materials you choose for building your garden steps and other hard landscaping. For instance, if you've used unique types of brick in a self build or extension design, the same batch can be applied to the outdoor spaces for a colour consistency.
With renovation projects an interesting contrast using pavers or tiles could work just as well, in order to update the outdoor spaces with minimal cost or effort.
Note the grey-blue colours of the painted weatherboarding mirrored in the step pavers of this self-build while the sleeper surrounds mimic the bargeboards of the gable ends.
Get the Direction of Garden Steps Right
Carefully plan where your garden steps will lead, otherwise a 'desire' path will emerge as people choose the shortest or most direct path to their destination.
Create Unique Spaces with Garden Steps
If your garden has a steep slope, it may seem at first glance like something to be battled against, but awkward plots can offer an opportunity to create a variety of complementary outdoor areas using garden steps ideas to lead to tiers or terraces.
This sleek extension opens from the patio doors onto a small outdoor kitchen area with pizza oven, before leading down to a built-in seating and dining area and finally, to the rest of the garden.
(MORE: Patio Design Ideas)
Opt for Porcelain Garden Steps
Porcelain tiles can come in a variety of anti-slip surface textures making them an ideal candidate for garden steps. Plus, they're hard-wearing, low maintenance and easy to install.
Check out our guide to garden paving ideas to find a style that suits your space.
Create an Impression with Corten and Grass Steps
Requiring 700 tonnes of soil to be removed, this contemporary extension utilised corten steel to create a garden amphitheatre with wide, curved steps.
An effective but practical sloping garden idea, either edge of the larger steps, there are smaller treads to ensure a comfortable climb to the top.
Staying Safe with Steep Garden Steps Ideas
To comply with Building Regulations, if there is a drop of 600mm or more to the side of your garden steps, you will need to install a handrail or sidewall, so bear this in mind when coming up your landscaping design.
(MORE: Front Garden Ideas)
Get the Size of Garden Steps Right
The width of a step, and if you're having a path leading up to them, should be a minimum of 1.3m as a general rule of thumb as this means two people can walk side-by-side comfortably.
For the steps themselves, try to aim for 15cm for riser. Treads should be around 30cm at a minimum, but they can go up to 1m for a very gradual elevation.
Design a Unified Outdoor Space
From weatherboarding on the self build and welcoming garden lighting ideas, to the composite decking patio area and steps leading down towards the garden beyond, this design has it all.
When planning steps from a decked patio area adequate lighting is a must for both safety and a curated finishing touch that will set it apart.
(MORE: Garden Decking Ideas)
Embedding Steps into a Large Landscaping Design
Local stone and slate have been used in both the house cladding and creation of the steps between terraced sections of this coastal extension. The result is charming and well-considered garden with lots of purposeful spaces.
Remember: brick and stone are among the most expensive materials to use for hard landscaping, but they have a lifelong durability and elegance that pays in dividends.
Install Garden Stepping Stones
Garden stepping stones can be just as useful for flat gardens as they are for sloping sites. Here, sleepers have been embedded into the manicured grass so it stays healthy and vibrant.
Add Some Natural Colour to Garden Steps
Graceful and inviting, these garden steps have been planted either side with fragrant and eye catching plants that ensure the new steps feel embedded and established. When planting on a slope, consider low maintenance garden ideas that don't require much upkeep to look their best.
Or Add a Pattern for Some Wow Factor
A coordinated design with a star-shaped pattern and simple grey patio works incredible well in this low maintenance garden space.
The without the unique design, the small step up to the seating area could be quite hard to see so the contrast ensures a safe transition as well as a statement finish.
Assistant Editor Amy began working for Homebuilding & Renovating in 2018. She has an interest in sustainable building methods and always has her eye on the latest design ideas. Amy has interviewed countless self builders, renovators and extenders about their experiences for Homebuilding & Renovating magazine. She is currently renovating a mid-century home, together with her partner, on a DIY basis, and has recently fitted her own kitchen.
Homebuilding & Renovating Newsletter
Get the latest news, reviews and product advice straight to your inbox.
Thank you for signing up to Homebuilding. You will receive a verification email shortly.
There was a problem. Please refresh the page and try again.