New Front Door Costs: The Price of Creating Kerb Appeal
By Natasha Brinsmead published
Our guide to new front door costs will ensure that your home makes the best possible first impression no matter what budget you are working with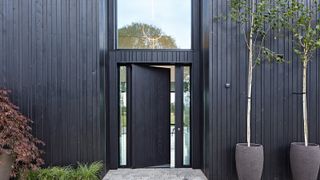 (Image credit: Urban Front)
You may well be wondering what a new front door costs if you are in the process of upgrading your home's kerb appeal.
Certain features can really make or break the entire look of a building — cladding materials, windows and, of course, front doors. For this reason, it is important to ensure you have factored in the cost of these important design elements — you certainly don't want a cheap-looking front door letting the façade of your home down. That said, it isn't always necessary to spend a fortune on a new front door — there are plenty of stylish cost-effective options.
Factors that will affect the cost of your new front door include the material it is made of, as well as its design. Whether you choose a bespoke option or a standard off-the-shelf model will also play a part, as will whether you decide to head to your local reclamation yard to hunt down a period front door.
In this guide, we explain the prices you are likely to pay for a range of front doors, so that you know how much of your budget you will need to set aside for this all-important feature before you get carried away with your front door ideas.
What Factors Affect New Front Door Costs?
When you start shopping around for a new front door you will notice that there are huge variations in what they cost. Sometimes the reasons for the difference in price are obvious, while at other times seemingly similar products are given totally different price tags with little explanation.
For this reason it is useful to understand the various factors that play a part in the cost of front doors. In the main, these include:
Material
Quality
Size
Style
Thermal efficiency
Level of security offered
How Much Does it Cost to Fit a Front Door?
Depending on where you decide to buy your new front door from, you may find that installation will be included in the purchase price — but this won't always be the case so do ask before settling on a quote.
It is rare to find that off-the-shelf front doors will include any kind of installation service, in which case you will need to seek out a local carpenter or joiner to come and fit it. Some people do choose to fit front doors on a DIY basis, but given that this is an element of your house that needs to be totally secure, this is not something to be attempted unless you are 100% confident of your skills.
The type of door you choose will have an affect on installation costs — simple, standard doors can be fitted for as little as £150 in under a day, while more complex designs, such as pivot doors or those that feature lots of glazing, could cost well into the £1,000s to fit.
How Much Does a Wooden Front Door Cost?
Wooden front doors are hugely popular for a reason — not only do they come in a massive range of styles to suit any house type, but they are also an option for pretty much any budget. Timber doors can be picked up in standard sizes from DIY warehouses or be made to order. Not only do they suit period homes, but they also come in some highly contemporary designs too.
Softwood front doors lie at the cheaper end of the price scale, but avoid very cheap products as they can be prone to twisting, splitting and warping over time. Hardwood doors can also be prone to movement, so whichever wood you choose, you will need to ensure it has been properly primed and treated. Some will come pre-treated, while others will require you do to this yourself — ask your supplier what preservatives they recommend.
Heat-treated woods, such as Accoya, offer better stability, but are more expensive. Engineered timber doors will also be far less prone to movement than solid wood designs.
Cost: Good solid softwood timber doors start from £300 but can easily go up to £500 if you opt for engineered wood. Bespoke timber doors, oversized or pivot doors may start from around £2,000 but some doorsets that are custom made will cost up to £10,000, sometimes more.
What Do Aluminium Front Doors Cost?
Aluminium has become an increasingly popular option for front doors, as people recognise the strength, durability and good energy-efficiency levels it can offer. Aluminium front doors are also a great low-maintenance option and come in a range of colours and designs.
Cost: Aluminium front doors tend to start at around £1,000, rising to approx. £3,000. Bear in mind that their low-maintenance requirements offset the initial outlay.
Are Composite Front Doors Expensive?
Composite front doors have a great deal in their favour. But what is a composite front door? They feature an insulating core of solid timber or rigid foam and can be covered in various materials, such as timber or glass reinforced plastic (GRP).
This is a good option for anyone wanting either a traditional timber-look front door, or a contemporary design — they are cheaper than uPVC and require little in the way of upkeep.
Cost: Composite front doors can be picked up for as little as around £400, although this won't include the frame or any door hardware. An average price for composite doors is from £750-£1,000, although some complete doorsets can cost as much as £2,500+.
What is The Price of uPVC Front Doors?
As one of the most budget-friendly front door options out there, uPVC front doors have a lot going for them — they have come a long way in both design terms and in how energy-efficient they are in recent years, so if you are looking for a lower-cost option, then take time to explore the ranges now on offer.
uPVC doors come in a wide selection of designs, including wood-effect and in a broad spectrum of colours too.
Cost: From £300, although this won't include installation. Many uPVC front doors come pre-hung in their frames, as doorsets, and these start from £350, rising to around £900 for designs that incorporate sidelights into their frame. Door hardware and fixings may also need to be purchased separately.
How Much Do Reclaimed Front Doors Cost?
This will totally depend on the material, condition and style of door you are after. Door types that are not as sought after, such as 1960s doors, may cost less than authentic Georgian designs. You could well pay as little as £30 for a door in poor condition with little in the way of features, although between £60-£100 is more common.
You also need to factor in the cost of door refurbishment, painting a front door and new glazing.
Additional Front Door Costs
There are several hidden costs involved when buying a new front door. Your door furniture ideas could end up really adding to costs, for example. Items, such as handles, letterboxes and the like often won't be included in the initial price. Check whether the frame and any necessary fixings are incorporated into the price too.
Natasha is Homebuilding & Renovating's Associate Editor and has been a member of the team for over two decades. An experienced journalist and renovation expert, she has written for a number of homes titles. She has renovated a terrace and is at the end of the DIY renovation and extension of her Edwardian cottage. She is now looking for her next project.
Homebuilding & Renovating Newsletter
Get the latest news, reviews and product advice straight to your inbox.
Thank you for signing up to Homebuilding. You will receive a verification email shortly.
There was a problem. Please refresh the page and try again.