Outdoor Wall Lights: 10 of the Best Buys for Lighting Your Home's Exterior
By Amy Reeves
Outdoor wall lights should illuminate your home and ward off unwanted visitors — find out which one is right for you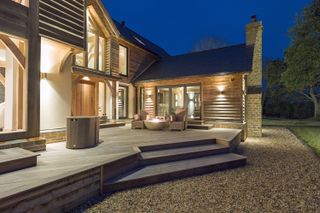 (Image credit: Jeremy Phillips)
Choosing outdoor wall lights for your home is an important task. Nobody wants to install an eye-sore on the outside of the house, but also taking into consideration security, motion sensors, weatherproofing and, of course, cost can be confusing. 
We've all been in the garden waving madly to trigger a floodlight sensor, or fumbling around in the darkness to put the key in the lock because the automatic timer hasn't worked — finding a good-quality light is half the battle and can massively impact the enjoyment of your outside spaces. 
So, we've rounded up the best options for every priority to make sure your home stays beautiful, safe and secure. Take a look at our top-rated choices to suit you, your outdoor areas and your budget.
(MORE: Want to give your home a more extensive facelift? Check out our exterior makeovers guide)
Quick Links to Outdoor Wall Lights
Which is the Best Outdoor Wall Light? 
1. Blooma Edna Outdoor Wall Light
Affordable, powerful and easily adjustable
Power Supply: Mains | IP Rating: IP44 | Dimensions: 100(H) x 100(W) x 100mm(D) | Bulb: LED
Powerful light
Easy to change light direction
Easy to install
No motion sensor
There's so much to love about this Blooma Edna matt charcoal wall light. 
Not only is it small and compact, but it emits a lovely warm and surprisingly bright light (814 lumens). You can also adjust the flaps inside the light fitting to change the top and bottom settings, altering the direction of light depending on your choice of location.
Plus, it's super easy to install yourself, and it comes with a five-year manufacturer's guarantee. 
Buy the Blooma Edna Matt Charcoal Outdoor Wall Light now
---
2. Lindby Chioma LED Solar Outdoor Wall Lamp
A strong all-rounder for lighting up outdoor spaces
Power Supply: Solar | IP Rating: IP44 | Dimentions: 12.5(H) x 9.5(W) x 16.5cm(D) | Bulb: LED
Warm light hue
Variety of modes
Excellent brightness
Small and discrete design (perhaps not for those looking for something to stand out)
If you're searching for a sleek light with a warm white hue and a motion sensor for a reasonable price, look no more. 
Featuring a solar panel along the top and an integrated sensor, the Chioma outdoor wall light can be simply installed outside an entryway without the need for any electrical work. 
The Chioma offers three different modes (four if you include off), allowing the solar energy to be reserved when not required, but a bright and powerful automatic illumination to deter unwanted visitors:
Automatic light output of 75 lumens after dark
75 lumens after dark, plus when a movement is registered an increase to 400 lumens
Dormant which can output 600 lumens when a movement is registered
Buy the Lindby Chioma LED Solar Outdoor Wall Lamp now
---
3. Nordlux Design for the People Maze
Best designer exterior wall light
Power Supply: Mains | IP Rating: IP44 | Dimensions: 18(H) x 18(W) x 4cm(D) | Bulb: LED
Standout design
Creates a warm wash on the wall
No sensor
Something for the design-oriented bunch, the Maze light creates a clean, warm illumination which would be perfect to increase kerb appeal by the front doors, or beside a patio area for entertaining. 
However, before purchasing, perhaps weigh up the importance of visibility versus style as the metal rods which form the design might impact how much brightness the light provides. 
Buy the Nordlux Design for the People Maze now
---
4. Luceco LED Exterior Cube
Best cheap outdoor wall light
Power Supply: Mains | IP Rating: IP54 | Dimensions: 8(H) x 13(W) x 13cm(D) | Bulb: LED
Robust
Easy to install
Not especially bright for whole-area illumination
Made of a robust die cast aluminium with a corrosion-resistant grey slate finish, this contemporary yet fuss-free wall light creates a warm wash for great ambiance. 
What's more, this neat wall light is able to be surface mounted without any wiring required while achieving a rating IP54 so it's ready for anything the UK weather might throw at it!
Buy the Luceco LED Exterior Cube now
---
5. Philips Hue Lucca Wall Light
The best outdoor light for smart, connected homes
Power Supply: Mains | IP Rating: IP44 | Dimensions: 12.9 (H) x 17 (W) x 21.5cm(D) | Bulb: LED
Voice control
Remote access
Welcome Home setting
Requires Hue Bridge or Hue dimmer switch
Homes are more automated than ever before so including your outdoor illumination with your smart home design is a natural step. 
As well as the usual voice control abilities Philips Hue range offers (compatible with Alexa, Google Assistant and Apply HomeKit) the Welcome Home feature of the Philips Lucca can automatically light up your drive or porch to greet the family's arrival. 
(MORE: Smart Home Tech for Every Budget)
Also, if you're planning to go on holiday for a few day, and don't want to ask the neighbours to turn of the lights so it doesn't look empty, the Lucca can mimic regular routines to warn off unwanted guests. 
Buy the Philips Hue Lucca Wall Light now
---
6. Steinel XSolar Outdoor Wall Light
Power Supply: Solar | IP Rating: IP44 | Dimensions: 5.3(H) x 24.2(W) x 9.1cm(D) | Blub: LED
Infa-red 360º motion sensor
Battery charging option for winter
Not the most attractive design
Steinal's XSolar will help keep your energy bills in check and your outdoors illuminated. Though it requires no fiddly wiring, as with all solar powered models, this wall light works best with a direct view of the sun which might impact where you choose to install it. 
Handily, Steinal have come prepared for winter when solar gain is at a minimum and have included a micro-USB port meaning the batter can be charged all-year-round — win win!
Buy the Steinel XSolar Outdoor Wall Light now
---
7. Lucande Henni Outdoor Lamp
The best choice for deterring unwanted visitors
Power Supply: Mains | IP Rating: IP65 | Dimensions: 4.8(H) x 30(W) x 30cm(D) | Bumb: LED
Can be wall or ceiling mounted
6metre sensor range
Expensive
Sleek, simple and timeless, the Henni wall and ceiling light has a white polycarbonate cover which cannot be seen once installed, leaving only the grey painted aluminium surface on display. 
The warm yet bright light will work wonderfully in both areas which need good visibility – like a front porch – and entertaining spaces like patios where a comfortable, consistent illumination is required. 
Buy the Lucande Henni Outdoor Lamp
---
8. Philips Hue Floodlight
The model to maximise your atmosphere
Power Supply: Mains | IP Rating: IP44 | Dimensions: 15.3(H) x 16(W) x 22cm(D) | Bumb: LED
Easy to control via app
Hue colour choices
Philips Hue Bridge required
Unlike more basic floodlights which can struggle with being too harsh to use as an ambient light, the Philips Hue enables users to adjust brightness and hue warmth to set the right atmosphere outdoors. 
Set schedules, activate with your phone, voice-control with a device inside or do it the old fashioned was with a physical indoor switch — the Hue Floodlight is unparalleled for its low-maintenance and high-performing qualities. 
Buy the Philips Hue Floodlight
---
9. John Lewis Strom Outdoor Wall Light
The best outdoor wall light for ambience
Power Supply: Mains | IP Rating: IP44 | Dimensions: 16.4(H) x 8.5(W) x 9.3cm(D) | Bulb: LED
Choice of metallic finishes
Beautiful top and bottom wall wash effect
Dimmable
Fairly basic for the price
If the last year or so has taught homeowners anything, it's the value of enjoying your space outdoors. Extend your home's style with the beautiful metallic finish of the Strom wall light. 
Buy the John Lewis Strom Outdoor Wall Light now 
---
10. Nordlux Vejers Outdoor Wall Lantern
An interesting, traditional design with reduced glare
Power Supply: Mains | IP Rating: IP44 | Dimensions: 23(H) x 22(W) x 25cm(D) | Bulb: Not Included
Anti-rust coating
Smart apprance
Best installed by a professional
Offer a warm welcome home with the stylish, industrial-inspired Vejers wall light.
The black galvanized steel casing and tiered design does nothing to dampen the bright light while providing a characterful appearance but the model does require being wired directly into a wall so best to keep it near an entryway, rather than down the garden or driveway. 
Buy the Nordlux Vejers Outdoor Wall Lantern now
How to Choose Outdoor Wall Lights
When deciding on which outdoor wall light is best for you, the most important consideration to make – aside from budget, of course – is what function it will provide. As with all lighting design, different models cater for different tasks:
Task lighting: do you have an outdoor kitchen which requires a clear view of the job at hand or a long garden which necessitates a brighter path? Floodlights provide a strong and direct illumination. 
Ambience lighting: would you like to illuminate a section of the garden for dinner parties, or will the wall light be placed near a porch or entryway? A warm wash down the wall is ideal for setting a cosy environment while a model with a motion detector or security sensor is perfect for wall lights situated outside entryways. 
Accent lighting: is there a specific feature which you would like your outdoor wall light to highlight? A beautiful designer or contemporary wall light might be just the ticket where practicality isn't the priority.
Which Power Supply is Best for an Outdoor Light? 
While mains lights are the most reliable, solar powered options are low-maintenance and demand less energy. 
Think about where and how the wall light will be connected. If along the wall of the main house, adjoining to the existing electrical lines might not be too difficult (although this option almost always requires professional installation), but if you want to light up an unconnected garage or along a fence, solar might be the way to go.  
What is an IP Rating for an Outdoor Light?
All outdoors lights are given an IP protection rating to ensure they are suitable for all kinds of weather. The minimum rating is IP44 which means the seals between joints are small enough that water and moisture cannot easily penetrate and ruin the light. 
Homebuilding & Renovating Newsletter
Get the latest news, reviews and product advice straight to your inbox.
Thank you for signing up to Homebuilding. You will receive a verification email shortly.
There was a problem. Please refresh the page and try again.