Painting a Front Door: A How-to Guide
By Steve Jenkins published
Our guide to painting a front door has everything you need to know to achieve a perfect finish, no matter what your door is made from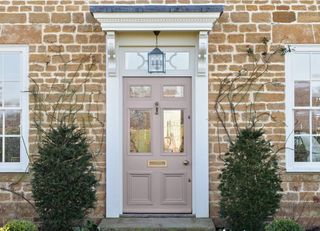 (Image credit: Graham & Brown)
Painting a front door is a great way to give the entrance to your home a fresh new look. It doesn't matter what type of front door you have. All you need to do is prepare properly and apply the right paint to get a good-looking and durable finish.
Check out our top tips and pointers to ensure your re-painting job is a success.
(MORE: How to Paint a Room)
What Tools do I Need for Painting a Front Door?
Exterior paint and primer
1-2 inch Brush
Electric heat gun (optional)
Dust mask (optional)
Cloth and bowl
What's the Best Paint for Painting a Front Door?
Do I need to prime my front door before painting?
Many manufacturers suggest you don't need a primer but it leads to a more durable and longer-lasting finish.
Fronts doors are most commonly made from wood or PVCu. If you have a bare wood door that you want to paint you will need to start with a primer such as Dulux Trade Quick Dry Wood Primer Undercoat or Zinsser Bulls Eye 1-2-3 Primer. Previously painted doors will need suitable exterior wood paint. There are plenty of options out there. Try Dulux Weathershield, Little Greene's Tom's Oil Eggshell or Frenchic Al Fresco. These all come in a host of colours and sheens.
(MORE: Best Exterior Wood Paint)
If you want to keep a natural wood finish try a varnish such as Ronseal Exterior Yacht Varnish. For painting a PVCu door try Dulux Weathershield Multisurface paint or Frenchic Al Fresco. To get the best finish use a primer such as the all-purpose Zinsser Bulls Eye 1-2-3 Primer.
Can I Paint a Front Door Without Removing it?
Yes is the simple answer. Rarely do you need to remove a door to paint it. If you are doing a full refurbishment you may want to remove the door for sandblasting or to make sure that the bottom of the door is painted to help waterproof it.
How do I Prepare a Front Door for Painting
1. Remove or Cover Door Furniture
If you are not going to paint your door handle, door knocker, or letterbox the same colour as the door it is best to remove them. If this isn't possible then use masking or painter's tape to protect and keep the furniture paint-free.
2. Clean the Door
Wash down the door with warm soapy water and a sponge. If you have hard to remove spots use sugar soap. Wipe down with a dry cloth and leave to dry for at least one hour. You can ignore this step if your door needs a lot of prep and sanding down.
3. Preparing the Door
Top tip
If there are multiple layers of poorly applied uneven paint on your wooden front door it might be best to remove all paint and start from the bare wood to get the best finish. Use an electric heat gun and a shave hook (a type of paint scraper) to remove all paint.
For a timber door, first use a flat scraper to remove any loose or flaking paint. Check if there any holes or cracks that need filling. Use a suitable wood filler such as Ronseal High Performance Wood Filler or Everbuild High Performance Wood Filler.
Apply the filler and rub down the whole door when the filler is dry. Start with a medium (120 grit) sandpaper and follow up with a fine grade sandpaper — 180-220 grit. Use a hand sander to speed up the process. Now brush down the door using a large dry paintbrush or hand brush and finish by wiping with a damp cloth.
For a PVCu door, once door furniture has been removed/covered and the door cleaned, all that is needed is a little sanding to improve paint adhesion. Use a fine (180 grit) sandpaper to take the sheen off the plastic surface.
4. Prep for Painting Around Glass Panels on a Front Door
If you have a steady hand paint up to the edges and very slightly onto the glass. When dry simply use a Stanley knife blade to scrape off any excess paint. If not so sure use masking/painter's tape to cover any glass.
Applying Paint to a Front Door
1. Painting a Front Door With Primer
Top tip
Pick a sunny or warm, rain-free day to paint your front door. This will help protect the finish and make sure the paint hardens as expected.
The first step is to add the primer for PVCu and bare wood doors. Front doors come in many different styles, but the general rule is that the best paintbrush for the job is a 1-2 inch brush on decorative areas such as panels. Paint the panel edges with a brush, don't overload with paint, and use even strokes. Use a mini foam roller on larger areas, such as the panel itself.
(MORE: Best Paint Rollers)
Do the top panels first and then the vertical and horizontal sections, so you have effectively painted half the door. Then do the bottom panels and the remaining areas. Leave to dry and give a light sanding to get rid of any imperfections. Check the finish. You will probably need to add another coat.
2. Applying the Undercoat
If you are painting a previously painted door apply an undercoat as you would a primer. Depending on the original colour of the door may need to do two or three coats of undercoat.
Remember to let it dry properly and do a light sanding in between coats. Don't forget to wipe down with a damp cloth to get rid of dust and let the door dry.
3. Apply the Top Coat
The final step is to add the topcoat. Apply with a brush and roller as suggested before. To get the best finish you will need to apply two coats. As before let each coat dry properly and do a light sanding in between coats.
Leave the topcoat to dry. A minimum of four hours is the general rule, but check manufacturers recommendation. Once fully dry replace any door furniture and remove any masking tape.
Maintenance
Your front door will look great once finished, and to keep it that way you will need to look after it. You can add a sealer for extra protection, but a much simpler solution is to repaint the door. Exterior paint is designed to protect a door against the weather and will act as a sealer.
A well prepared and painted door should easily last 3-5 years, but will probably need a touch up to keep it looking good. If you have any spots that need touching up use fine sandpaper to smooth the area. Use a brush to add undercoat and topcoat. Remember to let the paint dry between coats.
Steve is an avid DIYer with over 20 years of experience in transforming and renovating homes. He specialises in painting and decorating, but has strong all-round building skills, having previously worked in the industry for 10 years.
Homebuilding & Renovating Newsletter
Get the latest news, reviews and product advice straight to your inbox.
Thank you for signing up to Homebuilding. You will receive a verification email shortly.
There was a problem. Please refresh the page and try again.