Bungalow Renovations: How to Get Your Design Right
By Natasha Brinsmead published
Bungalow renovations are a popular project as they often have large plots and amazing potential. Here's how to nail the design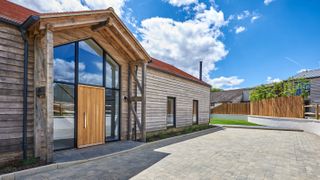 (Image credit: Urban Front)
If you are about to take on a bungalow renovation you will have a lot to think about in terms of the layout, design and extension possibilities.
As bungalows often sit on a larger plot than most houses, it makes them the perfect property to renovate and extend. Converting the loft and knocking down internal walls can open up the space easily and can often be done under permitted development.
The key areas to take into consideration during a bungalow renovation are how to get the flow right and where to extend. You should think about:
The layout
What kind of extensions you can add
How to utilise the loft space
Adding natural light to dark corridors
Keeping your new home secure.
Our design and extension advice should help you get your bungalow renovation spot on.
(MORE: How to Extend a Bungalow)
1. Choose a New Layout For Your Bungalow Renovation
Check out our latest subscription offers
The nature of single storey living means that all rooms, even those you want to feel a little more private, are on the ground floor so thought needs to be given to their orientation and positioning within the layout.
When formulating a new plan for the rooms in bungalow renovations, you really need to think about what each and every room will be used for and go from there.
Rooms that will be fully visible from the road, for example, will need extra consideration in terms of suitable window dressings and glazing options, furniture placement, lighting schemes and the like, as well as their final usage.
During the renovation, typically social spaces, such as kitchen, eating and living areas, should be distinct from the quieter, more behind-the-scenes rooms, such as bedrooms and bathrooms.
Aim to locate the bustling, noisy spaces as far away from bedrooms as possible.
The most successful bungalow floor plans tend to be based on:
A central space (often an entrance hallway)
Social spaces leading off in one direction
Private spaces leading off to the other
An overall design that effectively creates two 'wings' in place of two storeys
It might make more sense to split the layout into front and back, positioning public rooms at the front of the layout where they may be overlooked by a road, and the private areas at the back, overlooked by nothing more than the garden. Tailor this to your own bungalow renovation.
2. Consider a Single Storey Extension When Planning a Bungalow Renovation
Bungalows often have large gardens allowing room to extend to the side or rear. Smaller rear and single-storey extensions can usually be done under permitted development if they are less than 8m deep (on a detached house), but again check the rules before undertaking the work.
There are a couple of issues exclusive to bungalow renovations when it comes to designing and building an extension.
They concern natural light and low roof lines. There is also the matter of proportion to think about - although many bungalows come with large gardens, one enormous single storey dwelling can look out of scale if not well designed.
In terms of bungalows with low rooflines, a flat roof extension is often a good solution. Often the extension is built almost as a stand-alone structure, simply connected to the existing bungalow beneath the existing eaves.
As the extension is self-supporting, no support is required from the existing building, nor is any additional load placed upon it.
It is, however, possible for the extension to be attached to the existing house at the same height as the existing eaves. This option tends to be trickier to achieve from a structural and design point of view when it comes to ensuring the join between old and new looks spot on.
Extensions with a monopitch roof can also work well. Designs that fall towards the existing eaves are usually particularly successful.
A final, yet equally popular way to design a bungalow extension is to use a dual pitched roof that runs at the opposite angle to that of the existing roof - these often just make sense for extensions that will turn a long, straight building into an L- or U-shaped building.
3. Undertake a Loft Conversion to Create More Space During a Bungalow Renovation
As long as you have 2.3m of head height at your loft's highest point, you should be able to undertake a loft conversion.
This can often be done under your permitted development rights (unless it is a listed building or in a conservation area), which means you do not require planning permission.
Dormer windows can be created to add usable floor space, but rooflights are the easiest and cheapest way to bring light into the loft.
You should expect to pay around £20,000 for a basic rooflight conversion with two bedrooms and one bath, but a mansard or dormer will cost £40,000 - £45,000.
(MORE: Bungalow Loft Conversions)
4. A Bungalow Renovation is the Perfect Opportunity to Bring in More Natural Light
A common problem with post-war bungalow renovations is that they have long, dark corridors, designed to separate sleeping quarters from living. There is often a lack of natural light, particularly in the central spaces of the layout.
Rooflights and roof lanterns are a great solution for bringing natural light from above deep into the floorplan.
You could also consider removing a flat roof to create an open vaulted space with rooflights as a way to really transform a room with a low ceiling into one that feels spacious and light.
An engineer would need to be consulted on any changes that might affect the roof structure.
There are several other good ways to bring in more natural light to a bungalow, solutions that are actually often by-products of well-designed extensions:
Runs of bifold doors or sliding doors added will connect the space to the garden as well as bringing in lots of light
Flooring is another way to create an impressive indoor/outdoor space. Continue the type or colour of flooring you use in living areas to the terrace beyond – but opt for materials that are slip resistant and weatherproof
You might also want to mimic the interior scheme in your garden furniture and accessories for a fully integrated look
6. Add a Second Storey to Create a Large, Modern Home
Despite the benefits of single storey living, there is much to be said for adding a second storey to a bungalow - perhaps the most obvious way to increase living space and re-order the layout.
This can be a great way to maximise the footprint of the building, without the costs associated with new foundations.
(MORE: Building Foundations)
Before anything, you will need to take a few things into consideration to ensure this kind of work is viable for your bungalow.
What planning issues might stand in your way (overlooking neighbouring properties, for example)?
How structurally sound is the bungalow?
What depth and type of foundations is the existing building standing on?
Which existing internal walls are load bearing?
Hopefully you will have access to the property deeds, along with original construction drawings.
These should show the depth and types of foundations, the drainage system and which internal walls were built with foundations. If not, you could track down local building control records.
If you can't get hold of any of these documents, your best option is to consult a structural engineer.
They will be able to advise you on ground conditions and will be likely to suggest digging trial holes in order to measure the depth and assess the existing foundations.
Once the results are received your structural engineer will be able to give you information on whether the existing foundations are strong enough to support an additional storey.
If not, the foundations will need to be strengthened or underpinned - although it may only be necessary to strengthen certain areas of the foundations rather than all of them.
(MORE: Adding a Second Storey to a Bungalow)
7. Incorporate a Balcony as Part of a Bungalow Renovation
Building a balcony or roof terrace adds interest to your design and can be a good way to take advantage of a view that cannot be seen from the lower floor.
However, these rarely fall under permitted development, so even if your loft conversion doesn't require planning permission, you will need to check if you are intending to add a balcony too.
Also note that there may be issues with including a balcony if your property overlooks others.
(MORE: 23 Things You Can Do Without Planning Permission)
8. Take the Opportunity to Improve Security Measures
One of the issues at the forefront of many bungalow renovations is how to ensure the proper security measures are taken.
With no high level windows and all rooms accessible from the ground floor, it is more important than ever to have good security on all windows and doors, along with a good alarm system.
In terms of alarms, those featuring some form of CCTV have been shown to be particularly good at deterring burglars.
In addition to these measures, aim to conceal the property from the road as much as possible when designing your landscaping, install a good exterior lighting scheme and ensure gates giving access to the rear of the property are secure.
(MORE: Best Video Doorbells)
Natasha is Homebuilding & Renovating's Associate Editor and has been a member of the team for over two decades. An experienced journalist and renovation expert, she has written for a number of homes titles. She has renovated a terrace and is at the end of the DIY renovation and extension of her Edwardian cottage. She is now looking for her next project.
Homebuilding & Renovating Newsletter
Get the latest news, reviews and product advice straight to your inbox.
Thank you for signing up to Homebuilding. You will receive a verification email shortly.
There was a problem. Please refresh the page and try again.