Adding a Second Storey to a Bungalow
By Oliver Steele-Perkins published
Project manager Oliver Steele-Perkins explains what you should consider when it comes to adding another storey to your home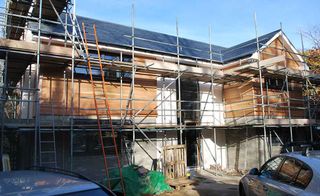 (Image credit: Simon Maxwell)
When it comes to renovation potential, bungalows are something of a hot commodity. Often unattractive and with little architectural merit, planners are often very accommodating to those wanting to give a bungalow a new lease of life. Add to this, that bungalows tend to sit on generous plots and have large footprints, giving renovators wide scope to maximise potential.
One way to breathe new life into a tired and dated bungalow is to add a second storey.
Is the Bungalow Suitable?
If you want to turn your bungalow into a two-storey home, you'll need to check that the project is viable. You can do this by:
looking at all the planning issues involved
assessing your bungalow's structural stability
judging whether the existing footprint will lend itself to a successful project
understanding the depth and shape of the existing foundations
knowing whether the existing internal walls are loadbearing.
Assessing the Foundations
Assuming you have your floorplans to hand, check whether there are any original construction drawings with your deeds. They are likely to show:
All of this information will be useful to your design team when they start working on the proposed design. You could also try searching out local building control records.
If you have no luck down either of those routes, you can consult a structural engineer. They should be able to advise you on ground conditions. They will probably also recommend that you dig a couple of trial holes to measure the depth and record the type of foundations that are in place. This involves:
digging holes large enough to expose the foundations of the building, around a metre in depth and width
taking a soil sample at the bottom of the pit
bagging up your soil sample
sending it off to a UKAS-accredited soil-testing laboratory for testing
sharing the results with your structural engineer.
Alternatively, you could appoint a geotechnical consultant, who will liaise with your structural engineer to carry out the necessary work.
Either way, the information gained from this survey will then enable your structural engineer to give you the right advice on ways forward, depending on whether the existing foundations are robust enough to support an additional floor.
Choose a Timber Frame
When it comes to adding an additional storey, opting for a timber frame is a good option as the load of a timber frame is far less than blockwork (masonry). It should remove the need to strengthen or underpin the existing foundations, which is time-consuming and expensive.
As a guide, the general cost of a timber-framed conversion project in the south east of England is approximately £1,800/m2, subject to fit-out specification.
If you go down the timber frame route, you can start the detailed design process as soon as you're satisfied with the planning status. During detailed design, think about what materials you'd like to use. Your architect will really help you here, and it's important to work with planning conditions in mind. You may also need to provide samples to your local authority as a condition of any approval.
Using a prefabricated timber frame is more efficient than an on-site stick built route and it allows you to package the work to specialists. If you go down this route, use your planning application drawings to get a high-level budget estimate from timber frame supply and fit companies.
When preparing for the build stage, start early: commit to a single contractor, then focus on all the other components of your build, so you can form a good scope of works. If you're taking the self build route, look at what other trade packages you'll need to bring in, such as a new kitchen or bathroom.
What Else Should You Consider?
As part of the planning process, you might need to carry out a bat survey
Name your timber frame supplier as a required supplier in the builders' contract. This has several benefits, including cost control. It also means you're asking your builder to take on some responsibility for the co-ordination and management of that supplier
You'll need scaffolding, so ask your frame builder exactly what's needed, making sure it dovetails with other aspects of the project, and keep your scaffolding company in the loop at all times
Consider whether you can sell any materials from the original bungalow
Look into the 'easi-joist' system and consider using them instead of traditional joists. They are quicker to install, and are great for first fix plumbing and electrics, as they allow cables and pipes to be routed almost anywhere without needing to notch, cut, drill or trim joists.
Homebuilding & Renovating Newsletter
Get the latest news, reviews and product advice straight to your inbox.
Thank you for signing up to Homebuilding. You will receive a verification email shortly.
There was a problem. Please refresh the page and try again.