Building a Balcony
By Clive Fewins published
A balcony can be a delightful feature to add to your home — but ensuring it complements the rest of the house is crucial, says Clive Fewins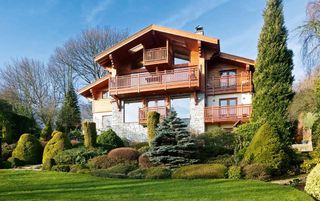 (Image credit: Jeremy Phillips)
Not every self-builder can run to the expense of the balcony on a new 300m² contemporary-style self-build house in Gloucester­shire, where the cantilevered struc­ture is 15 metres long, curved, and entirely constructed from glass and steel. However there is a case, even in our climate, for a balcony on many self-build homes and ren­ova­tions, either as part of the main house, on a flat roof or as a bolt-on structure.
"One of the biggest changes I have seen in the design of quality bespoke houses in the past 10-15 years is the number that now sport balconies," says architect John Thompson, of the Bristol-based Barlow Henley practice, whose own house, with its long timber bal­cony at the rear of the building, has featured in H&R. "People are coming to realise that our climate is far better than that of the Scandinavian countries, where such a high proportion of new houses have balconies."
John is so keen on balconies that he does not even believe they have to face south. "A lot of them face east – ours does – and this is quite acceptable," he says. "Some balconies even face north. All you need is a good view.
Architect Phil Easton of Dorset-based Western Design also likes to place a balcony on all the houses he builds. "A balcony adds an awful lot," he says. "We are one of those perverse nations that will sit outside in all weathers, and why not? I don't on the whole think our climate is a huge hindrance —especially in the south of the country. Having said that, a balcony needs a lot of thought. It must be an integral part of the building and not just look like something that has been stuck on. And you have to be sure it acts as a means of importing light and does not cut off light from the floor below. Ideally, I like to create curved balconies that wrap around the outside of houses."
Not all balconies are supported on legs like the versions preferred by eco-minded archi­tects like John Thompson and Phil Easton. Many architects prefer a high-tech approach, and that usually means a cantilevered balcony made from steel.
"There is always an issue here of the steel going back into the building and causing a cold bridge," says Oxford-based architect Adrian James, who is fond of placing bal­conies on the houses in riverside settings in which he specialises. "There is a tricky engi­neering issue here because you can't hang things off the outer skin of a cavity wall, so the steels have to tie into the floor struc­ture and this can affect the shape of rooms inside," Adrian says. "Despite these problems I think that balconies cantilevered out from buildings always look better than ones that are supported from the ground."
Another way to approach a balcony is as a sort of raised deck. This is particularly effec­tive with houses built on sloping sites. Rather than having a flight of steep steps into the garden, as might have been the case before the widespread use of decking, a raised deck with a balcony rail can be created, perhaps extending round the corner so that it is wrapped round the house on two or three sides. Some form of sun shading can some­times be added. In this way a balcony/deck can really make the most of brighter days in the spring and autumn. The overall effect adds to the inside/outside living potential so popular with self-builders nowadays.
Sometimes decked floor balconies can be 'echoed' upstairs. This is what Fiona and Bill Timmis have done, using glass and steel balustrading and a decked floor at their self-build on a sloping site in Cornwall. Their site is in a sheltered spot and the lower deck is to some extent protected by the first floor balcony.
You are more likely to run into planning problems with balconies in urban situations, where planners are very wary of them if they overlook other properties. "It depends a lot on the situation," says London architect Colin Hodson. "In London and other cities there are lots of flat-roofed rear extensions on Victorian and Edwardian houses. The planners usually do not like balconies added to these exten­sions because of overlooking. However, it can be very different at the front of the house — again depending on the situation."
There is, however, one clever thing you can do with a balcony in an urban setting, and it was achieved by architects Tom and Sarah Drury in their new house on a backland brownfield site in Fulham, west London. The trick is to insert the windows in the cheeks (sides) of the dormers on one side only – the 'inside' – and run the balcony between them.
They conceived the balcony with a dual purpose: to be a means of gaining light, and also to overcome any possible objections of local planners, wary that the windows might overlook the rear of the terraced houses to the front of them. At the same time the bal­cony forms an escape route for their chil­dren's bedrooms, and they can sit out there on a good day.
"Balconies can be built from all kinds of materials and do not necessarily have to be hugely expensive," says John Thompson. "The sort of balcony I prefer, in timber and supported from beneath, is far cheaper than a balcony built using a lot of glass, especially curved glass, and expensive alloys. Timber is also ecological because it is a renewable resource. If the balcony is in oak it also needs very little maintenance, and will last almost indefinitely. I always say that if you want a balcony enough on your self-build, you can make savings elsewhere."
Homebuilding & Renovating Newsletter
Get the latest news, reviews and product advice straight to your inbox.
Thank you for signing up to Homebuilding. You will receive a verification email shortly.
There was a problem. Please refresh the page and try again.