Brick Tinting: How to Re-Colour Exterior Brickwork
By Claire Lloyd published
Brick tinting can provide a solution to mismatched brickwork from repairs or a new extension. Here's what you need to know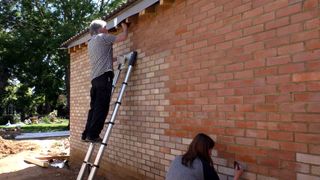 (Image credit: Dye Brick)
Brick tinting is by no means a new phenomenon, but you may not be aware that it's an option open to you to help remedy brickwork repairs and new brick extensions that don't match your existing property.
Brick remains a staple in British housebuilding as it is low maintenance, cost-effective, and widely used by the trade; however, colour and finish vary depending on the type of brick used, while reclaimed bricks cannot always be found in sufficient quantities.
This is where brick tinting comes in. But what exactly is it? We look at the process, cost and more with this quick guide.
What is Brick Tinting?
Brick tinting is a process whereby bricks are stained to match existing brickwork, or their colour altered for more visually appealing results. Colour pigments are combined with a fixing agent (potassium silicate in the main) and once this saturates the brick, the tint is permanent.
How long does brick tinting last? As long as the bricks do. The colour is not lost as bricks weather or are exposed to UV so there's no on-going maintenance. The popularity of brick tinting has particularly taken off in the States with some homeowners changing the colour of their entire house. It can even be used to emulate a sooted look; a good option when extending urban homes subject to pollution over the years.
Tints are free from volatile organic compounds (VOCs) — given off by chemical-based substances such as some paints — which can potentially impact on health.
How Does the Brick Tinting Process Work?
Can I DIY Brick Tinting?
There's potential to undertake brick tinting on a DIY basis — worth considering if you're tinting an entire house or outbuilding.
The tint consists of a three part system which includes water, iron oxide colour pigments and a fixing agent.
A brick tinting specialist will first carry out a sample to give a good indication of the end result. At this point, the tint is created without the fixing agent; meaning the sample can be washed off with a pressure washer.
Once a colour match has been made, the fixing agent is added to the mix; it's this agent which bonds the tint permanently to the brick. This agent should allow the bricks to breathe.
When Should Brick Tinting Be Undertaken?
Work is ideally carried out in the summer, but the only real conditions to avoid are those below approximately 4°C and/or driving rain
How Much Does Brick Tinting Cost?
Most brick tinting companies charge between £450-550 + VAT per day.
If the job is a straightforward brick darkening, then one professional should do between 30-40 sq m per day.
If the job is more detailed, or requires lightening and application of more artistic after-tones, then expect the cost to double.
If you're undertaking brick tinting on a DIY basis, brands such as Dye Brick offer a coverage calculator to help you work out how much product you need.
What Types of Bricks can be Tinted?
Tints cannot be applied to bricks which have been treated with any sort of waterproofing solution.
Where it is possible, it's not just a case of choosing a colour which appears a good match on paper. Other factors can affect the results such as:
the porosity of bricks (which varies greatly)
texture — heavily textured bricks cast shadows depending on the angle from which you view the house so pick the most important view, and then keep checking from this stance
If you're unsure on whether your property is viable, or how to achieve the desired effect, your best bet is to work with professional applicators on your project.
Brick Tinting to Colour Match a New Extension
If you intend to extend and are unable to source a brick to match, then specifying bricks with a view to tinting them can be a good solution.
Choose a brick which is identical, or at the very least similar in size and finish to the existing bricks. Tinting will alter the colour, but up close, differences in texture and size will be a tell-tale sign.
(MORE: Matching Materials for an Extension)
Tinting bricks a darker colour is a more straightforward task than lightening them, so choose a brick slightly lighter than the original.
New bricks should be laid in alignment with the old and in the same brick bond.
Using mortar of the same colour and texture is also vital and you can tint this too (but care must be taken when tinting lime mortar).
Claire became Editor of Homebuilding & Renovating in 2016 and has been a member of the team for 14 years. An experienced homes journalist, her work has also appeared in titles such as Real Homes and Period Living.
She has a particular interest in green homes, and interior design is a passion too; she has undertaken qualifications in this area.
After finishing a major renovation of a period cottage, she is now onto her next project: overhauling a 1930s property in the Shropshire countryside.
Homebuilding & Renovating Newsletter
Get the latest news, reviews and product advice straight to your inbox.
Thank you for signing up to Homebuilding. You will receive a verification email shortly.
There was a problem. Please refresh the page and try again.