Modern Brick Design Ideas: 11 Inspirational Projects
By Amy Reeves published
Add a little extra flair to your self build or extension project with an elegant or interesting brick design — take a look at these gorgeous contemporary examples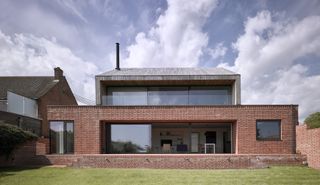 (Image credit: Nick Guttridge c/o Nash Baker Architects)
When looking at modern brick design ideas, they key to a successful choice is to get creative within typical local parameters — taking traditional styles and adding interesting bonds or colour choices into the mix.
While projects requiring planning permission might be more restricted, extension projects within permitted development may be free to choose a contrasting stain to pack a punch or an innovative pattern to create visual drama — although perhaps consider your neighbours before picking out anything really radical!
Deciding on a brick design for a modern self build might be dictated by a planning department but working within guidelines and opening up a conversation can lead to beautiful ideas.
If you're inspired by the amazing modern brick design below, delve deeper into the wonderful world of the humble brick with our guide on how to choose the right types of brick for your project, including considering cost, where to buy and how to avoid making common mistakes when building in brick.
1. Dynamic Brick Design for a Modern Extension
Textured brickwork was used in this staggered two-storey extension. At ground floor the engineered black headers of the Flemish bond brickwork cast varying shadows throughout, while at first floor they are recessed to create a woven structure. It is a very simple and cost-effective way of achieving maximum impact.
2. Make Your Self Build Stand Out with a Striking Modern Brick Design
Monks brick bond
A monk bond has two stretchers followed by a header repeated with overlapping midway courses above and below.
The local handmade bricks on this Nash Baker Architects (opens in new tab)-designed self build were laid in Monks brick bond for a contemporary take on a traditional aesthetic.
White iron-free sand lime mortar was also used to create a more distinctive look.
3. Blending Modern Brick Styles with a Rural Setting
AAB (opens in new tab)'s Cassis coal slop moulded brick makes this self build a subtle yet impactful addition to the landscape.
4. Stacked Brick-clad Extension
Brick Cladding and Brick Slips
Cladding with brick where it is not used as a structural materials is an expensive option so brick cladding might be a more cost-effective choice
This stunning timber frame extension (by Nimtim Architects (opens in new tab)) was clad in a narrow red brick using a stack bond with a light, recessed mortar to highlight the geometry of the design.
The brick cladding was also used internally in the kitchen and living spaces for an extra addition of contemporary warmth.
5. Emphasising the Design Using the Right Brick
This single-storey self build was built using AAB's Antibes slop moulded brick in a classic Flemish bond which highlights the wide and thin design.
6. Semi-detached House Extension with Narrow Brick Details
This narrow extension has been clad in a slim, pale brick which contrasts beautifully with the original house by introducing a new dynamic scale but remains true to the neighbouring styles of yellow stock brick.
(MORE: Building an Extension)
7. Contemporary Self Build with Dark Grey Brick Design
This urban self build was constructed in place of a dilapidated garage. The industrial style inside and the original natural of the plot is complemented by the brick, but it was actually as a a result of a planning condition to build in the conservation area.
The homeowners chose reclaimed bricks to clad their timber frame as they were unusual in size and colour and decided to incorporate black mortar to create a distinctive, contemporary appearance.
(MORE: What are Planning Conditions?)
8. A Contracting Brick Side Extension
Despite being able to source matching bricks to the original house, Stuart Archer (of Archer and Braun Architects (opens in new tab)) chose a contemporary contrast for his side-return extension.
Inexpensive Ibstock Atlas bricks were used for their consistent, smooth appearance.
9. Going Bold in a Self Build
Taking its cue from neighbouring period properties, this self build (by 31/44 Architects (opens in new tab)) utilises traditional brick details — but using a dramatic homogenous red-brick facade.
10. Echoing Traditional Styles with Modern Brick Design
Dutch engineered bricks (from Baksteen) were utilised in this contemporary self build to reflect the classic London stock brick used in the area.
11. Contemporary Details in Self Build
Protruding brickwork (the weathered grey and white bricks are from BEA Clay Solutions) adds visual interest tp the entrance of this award-winning self build project.
Assistant Editor Amy began working for Homebuilding & Renovating in 2018. She has an interest in sustainable building methods and always has her eye on the latest design ideas. Amy has interviewed countless self builders, renovators and extenders about their experiences for Homebuilding & Renovating magazine. She is currently renovating a mid-century home, together with her partner, on a DIY basis, and has recently fitted her own kitchen.
Homebuilding & Renovating Newsletter
Get the latest news, reviews and product advice straight to your inbox.
Thank you for signing up to Homebuilding. You will receive a verification email shortly.
There was a problem. Please refresh the page and try again.