Cheap Bricks: A Buyer's Guide
By Alison Wall published
Buying cheap bricks can save you hundreds of pounds on your brick costs without affecting your build quality or the overall look of your new home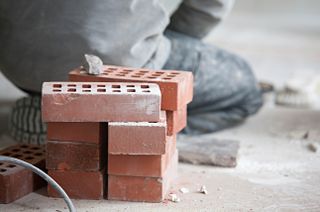 (Image credit: Getty Images)
Cheap bricks may not sound like the most attractive building material in the world but standard bricks are indeed the most popular choice when it comes to building, and there is good reason too.
In the UK, clay bricks are a popular choice for developers and self-builders alike and the scale of manufacture (more than 2 billion in 2018) helps to make them one of the best value building materials around.
In fact, building with brick and block is typically the cheapest way to construct a house, and buying your own bricks could be one of the easiest ways to shave costs and keep within budget.
(MORE: How to find the right builder for your project)
Top Tip
It costs no more to mix two or three stock bricks than it would to buy a uniform selection, so talk to your architect or designer about how this could work on your project.
Types of Cheap Bricks
There are three types of brick and in order of cost they are: common bricks, engineering bricks and facing bricks. You'll need all three for your brick and block build.
Common bricks are used for internal structures; engineering bricks are for foundations and damp courses, and facing bricks – the only ones chosen for their appearance – provide the outer layer to your house.
Whatever type of brick you're buying, it's worth bearing these points in mind:
Go for machine made bricks - Machine made bricks are cheaper than handmade bricks, and are available in a wide range of colours and finishes – although you'll have less choice with the very cheapest wire-cut bricks.
Avoid handmade bricks, which can cost four times as much as machine made bricks.
For facing bricks, get product samples - It's really important to know how your facing bricks will look; ask your supplier for a batch so that you can see how they work on site and, if extending, that they complement or match the tones and textures of your current brickwork.
Know how much you need to order - Order between 5% and 10% more than you need, to allow for breakages and for bricks that need to be cut during the build.
There are several good online tools that will help you calculate the quantities needed. Try Brickability (opens in new tab) or the Brick Calculator from the Brick Development Association (opens in new tab).
What Can I Expect to Pay for Cheap Bricks?
Once you've got a good idea what you want, do your homework as this can really pay dividends.
You'd be surprised just how much costs vary from company to company. Bear in mind, too, that costs can vary depending on the demand from volume house builders, with national brick shortages pushing the price up.
And check that you're comparing like-for-like. Some bricks are supplied in pallets of 300, others up to 500.
Expect to pay between £250 and £400 per 1,000 bricks for wire-cut facing bricks (for comparison, handmade bricks can cost £600 per 1,000 and more).
Remember: All bricks manufactured in the UK must conform to British Standards to make sure they are sufficiently strong and can cope with frost and rain, but do check – if you are building in an area of high rainfall and / or high risk of frost, so you may need to buy accordingly. It really pays not to skimp on costs here.
How to Buy Cheap Bricks
If you're a self-builder, grab yourself some useful savings by getting yourself a trade discount, and be prepared to haggle, even if it feels unnatural.
Buy in an online sale – discounted bricks tend to sell very quickly, so make sure you already have somewhere secure and safe to store them. You'll need to store them on hardstanding rather than grass. Most suppliers will allow you to have samples of the discounted bricks before you buy.
Could you buy in bulk, and negotiate cost reductions that way? Perhaps putting in an order with a friend or family member who is also self-building or extending?
(MORE: 8 tips for buying at a builders merchants)
What to Avoid When Buying Cheap Bricks
Buying cheaply doesn't mean buying badly, so remember these essentials:
1. Don't skimp on bricklaying costs – expect to pay a day rate of between £150 and £200 for an experienced bricklayer.
2. Check with your local planning department, especially in conservation areas: are you expected to use a particular type or colour of brick? Otherwise you could be facing a large bill to replace your bricks with approved ones.
3. Don't be tempted to reduce the number of bricks you need by increasing the width of the mortar; that could lead to a wall that's not as strong as it needs to be.
4. Are you sacrificing your overall look of the exterior in your quest to reduce costs? Could you make cost savings elsewhere to allow the budget to flex a little?
(MORE: How to renovate on a budget)
Can You Source Bricks for Free?
If you're looking for small quantities, try online routes such as ebay, Gumtree and Freecycle – you'll be able to pick up a pile of bricks or even a few hundred, at little or no cost.
Plus if you're demolishing a bricks and mortar building to create your dream home, you could reclaim the bricks to use on the new build or for smaller projects such as paths and road surfaces.
(MORE: How to Demolish a House)
Ways to Keep Costs Down
Expert Advice
The way bricks are laid (the bond) affects how many bricks you'll need. Bricks laid in a stretcher bond, the most common type, are the most economical way to lay bricks. Typically used by developers, it also reduces the amount of time (and cost) involved in laying the bricks.
Still not coming in within budget? Try this:
1. Consider reducing the overall size of your self-build or extension – that way you can reduce your order of bricks (as well as other construction materials)
2. Simpler house designs (typically rectangular) will also be the most cost-effective, requiring less bricks than a more complex design. And do you really need a masonry chimney stack?
3. If you're looking to use brick slips for an internal feature wall, consider covering just a small wall or a small section. That way you'll get the visual impact without an eye watering bill.
(MORE: Mortar mix - how to choose the right one for your project)
Homebuilding & Renovating Newsletter
Get the latest news, reviews and product advice straight to your inbox.
Thank you for signing up to Homebuilding. You will receive a verification email shortly.
There was a problem. Please refresh the page and try again.