Amazing Bathroom Tile Ideas for Small Bathrooms
By Amy Reeves published
Get inspired by these bathroom tile ideas for small bathrooms — perfect for making the most of a compact space with potential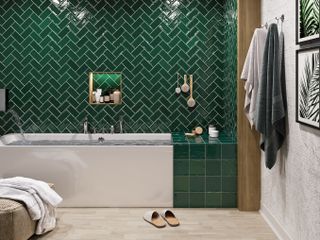 (Image credit: Direct Tile Warehouse)
Getting creative with bathroom tile ideas for small bathrooms can transform a compact space into a luxurious sanctuary, but careful consideration is required in terms of size, colour and laying pattern.
A clever or well-considered bathroom design will utilise the small space in ways which maximises functionality while creating the illusion of extra room. While tiles are obviously an essential part of bathroom materials, they can also be a wonderful helper in forming a personality and make a statement in a small bathroom.
Use Bathroom Tile Ideas for Small Bathrooms as a Feature
If your small bathroom is full of awkward nooks and alcoves, creating a feature wall is a sure-fire way to add some drama and make the space feel like every inch is being used.
Some great small en suite ideas can be found in this design. To create a focal point in an otherwise odd-shaped space is ingenious — pink metro tiles have been laid in a herringbone pattern for practical protection against splashes from the sink and an eye-catching pop of colour in the otherwise neutral compact space.
Lay Bathroom Tiles in a Pattern for a Unique Small Shower Room
When there's limited space for a full bathroom, savvy shower room ideas can be a huge help.
Here a long format slim tiles have been laid from white to black for a transition into the wet room's shower area, making the room feel bigger and as if the space has been used to its full potential.
(MORE: Check out These Wet Room Ideas for More Inspiration)
Use Wall and Floor Tiles to Make A Small Bathroom Feel Bigger
If your small bathroom is narrow or squat, laying the same floor and wall tiles can create the feeling of a more spacious room — it can can also work well in showers or along bath panels.
Here, wood-effect herringbone floor tiles zig zag their way up to the ceiling to provide the illusion of a wider walls.
Think about the Laying Pattern for Bathroom Wall Tiles
Laying narrow tiles in a stack bond will instantly make a room feel taller, especially when in neutral or grey tones that don't distract the eye too much.
Not just a pretty laying pattern, this bathroom also utilises a small stud wall to conceal the plumbing from the bath and to make a small practical shelf — an ingenious way to maximise every inch.
(MORE: On-trend Inspiration in our Modern Bathroom Ideas Gallery)
Mix and Match Sizes in a Small Bathroom
Tried and trusted bathroom design ideas are often effective in modern bathrooms. For one, laying large format tiles in a small space can create the illusion of extra room, and a great way to modernise this idea is to mix and match different tiles to a stunning effect.
Here, the small, narrow feature tiles draw the eye up and away from the floorspace covered with large, square tiles and gives the whole room a well-considered, highly-designed feel.
Get Creative with Bathroom Tiles
Contrast a half wall of tiles with a bright and fun colour for a cheery small space to relax in. Where the shower is positioned on the left of the image a full wall of small metro tiles creates an effective 'splash zone' while around the bath, a half wall is more than enough in the space.
(MORE: How to Choose Between Shower Panels vs Tiles)
Choose a Dark Bathroom Tile for a Small Bathroom
Complement white sanitaryware with a pop of gold and luxurious dark wall tiles in a small bathroom to create a hotel-inspired space. The long-format tiles have been laid here in a brick bond with a colour-matched grout while the grey herringbone flooring adds instant interest.
(MORE: Check our Advice for Choosing Porcelain vs Ceramic Tiles)
Go Bold with Bathroom Floor Tiles in a Small Bathroom
Where floorspace is limited, make every inch pop with eye-catching bathroom flooring. Here, hexagonal pink tiles create a fantastic optical illusion that there is more space while the neutral wall tiles and pared-back design really let's them take centre-stage.
Add Some Texture with Tiles For a Small Spa-inspired Bathroom
Celebrating the textures and patina of real stone, this bathroom is a masterclass in recreating the relaxed and calm atmosphere of a spa.
Assistant Editor Amy began working for Homebuilding & Renovating in 2018. She has an interest in sustainable building methods and always has her eye on the latest design ideas. Amy has interviewed countless self builders, renovators and extenders about their experiences for Homebuilding & Renovating magazine. She is currently renovating a mid-century home, together with her partner, on a DIY basis, and has recently fitted her own kitchen.
Homebuilding & Renovating Newsletter
Get the latest news, reviews and product advice straight to your inbox.
Thank you for signing up to Homebuilding. You will receive a verification email shortly.
There was a problem. Please refresh the page and try again.