Quantity Surveyors: Do I Need One for My Building Project?
By Tim Phillips published
Quantity surveyors provide an expert view on the costs of a construction project, which could help reduce the stress of budgeting for a build. Here's what you need to know about them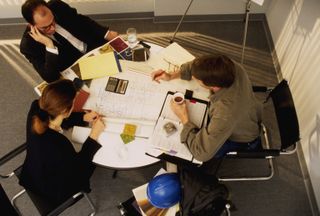 (Image credit: getty images)
What exactly is a quantity surveyor? The name doesn't give much away about this profession, but they could just be your new best friend when it comes to your self build, extension or renovation project.
When coming up with your budget for a build project, quantity surveyors (QS) provide an expert's view on the costs involved, and can help you to not only set a realistic budget, but balance it over the costs of the entire build.
Find out more about the services a quantity surveyor can offer with our handy guide.
What Does a Quantity Surveyor do?
A quantity surveyor is a construction industry professional with expert knowledge on construction costs and contracts. The role of the QS is essentially to provide overall cost estimates for building projects, but their services extend beyond this and can be quite varied depending on the project and the specific requirements of the client. A quantity surveyor will start by producing an initial budget cost plan based on the early designs.
(MORE: How Much Does it Cost to Build a House?)
If the initial figures are acceptable, then the surveyor would produce a Bill of Quantities (BQ) for the project. The BQ will have all the elements of the build process broken down into specific trades which can then be used to produce a tender for builders to price the entire project, or to obtain individual costings across all the elements.
When fully engaged, a QS will manage the whole tender process, analysing the quotes in accordance with the tender information issued, negotiate figures, prepare contract documents and manage the budget throughout the build, dealing with any issues that arise and payments to builders and suppliers.
Is it Worth Using a Quantity Surveyor on a Self Build or Extension?
Building projects rarely proceed without issues and can easily and quickly exceed budgets and timescales where cost professionals are not involved from the outset. A QS will provide an accurate cost estimation from the earliest stage, obtaining the best market prices and quality of materials and trades available to deliver the project in line with the budget. They manage the budget during the build, maintaining real-time cost information for the client.
(MORE: Extension Planner: How to Bring Your Project in on Time and Budget)
Should issues arise, a QS can quickly find the most cost-effective solution and liaise with the client as to where changes can be made to the overall project to minimise the impact on budget and timeline whilst still allowing for the finishes required. They will have the expertise to work with the client's architect to achieve the desired outcome for the budget and the contractual knowledge to deal with any issues.
What Does a Quantity Surveyor Need to Make an Accurate Estimate?
The more information you can provide to your QS at the outset, the more accurate the initial estimation will be. All surveys, planning drawings and Building Regulations should be provided as these are essential to produce the Bill of Quantities to obtain cost quotations.
A Site Investigation (SI) report is also invaluable, to ensure that any party submitting a quote or cost estimate knows exactly what is in the ground, thereby reducing the risk of issues arising and avoiding the most common increases in cost and time delays.
(MORE: Self Build Homes for Every Budget)
What Does a Quantity Surveyor do if I Haven't Decided on Some Elements of my Build Yet?
In this instance, the surveyor will use a 'Provisional Sum' so that a provisional cost is still allocated within the budget. The provisional cost may be 'defined' or 'undefined'.
A 'defined' example would be for a kitchen or bathroom. An 'undefined' example would be where an item has not yet been designed, such as work required beneath an existing structure (e.g. piling) where the ground conditions cannot be determined until the structure is demolished and the ground opened.
(MORE: How Much Will my Foundations Cost?)
The use of provisional costs allows for the most accurate budget to be achieved.
Should I Use a Quantity Surveyor for a Renovation Project?
Renovation projects can be equally as cost volatile, if not more so, as new builds or extensions. However, the decision whether or not to use a QS when renovating a house will depend upon both the scale and nature of the specific project.
Generally, the more invasive and extensive the renovation, particularly involving structural changes, the greater the chance of uncovering unknown issues leading to cost increases and time delays. Specialist quantity surveyor involvement can be particularly beneficial when planning the renovation of a listed building or property within a conservation area, where you will encounter limitations on the types of materials allowed. The permitted finishes may be significantly more expensive than other options and would have a significant impact on the budget if priced incorrectly at the outset.
At What Point of my Build Should I Involve a Quantity Surveyor?
To achieve the full benefits of using a quantity surveyor, they should be involved from the earliest design stage. A QS will have access to the Building Cost Information Service (BCIS) of the Royal Institution of Chartered Surveyors (RICS) to be able to provide the client with a very early but data-backed cost estimate.
If the early design and budget are poles apart, this is best known right from the outset. This is particularly important for clients seeking an unusual design as the quantity surveyor can determine quickly if there is anything similar to draw cost comparisons from, which will enable the cost risk to be assessed. When the project reaches the Building Regulations stage, the QS can produce a more detailed cost estimate.
What if I Change my Plans Later on?
All changes to plans and designs will inevitably result in an impact on cost and this will rarely be a reduction. The earlier the design can be finalised, the less chance there will be of cost increases and time delays.
A change may be far more costly to incorporate part way through a project, than if it had formed part of the original design. If changes do arise, it is wise to consult with your QS again as they are expert at assessing the cost impact of any changes and can use their experience in 'value engineering' to minimise that impact and try and remain as close to budget as possible.
What Happens if Quotes Come Back Higher Than my Quantity Surveyor Estimated?
Inevitably, not all quotes will return on budget. When this happens, your quantity surveyor will adjust the cost plan accordingly. If the overall budget is being exceeded, the QS will undertake a 'value engineering' process to identify where cost savings can be made whilst striving to maintain quality, working with the client and their architect.
(MORE: 7 Reasons Your Builder's Quotes are Over Budget)
For example, if the groundwork quote has exceeded the budgeted figure, then a change of specification of roof tiles could mean that the desired kitchen is still within budget. A QS will usually allow a 'contingency sum' of around 5-10% of the overall project cost estimate, to allow for these events.
Do I Have to Use a Quantity Surveyor?
It is not necessary to use a QS on every building project. Larger-scale projects will naturally have higher cost risks and using a QS would be the more sensible option, to provide the complex knowledge required and professional management of the tender and construction process, through to the final account.
At the other end of the scale, for example on a small extension with a simple design and very few variables, you may not need one at all. If you are managing your own project, you could use a QS to obtain quotes for just the larger, higher-risk areas such as groundworks.
What are the Alternatives to Using a Quantity Surveyor?
There are now many online cost estimating services available. These can provide initial construction cost estimates for less than £500 and are ideal for obtaining an early indication as to whether a project is financially feasible. If the project is a simple average build, without much risk of the scope changing, then these services may be sufficient to enable you to proceed successfully.
How Much Does a Quantity Surveyor Cost?
The fee will obviously depend on the scale and complexity of the project but as a general guide, you can expect to pay typically around 2% of the project value. Whilst these fees are not insignificant, having a QS on board from the start can save you money in the long run and remove a lot of the financial stress involved in the project.
Where Can I Find a Quantity Surveyor?
The Royal Institution of Chartered Surveyors (opens in new tab) (RICS) provide a free 'Find a Surveyor' online service. Not all QS's have to be a member of the RICS but it does provide reassurance that you are engaging the services of a Chartered Professional.
You could also find a local quantity surveyor via the internet, either from a private practice or someone working on a freelance basis, but be sure to check their qualifications, experience of the type of build you are planning and professional indemnity insurance. Professional service providers will always be happy to provide examples of their work and reviews from satisfied clients. Your architect may also be able to recommend a QS they have experience of working with.
Tim Phillips is an experienced senior quantity surveyor and estimator and has worked in the construction industry for over 35 years. He has worked on many varied projects in this time, for corporates, public bodies and private residential clients, managing multi-million budgets.
For the past 13 years, Tim has worked on a freelance basis, whilst managing his rental property portfolio. He has extensive experience of undertaking his own full-scale house renovations. He is also a speaker and expert at the Homebuilding & Renovating Shows.
Homebuilding & Renovating Newsletter
Get the latest news, reviews and product advice straight to your inbox.
Thank you for signing up to Homebuilding. You will receive a verification email shortly.
There was a problem. Please refresh the page and try again.