Wood Flooring Ideas: Step Into a Natural Floor Style
By Amy Reeves published
Compare wood flooring ideas to find a design and material that will suit your home space with expert advice on trends and installation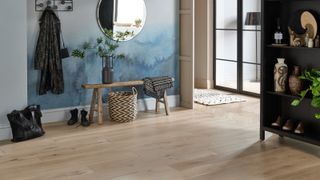 (Image credit: Woodpecker Flooring)
Wood flooring ideas are a great way of bringing a timeless look to any interior. This versatile material has been used for centuries and new, contemporary styles just keep coming.
Not only are there an array of different types of wood flooring, but now there are also tile, vinyl and other wood-effect products that replicate the natural look, with added benefits of durability or cost-effectiveness, respectively.
Find your perfect style with our favourite styles below, with loads of room inspiration and industry expert advice on how to make the right choice.
The Latest Wood Flooring Ideas and Styles
"We're seeing a variety of floor colours this season," says Darwyn Ker, managing director of Woodpecker Flooring (opens in new tab). "The natural, more traditional, styles are as popular as ever and the lighter, fresher styles are always a firm favourite. But there is more demand for the darker, richer and characterful styles too."
"Herringbone and chevron are an enduring trend because both styles are timeless," adds Richard Skeoch, director at Hyperion Tiles (opens in new tab). "They can instantly create a stylish floor in any room in the home.
"These styles can also help to open up a space, making the room appear larger than it actually is, which is ideal if you're dealing with a compact room. In terms of colours, light to mid-wood tones are leading the way."
1. Invest in Engineered Wood for a Quality, Natural Finish
Essentially a veneer of real wood atop layers of durable and stable thin wood, engineered wood flooring is a fantastic option for those with a desire for a robust material that has the distinctive look and feel of solid wood.
"A solid oak floor is far more likely to expand or contract when subjected to changes in the surrounding atmosphere," explains Simon Myatt, specification consultant at Havwoods (opens in new tab).
"In the winter months we close the doors and turn the heating on which dries the air out and the relative humidity of the air reduces, this in turn means that your wood floor will lose moisture and as the moisture content of the floor drops it will start to shrink and you can expect gaps between boards. There are ways to counteract this with humidifiers but it's not a solution many of us want to accept."
Engineered wood flooring is also a better choice over underfloor heating. Install engineered wooden flooring with underfloor heating in kitchens, living spaces and dining rooms for an high-quality finish to your project.
2. Paint Existing Wooden Floors
If you're lucky enough to be one of those renovators who has pulled back a garish carpet to find wood flooring hidden beneath, don't you dare pull it up! Older wooden floors tend to be stronger and have years of character imbedded within the grain.
Revive wood floors by sanding back old varnish or paint. After that, you're able to modernise with a white wash, protect with an oil, or revarnish a bold new colour.
A similar effect can be created by painting floorboards, as shown here. The homeowner chose a mid-grey tone to complement the pale walls and exposed red brick fireplace.
3. Keep Wood Flooring Choices Sustainable
For homes with eco-priorities, investigate and interrogate where your flooring has been sourced and how it is manufactured.
"With our environmental impact continuing to be at the forefront of where we're heading as designers, manufacturers and consumers, many who are striving for 'carbon negative creations', we anticipate innovations coming through in health and wellbeing, people-specific design and also inclusivity, this will all play a huge role in the future of the construction industry," explains Havwoods' Simon Myatt.
"Choose a floor with an FSC® or PEFC certification," advises Woodpecker Flooring's (opens in new tab) Darwyn Ker. "These accreditations confirm that the wood and materials used within the flooring has been sourced from responsibly managed, sustainable forests and is certified to the highest standards."
Wood eco flooring options include cork, bamboo and reclaimed timber.
4. Go Scandi with White-Washed Wood Tones
Inspire a relaxing living room atmosphere with light-toned or pale wood finish.
This Scandinavian-esque look can be warmed up with a soft rug and rich wall paint colours or pared-back with minimal finishes to encourage the idea of a larger room.
"Wooden floors give adaptability to space over a long period because finishes can be 'freshened up' and even be changed in colour completely over longer periods," adds Simon Myatt of Havwoods.
5. Take Your Wood Flooring Outside
Capture the inside-outside aesthetic by continuing flooring from an interior room, such as an open-plan kitchen through glazed doors and out into the garden patio area.
This look can be achieved by running wood flooring inside, with decking of a similar width, finish and colour outside. Importantly both wood flooring and decking should be laid in the same direction to create a sense of flow.
Alternatively, porcelain tiles would be best suited for this use, as some products can be used inside and out — coming with slip-resistant coatings and being able to withstand all types of weather.
6. Choose a Wood-Effect Tile in a Busy Kitchen
The cost of wood flooring can be prohibitive to many (prices for solid wood start at around £70m2) so for busy rooms like the kitchen, LVT flooring– luxury vinyl tile – is a fantastic alternative that is durable, but kinder on the wallet.
Compare different products to get the best LVT quality you can for your budget, though, as some materials have better printing methods than others, creating repeats in the pattern and an unrealistic texture.
7. Create as Rustic Feel with Wooden Flooring
For the best flooring for kitchens which is also charming and rustic, wood is ideal. New planks can be bought pre-treated with distressed finishes, and many vinyl and tile manufacturers also offer a 'lived-in' look for the other materials.
Here, reclaimed wood-looking tiles have been fitted in a country-style shaker kitchen – complete with Belfast sink – painted in a contemporary dark blue. The combination of old and new styles is enchanting.
8. Use Wood Flooring to Top Stair Treads
Avoid having too many types of wood in one place by continuing your wood flooring atop stair treads.
While this home used reclaimed timber flooring from Bert and May, this can be achieved using LVT and tiles as well.
9. Choose Your Grade Carefully
From rustic to smooth and contemporary, there are lots of looks which can be achieved with wood flooring, depending on the grade.
Glenn Ledger of Orlestone Oak (opens in new tab) provides his words of wisdom: "There are usually three grades of floor that you can pick from – rustic, character and prime – and each grade has a different appearance. Rustic grade shows frequent knots, shakes (cuts in the timber) and filled areas; character grade has fewer knots than rustic grade and comes without the shakes and large areas of filler; and finally prime grade, which will have few or no knots."
10. Experiment with Different Styles in a Luxurious Bathroom
Can't decide between stone effect or a wood effect types of flooring? Why not create a stylish and unique space by mixing both together in a chevron pattern, as in this bathroom.
Porcelain tile can realistically replicate both materials and is a durable and water-resistant option — ideal for both kitchen and bathroom flooring.
"Wood-effect porcelain tiles are made from a variety of natural materials, including very dense clay," explains Hyperion Tyles' Richard Skeoch. "Fired in a furnace together, porcelain is non-porous, making it a perfect addition to a kitchen and bathroom. It's highly resistant to wear too, when compared to other materials, such as real wood.
What is the Best Option for Wood Flooring?
"When it comes to choosing a floor, it's entirely dependent on your own lifestyle as to which style is best for you," advises Woodpecker Flooring's Darwyn Ker.
"Solid wood is milled from one solid piece of timber, making it extremely robust. However that's not to say it's suited to everyone as it's not compatible with underfloor heating and you have to be very careful with water spillages and varying room temperatures.
"Engineered wood consists of a real wood top layer and a cross-layered softwood and plywood core which minimises potential warping, expansion and contraction. This makes it more practical and versatile for the modern home and it's compatible with underfloor heating too.
"However as only the top layer is real wood, it can be more difficult to repair in comparison to solid wood but this is dependent on the extent of the damage as it's not often you'll need to re-sand a wood floor. In the instance that you do, you're more limited with an engineered floor as it's dependant on the thickness of the real wood top layer."
"Wood-effect porcelain kitchen and bathroom floor tiles are easy to clean and can withstand moisture," says Hyperion Tyles' Richard Skeoch. "You won't need to maintain them per se — a simple clean should keep them in top condition. Style-wise, you'll find there is a huge variety in terms of colours and patterns, which will replicate what you would expect to achieve in terms of style with a real wood floor."
What is the Cheapest Way to do Wood Flooring?
The cheapest way to achieve a wood-effect floor is to use sheet laminate. However, while there are good products out there, this may not be the best material if you're looking for durability or an authentic look and feel.
Cheaper cork flooring products will produce a natural, but unusual flooring style that is similarly budget-friendly.
Is Engineered Wood Better Than Real Wood?
"Engineered wood flooring is a great alternative to solid wood if you plan to install underfloor heating, and is more resilient to fluctuations in temperature and moisture," says Deputy Editor of Homebuilding & Renovating magazine, Michelle Guy.
"Engineered wood flooring is ideal for families as it's a more affordable option in comparison to real wood and it can be available in a water-resistant style too," adds Darwym Ker.
Assistant Editor Amy began working for Homebuilding & Renovating in 2018. She has an interest in sustainable building methods and always has her eye on the latest design ideas. Amy has interviewed countless self builders, renovators and extenders about their experiences for Homebuilding & Renovating magazine. She is currently renovating a mid-century home, together with her partner, on a DIY basis, and has recently fitted her own kitchen.
Homebuilding & Renovating Newsletter
Get the latest news, reviews and product advice straight to your inbox.
Thank you for signing up to Homebuilding. You will receive a verification email shortly.
There was a problem. Please refresh the page and try again.