Painting Floorboards: How to Prepare, Repair and Paint
By Steve Jenkins published
Painting floorboards can give an original floor a new lease of life. Here, our expert offers his top tips and suggests the best floor paint for the job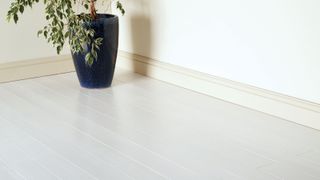 (Image credit: Ronseal)
If you don't want carpet or tiles, painting floorboards is both a charming and budget-friendly finish, especially for floorboards in a good state of repair.
A fresh new coat of paint on floorboards is just as transformative as painting a wall and a painted floor offers you another surface to introduce colour that compliments your design scheme.
For the best results, all you need to do is make sure that you do your preparation properly and choose a paint that can withstand the wear and tear of everyday life. Get this right and you have a great looking floor for years to come.
Check out our easy to follow guide to find the right paint and get the best finish for your floorboards.
What Supplies Will I Need for Painting Floorboards?
When it come to painting floorboards, you'll not only need tools and supplies for painting, but for preparing and repairing your floorboards for a good finish.
While a small hand sander or orbital sander can be useful for preparation, if you have a large space with previously painted or stained floorboards, you'll likely need to hire a drum sander for sanding floorboards properly.
Paint
Hand sander
Floor sander (optional)
Roller
Extension pole
Paintbrush
Paint pad (optional)
Mop and bucket
Wood filler
Filler knife
How do you Prepare Wooden Floorboards for Sanding?
The first step is to empty the room of all furniture if at all possible. Once the room is empty check that there are no nails or staples sticking up from the floorboards. If there are, make sure to remove them or knock them into the floor with a nail punch.
Next secure any loose floorboards with 50mm countersunk screws. Check that there are no electrical cables running underneath the floorboards where you are going to secure the floorboards.
Now get a decent wood filler like this Everbuild High Performance Wood Filler from Amazon (opens in new tab) and fill in any small cracks, cuts and holes to help get a smooth, good-looking finish.
Sand, Clean and Seal the Floorboards
If the floorboards have been painted previously, first remove any loose or flaking paint with a wire brush or scraper. If the floorboards are in good condition, use an electric hand sander (or try one of the best orbital sanders) to prepare the surface. If it's a big room or the floorboards need more sanding it's a good idea to hire a disc sander to get the job done. It will be quicker and easier. Make sure to get right up to the edges.
Now vacuum the floor to get rid of as much dust and debris as possible. The final part of the prep is to clean the floorboards. Use a mop and liquid detergent (as instructed). Then rinse with the mop and clean warm water and leave to dry for at least 24 hours. Use a primer or specialist paint to cover any knots or stains.
After you have finished preparing your floorboards you need to think about draughts. If you can live with the draught that comes up between the gaps in your floorboards then leave. But it makes much more sense to seal the gap to stop cold draughts and keep your heating bills down.
DraughtEx, available from Amazon (opens in new tab), is a flexible plastic floorboard gap filler that is easy to fit and will stop draughts without spoiling the look of your floorboards. You can put it in place before painting or after.
How to Paint Floorboards
1. Do the edges
Start with a brush (a 2 or 3-inch is the best paint brush for this job) and cut in around the edges of the room to create a border. The floor should be the last thing to be painted in a room after painting skirting boards, so be careful not to get any paint on these. If you are not confident in painting the edges, you can cover the skirting boards with painters tape before you start.
2. Put on the first coat
You can use a brush, roller or pad to paint the floor — the choice is yours. But, a roller or pad will get the best finish and will be quicker. A 4-inch or 9-inch size is the best paint roller for painting floorboards (whatever you are comfortable with) and an extension pole, so you don't have to do as much bending over.
Make sure to start at the furthest corner and move backwards towards the door. Paint in the same direction as the grain, do two or three boards at the same time in one metre lengths. Move across the room to the opposite wall and repeat until finished. Remember not to box yourself into a corner.
When dry, give the floor a light sand and clean it ready for the next coat.
3. Repeat
Once the first coat is dry, leave to dry as instructed - typically 4-6 hours - before you apply the next coat. Repeat the previous two steps and wait to dry — again as instructed. You may well need a third coat, especially if painting on bare wood. Leave this to dry for at least 24 hours but preferably longer before moving furniture back in.
How Long Will a Painted Floor Last?
This will depend on a number of factors including how well the floorboards were prepped, what paint was used and how much traffic the floor can expect. But a rough estimation is around two years.
Obviously, a floor that is well prepped and painted and has low traffic will last longer. And even after a couple of years you are unlikely to need to repaint the whole floor, just the areas that get a lot of use. A
lot of the floor will typically be under furniture or rugs so won't need repainting. All you'll need to do is repaint the areas that have worn, which is a relatively quick and easy job. However, it is worth noting that when you repaint, the new paint may not match the colour of the old.
If this is the case then it might be worth doing the whole floor again. But if it was well-prepped and painted the first time, the job should be much quicker the second time around.
How Can I Make Painted Floorboards Last Longer?
One simple way to extend the lifespan of your painted floor is to make sure that the floorboards are prepped properly. The more time spent on this part of the process the better the end product will be.
Maintain and clean the floorboards regularly, but don't use too strong a detergent or too much water. A light touch should be enough. Make sure that you leave the paint to fully harden before placing any furniture back in the room and stay off the floor as much as possible during this time.
Finally, adding an extra coat of your chosen paint or a clear matt varnish can give your floorboard paint a longer life.
What's the Best Floor Paint?
The best floor paint for painting floorboards need to be tough and durable. Here are 3 of the best floor paints to consider for your floor.
1. Ronseal Diamond Hard Floor Paint
Hard-wearing satin finish floor paint
Tin size: 750ml, 2.5l, 5l | Coverage per litre: 12m2 | Drying time: 4-6 hours | Finish: Satin
Six colours
Satin finish
Easy to apply
Needs three coats
If you want a hard-wearing floor paint that comes in more than just one colour then this specialist offering from Ronseal could just be what you need. Alongside the ever popular white, you can choose from Cream, Black, Slate, Tile Red and Pebblestone. It is easy to apply with a brush, roller or pad onto bare wood and you will need at least three coats to get a tough, durable scuff resistant satin finish. Each coat takes around 4-6 hours to dry and be ready for the next coat. The final coat needs to be left for 72 hours to fully harden before placing any furniture on it. So make sure you plan ahead.
---
2. Rust-Oleum Chalky Finish Floor Paint
A smooth matt finish that perfect for the bedroom
Tin size: 2.5l | Coverage per litre: 14m2 | Drying time: 1 hour | Finish: Matt
Smooth matt finish
Re-coatable in 4 hours
Good for bedrooms
Good coverage
Not ideal for bathrooms
If you want to renovate and transform your floorboards with a rustic hardwearing matt finish that looks great then this floor paint is a great choice. Formulated to resist knocks and scratches it is more suited to floors that will encounter light traffic -like a sturdy or bedroom - rather than heavy traffic like hallways. It is a water-based paint that provides good coverage and is touch dry within one hour and re-coatable in 4 hours. But it needs to be left for a week to go full hard.
The manufacturer suggests it goes straight over old paint or varnish, but we suggest you do your prep properly to fully appreciate this floor paint.
---
3. Dulux Trade Satinwood
A tough, durable wood paint that works on floors
Tin size: 2.5l, 5l | Coverage per litre: 17m2 | Drying time: 4-6 hours | Finish: Satin
Tough and durable
Washable
Good coverage
Long recoat time
This is a tough durable wood paint that while not especially formulated for floors it still does a great job of making your floorboards look good for a long time. A solvent based paint, it is easy to apply with a brush or roller and offers great coverage meaning that you get good value for money. It offers a subtle satin finish that is washable and scuff resistant, but takes a while before you can add another coat. It's touch dry within 4 hours, but you will need to wait 16-24 hours before you can add another coat. Pair up with a good primer and/or undercoat to make sure you get the best finish.
Steve is an avid DIYer with over 20 years of experience in transforming and renovating homes. He specialises in painting and decorating, but has strong all-round building skills, having previously worked in the industry for 10 years.
Homebuilding & Renovating Newsletter
Get the latest news, reviews and product advice straight to your inbox.
Thank you for signing up to Homebuilding. You will receive a verification email shortly.
There was a problem. Please refresh the page and try again.