Wooden Flooring With Underfloor Heating: Is it a Good Idea?
By Natasha Brinsmead published
Many people wonder whether to fit wooden flooring with underfloor heating — our guide is here to answer all your questions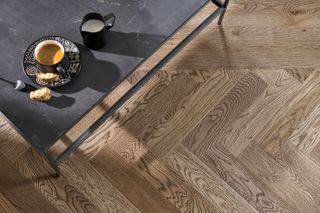 (Image credit: Woodpecker Flooring)
Underfloor heating is a great way to heat a home and combining underfloor heating with wooden floors provides a finish which is both beautiful and practical. However, when it comes to combining the two, there are issues to take into consideration.
Our guide is here to address all potential problems when it comes to installing underfloor heating with wooden floors in order to ensure you don't run into any difficulties.
Can You Use Underfloor Heating With Wooden Floors?
In short, yes, you can use underfloor heating with wooden flooring — both wet systems and electric underfloor heating.
Timber flooring is capable of effectively holding onto heat and releasing it into a room, plus it heats up quickly.
However, different types of wooden flooring have their own requirements and certain timber floors – namely engineered wood flooring – work better with underfloor heating than others. It is crucial that you choose the right flooring if you want to avoid expensive and disruptive problems later down the line.
There are also practical considerations when it comes to underfloor heating installation which need to be factored in, when adding wood flooring as a floor finish.
Choosing the Best Wood Flooring with Underfloor Heating
When it comes to choosing the best types of wood flooring to use with your new underfloor heating system, engineered hardwood flooring is definitely a good option that gives the appearance of a solid wood floor with none of its associated problems.
Engineered wood floors are made up of a top layer of solid wood (the thickness of which varies depending on the quality of the product), with several softwood layers beneath.
These layers add stability to the flooring and allow it to naturally expand and contract rather than it warping, cracking or twisting as can be the case with a solid floor.
"With all types of wood the floor temperature should not exceed 28°C and this can be controlled by embedding a thermostatic sensor in the screed," advises Graham Wooley, underfloor heating expert and owner of Epic Insulation Ltd.
Can You Use Underfloor Heating With Solid Wood Flooring?
Most underfloor heating specialists tend to advise against using solid wood flooring with underfloor heating. Solid planks of wood are susceptible to movement when exposed to changes in temperature (think how timber doors can stick depending on the season in older houses).
"Some types of solid wood flooring are not recommended because of shrinkage although there are conflicting opinions on compatibility," advises Ian Graham Woolley of Epic Insulation Ltd.
Certain species of wood are less prone to this kind of reaction than others and for this reason it is always best to check with your underfloor heating supplier first.
If you do have your heart set on a solid timber floor, Nu-Heat (opens in new tab) advise using a kiln-dried timber with a moisture content of between 6-9%. The timber must be stored in a dry place before being fitted and used alongside a floor temperature sensor that can detect overheating.
They also advise using only narrow solid boards. Ideally, boards no thicker than 18mm should be used.
Engineered wood floors are a much safer option when it comes to combining a timber floor with underfloor heating.
Does Wood Flooring Need to Acclimate Before Being Laid Over Underfloor Heating?
Any type of wooden flooring must be allowed to acclimatise before installation with underfloor heating to avoid the risk of the timber expanding or contracting.
In order to do this, lay packs of boards flat in the room you will be fitting the flooring in for the time recommended by your supplier. Engineered wood tends to take between 48 and 72 hours to acclimatise, whereas solid wood takes up to seven days, depending on wood type and manufacturer.
It is also vital that when heating up your underfloor heating system for the first time, you do it slowly — failure to do this could damage the timber.
Finally, always leave an expansion gap when fitting underfloor heating with timber flooring. An expansion gap (usually 15mm) should be left around the perimeter of the room in order to allow the wooden floor to expand and contract. This can be concealed with skirting boards.
Can Underfloor Heating be Used on Floorboards?
If you have a suspended timber floor in your home (as is the case in many old houses) you can still have underfloor heating, although its installation can be a little more complicated.
When using a wet underfloor heating system, the floorboards will need to be lifted for the system to be laid, then fixed back down afterwards. In the case of suspended floors at upper levels, the heating system can also be laid from underneath.
There are wet underfloor heating systems available specifically for use with suspended timber floors — these are often designed to be fitted between the floor joists. All pipework and insulation panels are fitted tightly into the void, with the pipes being clipped to the insulation and grooves cut out of the battens to accommodate them.
To work effectively the system must be as airtight as possible — sometimes a screed mix is used between the insulation and floorboards to ensure this.
It is also possible to use systems that incorporate thin metal plates or chipboard mats holding pipes that are laid directly on top of the floor joists. Although most of these systems are very thin, they will inevitably add a little to the floor height of your room.
Can Wooden Flooring be Used with Electric Underfloor Heating?
Electric underfloor heating is another good option for use with wooden floors.
In the case of suspended timber floors, the original floorboards become the subfloor. The electric underfloor heat mats are then laid on top, usually on a base of plywood or a suitable tile backer board. A new floor finish, such as engineered timber, is then added.
It's important to buy an electric underfloor heating kit or system which is designed specifically for use with solid wood, engineered wood or laminate flooring; check with the supplier or manufacturer if you are in any doubt.
Which is the Best Flooring For Underfloor Heating?
Many types of flooring are suitable for use with underfloor heating. The best flooring for underfloor heating can easily transfer heat produced by the underfloor heating system to the floor's surface.
Amongst the best are hard floors such as stone, porcelain and ceramic floors and polished concrete, with engineered timber following close behind. Wood-effect porcelain floors can provide an excellent alternative to wooden flooring.
Soft flooring such as carpet can be used – if the tog rating of both carpet and underlay do not exceed 2.5 – but tend not to be quite as effective.
Natasha is Homebuilding & Renovating's Associate Editor and has been a member of the team for over two decades. An experienced journalist and renovation expert, she has written for a number of homes titles. She has renovated a terrace and is at the end of the DIY renovation and extension of her Edwardian cottage. She is now looking for her next project.
Homebuilding & Renovating Newsletter
Get the latest news, reviews and product advice straight to your inbox.
Thank you for signing up to Homebuilding. You will receive a verification email shortly.
There was a problem. Please refresh the page and try again.