Small Wet Room Ideas to Get The Most From Your Bathroom
By Natasha Brinsmead published
The best small wet room ideas will ensure that you can have a luxurious showering experience no matter how compact your bathroom might be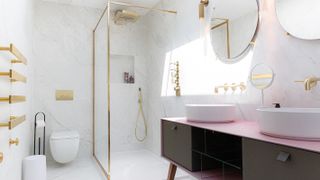 (Image credit: Matki)
If you want to squeeze the most out of your bathroom, our small wet room ideas are here to help.
One reason the hunt for wet room ideas for small bathrooms is such a popular one is the way in which wet rooms do away with the need for any extra bathroom fittings that can take up valuable space, such as a shower enclosure or bath.
Wet room ideas can work for any kind of bathroom, from en suites to family bathrooms, providing they are designed to take into account the needs of the users. They are also ideal for anyone searching for ways to make their home more accessible.
Our round-up of small wet room ideas brings together inspiration for anyone wondering how to make the best of a compact bathroom, from useful hints on how to trick the eye into seeing a room as bigger than it really is, to tips on how to ensure the entire space does't get drenched every time you shower.
Making These Small Wet Room Ideas Work For You
Although the term wet room really describes a room that has been fully tanked – or waterproofed – so that no water can make its way into the floor or walls, the term is now used much more loosely. True wet rooms feature a shower that is completely open to the rest of the room, with no screens or enclosures, with a floor that is level with the rest of the space.
However, many people decide to tailor the design of their wet room to suit them, adding a screen or wall perhaps to prevent water seeping along the floor to another area of the bathroom, or using a sunken shower tray rather than building a wooden deck beneath a tiled floor.
The ideas here present you with a range of different ways to approach the design of your wet room and are particularly suitable for those after small bathroom ideas. It is worth bearing in mind that the smallest size usually recommended for a wet room is at least 800 x 800mm.
1. Shield The Dry Areas With a Frameless Screen
Even in a fully tanked wet room it can be handy to include a shower screen in order to prevent spray from reaching other areas. This is especially important in a small wet room where everything is likely to be in very close proximity. Although it is possible to design a wet room in such a way that towels or anything else you want to remain dry are positioned to avoid them becoming drenched, a single screen is a great bathroom design option that can make this simple.
Here, a floor-level shower surface, the CAYONOPLAN from Kaldewei (opens in new tab) has been used to create the wet area — it comes in 22 different dimensions and can be installed on top of tiles or at floor-level.
2. Create a Curved Cocoon Wet Room
Curves can work really well in wet rooms where they create a sense of being cosseted — something that can really help you unwind during your shower.
In small bathrooms, curves can help to soften the boundaries of the space too. Here, the narrow bathroom has been divided into two, with one half for the basin and entrance and the other for the wet area featuring curved walls tiled with mosaic.
If you are after bathroom wall tile ideas for small bathrooms, both mosaic and vertical strip tiles are good choices for curved surfaces.
3. Locate Your Wet Area in a Corner
A brilliant wet room idea for small bathrooms is to locate the showering space in one corner of the room. Providing this space is completely waterproofed on the floor and walls and proper drainage has been put in place, water should be contained. Walk in shower ideas such as this can help to free up space for other items of sanitaryware in the room.
Here, Matki's (opens in new tab) Slate Standard and Bespoke Shower Floor has been used. It is made from cast stone resin and has a gel coating, plus it comes in a range of shapes and sizes.
4. Use Pattern to Distract the Eye
Your choice of wall tiles can have a huge impact on how large (or small) your bathroom will feel. In this long narrow wet room, a monochrome palette has been used, with the unusual, eye-catching black and white tiles doing a great job of keeping the eyes busy and distracted from the compact proportions of the space.
The long mirror along one side of the room also helps create an illusion of space; a great bathroom design idea in small bathrooms.
5. Contain Shower Spray With a Single Screen
It is very much down to personal preference whether or not you decide to incorporate a shower screen into your design. Some people decide that they are happy to embrace the full wet room experience and do away with any means of shielding the rest of their sanitaryware from water spray, while others feel more comfortable with some kind of barrier.
If you fall into the latter category, a single, frameless screen, is a great compromise. In this beautiful bathroom from Drummonds (opens in new tab), the shower screen is almost invisible, meaning that the small space in no way suffers due to its inclusion.
6. Divide The Space With a Wall
Building a partition between the wet area and the toilet is a common way to approach the layout of a wet room. It not only avoids the risk of a sodden toilet seat, but it also gives you somewhere to conceal the pipework of the shower.
When it comes to how to build a stud wall, many people feel confident enough to try their hand at it, and in a small wet room the addition of this kind of divide can really help get the most out of the room.
7. Step The Shower Up
Raising the showering area up a little from the rest of the space in a wet room is a great idea, although do be aware that to avoid the step becoming a trip hazard due to it not being noticeable it should be at least 10cm high.
Raising the floor can be a way of accommodating pipework and waste — plus a stepped area can help add depth and interest to a small space. Remember you will need adequate ceiling height for this shower room idea to work.
8. Keep it Sleek With Frameless Glass
In small wet rooms you want minimal fuss — which is where frameless glazing comes into its own.
While a shower screen is certainly not a necessity, if you are creating a wet area as opposed to a whole wet room, it is a good idea to fit one as a way of protecting the rest of the space.
This is a great one if you are after master bedroom ideas. In this luxurious master bedroom, a showering area has been created in the room, with a simple frameless screen dividing it from the sleeping space.
9. Use Room Dividers to Break Up The Space
Partial stud walls, room dividers and screens are all brilliant solutions in small wet rooms where they break the space into zones without blocking light or taking up too much valuable floor space.
Here, using the same large format marble tiles for the floor and walls helps create a sense of space, while a half-height stud wall separates the bath from the showering area without preventing the flow of light. The overhead shower has been recessed into the ceiling to free up wall space.
The EauZone Plus Twin Entrance Wet Room Panel was design and installed by Matki (opens in new tab).
10. Plan Your Layout Carefully
In order for any wet room to work well, the layout needs to be carefully considered in order for the space to perform as it should. In a small wet room this becomes more important than ever.
You need to think through the placement of items such as the towel warmer in particular if you want your towels to be nice and dry when you finish showering and aim to keep mirrors and windows out of the path of any water spray too.
Here, the NEXSYS floor-level shower surface from Kaldewei (opens in new tab) has been used to form the wet area — it comes as a pre-assembled 4-in-1 system consisting of enamelled shower surface, waste channel, all-round sealing tape and slope support with counter slope between channel and wall.
11. Opt For a Neutral Plaster Finish
Tiles are not the only option for wet rooms and, in small spaces, opting for a neutral, pale surface all over can help to make the space feel bigger and brighter.
Polished plaster, tadelakt and, more recently, Microcement, have all been on the rise as alternative surfaces to tiles. All add a modern yet characterful finish to walls and are highly practical too being waterproof and easy to clean.
This wet room might be small, but it feels airy and fresh thanks to the plaster walls and a pale floor, Patina Oak Grey from Quick-Step's (opens in new tab) Capture Collection.
Natasha is Homebuilding & Renovating's Associate Editor and has been a member of the team for over two decades. An experienced journalist and renovation expert, she has written for a number of homes titles. She has renovated a terrace and is at the end of the DIY renovation and extension of her Edwardian cottage. She is now looking for her next project.
Homebuilding & Renovating Newsletter
Get the latest news, reviews and product advice straight to your inbox.
Thank you for signing up to Homebuilding. You will receive a verification email shortly.
There was a problem. Please refresh the page and try again.