Living Walls: How to Install a Vertical Garden
By Luke Arthur Wells published
Living walls not only bring a natural element to your design, but they also have green qualities that can benefit an eco home. Here's what you need to know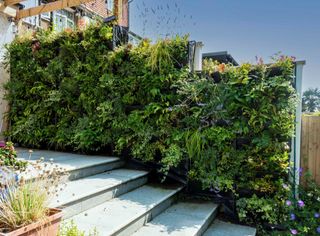 (Image credit: PlantBox / A Greener London)
There's a lot to be said for the benefits of living walls for the right home. What may seem like style over substance to some can be a valuable addition to others. This is especially the case in urban properties where space is in short supply and there's no natural connection to, well, nature, or when replacing lost green space to ensure an eco house retains its biophilic credentials.
Living walls are available both as professionally installed systems and on a DIY basis, and having had experience in installing both in projects, I can tell you there's quite a difference between the two in terms of the sophistication of their systems and the likelihood of their eventual survival.
However, the DIY approach can succeed if you're comfortable with what grows well in your garden, and where.
But no matter what your approach is, choosing a living wall requires a certain level of investment. They also present their own, individual challenges when it comes to maintenance which, if underestimated, could leave your living wall looking rather less than living.
What are Living Walls?
Living walls, sometimes referred to as vertical gardens or plant walls, are systems that are used to create a planted area on a vertical surface. These systems are usually made up of individual pockets or planters, which carry up the entire wall, meaning that the chosen plants are planted in the soil (or other planting medium) entirely up the wall, while alternatives such as climbing plants trailed up a house's façade are rooted in the earth at ground level.
Usually, these systems are attached to solid walls and due to the nature of their maintenance, fitted with irrigation systems.
Where can a Living Wall be Installed?
As previously mentioned, living walls are perfectly suited to homes with limited outdoor space, however, they can also be used as a feature in a larger garden design.
Plant walls are particularly effective in courtyard gardens, where there isn't a vast amount of space for planting, as well as internal courtyards, balconies and for lining light wells.
(MORE: Explore More Small Garden Design Ideas in our Gallery)
Likewise, they make an effective feature on boundary walls, especially when used in coordination with large windows and doors, creating a green sightline rather than a standard brick wall or the like.
They can also be used as a form of house cladding for the exterior of properties, in a similar way that a green roof is used as a roof covering. You'll often see this used in modern commercial properties, but there are smaller scale design options for contemporary houses.
What are the Benefits of a Living Wall?
Benefits of living walls include:
Increasing or replacing biodiversity. If removing a lawn for hard landscaping, for example, a living wall can provide insect-friendly planting as a replacement.
Acoustic benefits include exterior living walls reducing noise pollution from outside and reducing noise transfer indoors.
Living walls retain rainwater, reducing the amount that waste water reaching over-burdened drains.
There are health benefits related to biophilic design principles that a living wall can contribute to.
While it's often stated that plants are a great way to improve air quality, especially inside your home, some studies have shown that the improvement of air quality is in negligible amounts, and that much more research is required. However, a living wall means a lot of plants, so there's some hope that this concentration of air purifying qualities may be more effective than the odd houseplant scattered about.
Are There Any Drawbacks to a Living Wall?
Professionally installed living walls are expensive, both to install and maintain. While DIY systems are available, it's the professional systems with planting designs by experts that are most likely to succeed and thrive.
A poorly planned and specified plant wall is unlikely to look its best for long, and if large swathes of plants die, you'll be left with a prominent eyesore in your outdoor space. Bear in mind that you're likely to have to replace plants regularly — let's say around 5 to 10% a year.
Maintaining a plant wall is also more difficult than a horizontal garden as you may require specialist equipment to be able to tend to the higher reaches of the wall.
Are There any Locations Which are More Favoured for Living Walls?
The success of your plant wall will largely depend on what you plant versus where you plant it, but certain locations will work better overall than others. "Ideally, the living wall should get 10 hours of daily light," suggests Henry Scott, Director of Pehrrson Scott Landscape & Garden Design. "If you can't find a spot with that much sunlight, pick a wall that receives roughly 4 hours of midday/morning light — at the same time, keeping it safe from the scorching afternoon sun."
Can you Introduce a Living Wall Within a Home?
There are options for interior plant walls too; however, drainage is something you'll need to consider if using an irrigation system. I've seen examples of interior living walls that have been incorporated as part of an extension design, including drainage or building in a recirculation tank. Alternatively, there are DIY systems that are fine to use internally, but that rely on careful manual watering so that there's no dripping of excess water (hopefully).
Installing a living wall internally will also, of course, have an effect on the types of planting used, as well as factoring in the potential for lower light levels indoors. Having had an interior living wall installed in my own living room for several years, I found that tropical plants that require low light levels such as Monstera and Calathea are particularly well suited and thrive in a plant wall setting.
You could also consider the following for use indoors as they're relatively low maintenance:
Anthurium
Dracaena
Pothos
Philodendron
Are There any Additional Requirements to consider During Installation?
Living walls tend to be installed for instant gratification, meaning that plants used on installation are mature and full. The size and spread of your choices for the plant wall are important, as this will affect how visible the system is. Systems are usually clad in natural finishes or coloured black or green to help the infrastructure fade into the background.
Recirculating irrigation systems have a feed tank kit that you'll need to find room for.
If creating a feature with a living wall, you should also consider outdoor lighting to highlight it during the evenings. Uplighters are an effective way to highlight a plant wall. Your best choice is hardwired in lighting controlled by an internal switch for convenience, but solar powered lights can also look good.
What are the Different Types of Living Wall Systems?
There are several types of living wall systems, but the majority that are installed in homes are modular systems, which can be adapted to different sizes and shapes. These can take different formats, from long tray-like planters which contain multiple plants to individual pocket planters. Others, such as freestanding and tray living walls are more used for applications like office spaces.
Geotextile living wall systems are also available. In these systems, plants can be directly placed into small, non-biodegradable fabric pockets. Some are soil-free, meaning the roots of the plant are allowed to travel through the geotextile, while some use soil. These systems are often cheaper than structured living wall systems and are much lighter.
What Plants Lend Themselves to Living Walls?
The nature of a living wall system means plants chosen need to offer volume that will fill out the pockets or trays and obscure the infrastructure from view. Consider texture and colour in your choices too. A living wall using a single type of plant will look monotonous in terms of texture, and adding some contrast, whether that's flowering plants or darker-leaved varieties (something like a deep purple Heuchera looks great), can really add depth and interest.
In terms of plant species that will thrive in a living wall setting, it depends on the aspect of the wall and whether it's in sun or shade. However, Henry Scott has several suggestions: "Pachysandra is an evergreen that grows in full or part shade. Erigeron is an invaluable living wall plant that loves the sun, while Heuchera would thrive with some sun and part shade."
"If the wall you are trying to decorate obtains less than half a day of sunlight in the middle of summer, then choose a plant selection that prefers the shade. In other words, pick a spot that's best suited for the plant, not somewhere you think would look better."
Living wall systems are often used to create vast expanses of green leafy plants, but they lend themselves to all kinds of uses. You could create vertical flower beds for a cottage garden for example, or how about a herb garden adjacent to your kitchen doors? From coastal-style grasses to jungle-esque ferns, the sky's the limit.
How do you Water a Living Wall?
There are two primary types of irrigation systems for a green wall: direct irrigation and recirculating irrigation," says Pehrrson Scott's Henry Scott. Recirculating systems, as the name suggests, recirculates the water through the wall via a pump, similar to what you'd expect to see in a water feature, however the water is stored with nutrient supplements in a feed tank.
"The direct system is a bit more complex," says Henry. "The water often comes from a city water line and is given to the plant with the help of water pressure. It can come with a fertiliser injection and water filter." In this instance, water is removed via a drain, either directly or via a drip tray which is later diverted to your drainage system.
How do you Maintain a Living Wall?
Maintenance of a living wall incorporates the basics of garden upkeep, plus a few extra elements. This means it's not necessarily a low maintenance garden idea.
Upkeep includes:
Keeping the wall appropriately irrigated
Pruning plants as required
Preserving the quality of the soil
Protecting against pests
Further maintenance for a living wall with an irrigation system includes checking that this is functioning correctly and there are no blockages.
Due to the nature of a living wall, and the cost of installation, most professional installers offer a maintenance contract for regular upkeep, often including plant replacement, to keep a living wall looking its best. This will include servicing of the irrigation system and checks to ensure the structural integrity of the plant wall system.
Maintenance contracts tend to be quarterly or monthly. You can expect to pay 10% of the overall cost of your plant wall per year on maintenance.
When it comes to preventing a living wall from dying, there's no magic trick. A well-specified set-up with plants appropriate for the conditions of the plant wall, along with proper maintenance is the only way.
How Long do Living Walls Last?
While a living wall, with the right care, shouldn't necessarily have a shelf life at all, you can expect to have to replace plants regularly and invest heavily (whether that's time or money) in maintenance.
How Much Does a Living Wall Cost to Install?
The larger the wall, the less cost per square metre of installing a vertical garden. When using a living wall kit, you can expect to spend £250 per square metre. An irrigation system will cost around £350 altogether. Plants are an additional cost, which will depend on the type of planting you choose and the maturity of those plants, but budget for around £100 per square metre.
For a large living wall, you can expect to see prices of £15,000 plus all in.
Can I Create a Living Wall on a Budget?
DIY and self install living wall kits are widely available, and the kits themselves are relatively inexpensive. These systems won't include irrigation systems as such, but they often feature a drip down watering function, which means that the planters are designed in a way that the water filters down from the top to the bottom. I'm not sure how effective this drip down is in reality, but I've only used these systems indoors, so they might work better with rainfall as the source of irrigation.
Much of the cost for these living wall systems come from the plants themselves, as each pocket requires an individual plant. For an effective finish, these plants need to be large enough for the foliage to cover the system itself, however, if you have the time to wait for the living wall to establish, you can make savings by buying young plants.
This small interior living plant wall I once had in my own home is made up of 30 plantable pockets. Take an average cost of between £5-£8 for each plant and this living plant wall costs £150-£240 in plants, on top of the system cost. Across a larger plant wall, you can expect to easily spend several thousand on plants, no matter how budget-friendly the installation system is.
Luke Arthur Wells is an award-winning interiors blogger and stylist. His blog has been one of Vuelio's top 10 interior blogs for four years running, and he recently won the Best Creative Skill category at the Amara Interior Blog Awards. Luke has worked with some of the UK's biggest brands, from John Lewis and Made to Farrow & Ball and B&Q. He's a big DIYer, and loves coming up with creative woodwork projects for his home, a Victorian terrace renovation in Essex.
Homebuilding & Renovating Newsletter
Get the latest news, reviews and product advice straight to your inbox.
Thank you for signing up to Homebuilding. You will receive a verification email shortly.
There was a problem. Please refresh the page and try again.