Best Outdoor Log Burners: Enjoy Your Garden All Year Round
Our buyer's guide to the best outdoor log burner will help you enjoy your garden even when the temperature falls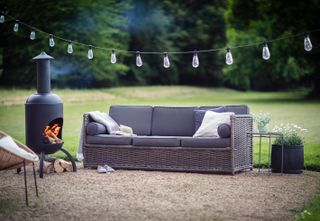 (Image credit: Garden Trading)
An outdoor log burner is one of the best ways to ensure you can enjoy your garden for as many months of the year as possible — and for as many hours of the day too. Not only will an outdoor log burner ensure you can keep cosy and warm as you sit out and enjoy your al fresco surroundings, but it will also create a wonderful sociable gathering spot in your garden.
There are several different types of outdoor log burner including fire pits and chimeneas. Some include racks on which to cook food, whilst others offer built-in log storage.
It is also possible to find portable outdoor log burners that can be packed up and taken camping or on a picnic or trip to the beach.
You can go as simple or as elaborate as you like when it comes to outdoor log burners — some are almost industrial in their appearance, being made of chunky steel or cast iron, whilst others are far more decorative, offering laser cut details and pretty metalwork.
Our best outdoor log burner guide rounds up the best products on the market to take some of the guesswork out of your choice.
(MORE: How to choose an indoor log burning stove)
Barrington Fire Pit
Simple, practical, sturdy design
Dimensions: W: 62cm H:66cm | Material: Raw metal | Rain cover?: No | Grill rack included?: No
Timeless, simple design
Two sizes available
Weathers nicely over time
Large capacity
No cooking grill included
Cannot be used with coal
This is a great fuss-free outdoor log burner with a timeless appeal that will sit well in all kinds of garden schemes and alongside both contemporary and more rustic garden furniture.
Crafted from raw metal, the fire pit comes in two sizes, this one, the large, as well as the smaller model which measures 55 high and has a 49.5cm diameter.
The metal is designed to weather to a mellow, rusted finish and as it can be kept outside all year long, no cover is required — plus the basket design means water will not pool inside the cavity as with some other log burners we looked at.
On the downside, the fire pit is designed to be used with logs only — so no using coal. Also, there is no rack to grill food included — but there is nothing to stop you bunging in a couple of foil-wrapped jacket potatoes or marshmallows in skewers if the mood takes you.
La Hacienda Leon Mesh Steel Chimenea
Traditional-style chimnea
Dimensions: 38cm x 38cm x 90cm | Material: Alloy steel | Rain cover?: Rain lid included | Grill rack included?: No
Traditional style
Raincover available to buy
Mesh door for safety
Not suitable for cooking
Chimneas have been a popular way to heat patios and garden seating areas for some time now — and for good reason. As outdoor log burners they work really well, with their clever shape offering a 360 degree view of the crackling logs within.
This model from La Hacienda is particularly charming, with its classic design and bronze finish. The mesh door offers a level of safety that those with young children around may find reassuring — a level of protection that some other outdoor log burners don't offer.
On the downside, the covering and door make toasting marshmallows awkward and tossing another log on the flames becomes a little more fiddly too.
A rain lid and fire tool are included but if you would like a waterproof cover then this will need to be purchased separately.
DAWOO Fire Pit with BBQ Grill Shelf
Two-in-one outdoor log burner
Dimensions: 60cm x 60cm x 25cm | Material: Stone | Rain cover?: No | Grill rack included?: Yes
Contemporary stone design
Spark screen included
Doubles up as a bbq
Can be used with charcoal and coal
Light colour could stain
This is a great multi-tasking outdoor log burner, for those who want more than just a heat source in the garden.
The sturdy stone fire pit can of course just be used as a log burner to gather around as night falls, but pop on the cooking grill and it becomes a good-sized barbecue too — it even comes complete with tools for the job.
In addition, the handles make it easy to move the surprising lightweight log burner to different locations in the garden whilst a spark screen reduces the risk of rogue embers escaping on to your patio or nearby guests.
Another bonus point goes to this one for that fact that, unlike some of the other outdoor log burners here, this can be used with fuels other than logs, including charcoal and coal.
Abura Metal Chimenea
Perfect for adding a glamorous touch
Dimensions: 106cm x 55cm x 55cm | Material: Steel | Rain cover?: No | Grill rack included?: No
Eye-catching black and gold finish
Large capacity
Lightweight
Matte finishes can be prone to marking
This is one serious stylish outdoor log burner — something a little bit different and sure to draw admiring gasps from any visitors to your garden.
It has a matte black and brass finish and an almost geometrical shape to it, allowing for it to hold plenty of logs to keep you toasty as you gather round.
Despite it being just over a metre in height, it is lightweight and still compact enough to fit in even smaller garden spaces.
If you are hoping to use it for cooking you might be disappointed although it is open sided so s'mores are still an option...
The only real downside is that will have to be prepared for a degree of weathering to change the pristine black finish over time.
Harbour Housewares Cast Iron Fire Pit
No nonsense industrial design
Dimensions: 85.5cm (97cm including handles) x 40 cm | Material: Cast iron | Rain cover?: No | Grill rack included?: No
Made from sturdy cast iron
Simple, contemporary design
Easy assembly
Prone to rust
A really sturdy, suits-all outdoor log burner that does exactly what you would expect an outdoor fire pit to do.
Yes, it lacks a grill on which to barbecue and no it doesn't come with a rain cover, but what it misses in accessories it makes up for in practicality and good looks. Thanks to the large shallow nature of the bowl, logs burn well.
On the downside, the metal is likely to rust a little over time but this is to be expected. Also, those with young children will want to keep an eye on them as there is no cover included.
Esschert Design Fallen Fruits Oxidised Woodland Globe Sphere Fire Pit
Unusual decorative design
Dimensions: 60.5cm x 60.5cm x 49.5cm | Material: Cast iron | Rain cover?: No | Grill rack included?: No
Stunning focal point
Can be used as fire bowl
Oxidised finish weathers well
More expensive
If you are after a truly beautiful outdoor log burner for your garden that can double up as a work of art in its own right, then look no further.
This spherical fire pit features laser cut shapes depicts a forest scene that, once the sun sets, will glow from within when lit. It comes with an aged finish that is designed to further weather and improve over time.
The top of the globe is removed to build the fire — and can be left off if you fancy using the log burner as more of a fire pit for toasting marshmallows too.
Cook King Malmo Swedish Fire Basket
An outdoor log burner with a difference
Dimensions: 40cm x 24cm x 24cm | Material: Steel | Rain cover?: No | Grill rack included?: No
Fun way to heat your garden
Talking point
Sturdy design
Need to purchase a log candle to fit
Add some Nordic chic to your garden and use a log candle to heat your outdoor seating areas, with this super stylish Swedish log burner.
Designed to hold a single log candle (you can buy these separately or make your own if you feel up to it), the steel log basket features an open body and a three-legged stand.
The bonus of a Swedish log burner is that the log candles have a really long burn time, meaning no stoking or topping up logs during the course of the evening — plus they create a great focal point, are an affordable option and can be kept fairly compact in size.
La Hacienda Kasu Fire Pit with Log Store
Contemporary outdoor log burner with storage
Dimensions: 58cm x 58cm x 21cm | Material: Cast iron | Rain cover?: Available separately | Grill rack included?: No
Built-in log storage
Sturdy base
Large capacity
Heavy
A great buy for anyone after an outdoor log burner with storage — this cast iron model has a built in space beneath the fire bowl that can hold a good amount of logs to keep you going through the evening and beyond.
The square base of this fire pit means it is is reassuringly sturdy and unlikely to get easily knocked over, plus it is made from durable cast iron too.
It is sleek in its design meaning it would slide effortlessly into a modern garden scheme.
On the downside, it is heavier than some of the other model reviewed, meaning if you want to move it around the garden you might need to recruit a helper.
Homebuilding & Renovating Newsletter
Get the latest news, reviews and product advice straight to your inbox.
Thank you for signing up to Homebuilding. You will receive a verification email shortly.
There was a problem. Please refresh the page and try again.