Beautiful laminate flooring ideas for every room of the house
This gorgeous collection of laminate flooring ideas is here to prove that no matter what your interior style or practical needs, this is definitely one flooring material worth considering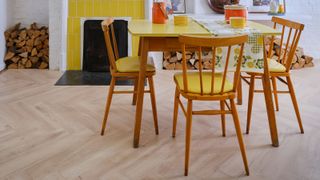 (Image credit: Carpetright)
Now is a great time to consider laminate flooring ideas for your home — this is a material that has really come on in leaps and bounds in recent years and should no longer be viewed as only suitable for budget projects or quick makeover jobs.
As types of flooring go, laminate has plenty of advantages over other materials — plus it comes in a massive range of colours, patterns and finishes, meaning it is suitable for all kinds of interior styles.
Here, we have brought together some of the best ways to use laminate flooring, whether you are looking for flooring ideas for your kitchen, bathroom, bedroom or hallway and whatever look you are hoping to achieve.
Why you need these laminate flooring ideas
Laminate flooring used to have a reputation as a being somewhat second best to other types of flooring on offer — a poor substitute for types of wooden flooring, used only by those whose budget wouldn't stretch far enough for the 'real thing' or anyone wanting to make a quick and easy profit on a renovation project.
But things have changed. These days, rather than being seen as something to 'settle' for, laminate should really be viewed in a new light. True, there are still some products around that give the material a bad name, but in the main, this is now a great option for all kinds of settings.
The benefits of laminate flooring are that it is:
Durable (be sure to opt for one with a high AC rating — AC3 to AC5 is perfect)
Cost effective
Quick and simple to install
Suitable for use with underfloor heating
Can be bought in waterproof versions to suit bathrooms
Available in a large range of wood, stone and tile effects
Easy to clean and maintain
1. Consider laminate as a practical kitchen floor
The best flooring for kitchens should be practical, easy-to-clean and highly durable — and laminate flooring can tick all these boxes.
If you like the idea of a laminate floor in your kitchen, be sure to choose one with a high AC rating — AC4 or AC5 is your best bet as it indicates the floor will be suitable for areas of high traffic and will deal with moisture well.
In this kitchen space, Loft Light Grey Laminate from Flooring Superstore has been fitted — it has a wood effect complete with knots and grain patterns and also features an anti-bacterial coating, making it a particularly good choice for this room.
2. Get the parquet look for less
Parquet flooring is enjoying huge popularity right now — but solid parquet is an expensive choice to buy new. Of course if you have an original floor, you will want to look into the best ways of restoring parquet flooring, but if not, opting for a parquet-effect laminate is a far more affordable option and is easy to install too.
The block pattern of a parquet-effect floor will suit older properties particularly well and looks great alongside a mid century modern interior scheme.
This living room has been fitted with Carpetright's Balterio Xpressions Laminate In Blocks and is the perfect pairing with the chunky original skirting boards and slightly retro furniture choices.
3. Create an interesting backdrop in an open plan space
Large, open plan spaces need a few elements to prevent them from seeming cold, sterile and lacking in character. Room dividers, changes in floor and ceiling levels and the right furniture choices can all help to break the space up, but don't underestimate the effect your choice of flooring will have too.
The floor and walls act as the backdrop for a room and in order to get open plan living right, it is important that they are chosen to inject a little warmth and interest. This laminate flooring has a golden warmth that doesn't detract from the architectural interest of the room, but adds a lovely light to the overall look of the space.
4. Go for an oak effect laminate for visual warmth
Oak is one of the most popular timber choices when it comes to wooden flooring — hardwearing and suitable for all kinds of interior schemes. It adds warmth and character to any space it is installed into. However, choosing a hardwood such as this can really send your wood flooring costs soaring.
Happily, if you are after a cheaper alternative to a solid or engineered oak floor, laminate is a really good option.
Here, Sherwood Oak from Flooring Superstore's EvoCore Design Floor Artisan range has been used to add a cosy feel to this bedroom. It has a really realistic wood grain effect and knots that appear to run through each board.
5. Conjure up vintage vibes in the bathroom
Great care needs to be take when choosing bathroom flooring.
"Not only does it have to look good and complement the chosen wall finish, but it also has to stand up to water and humidity, as well as being slip resistant and low maintenance," says HBR's Editor-in-Chief Claire Lloyd.
Many people shopping around for new bathroom flooring ask 'is laminate waterproof?' Well, the answer is that some, but not all, types of laminate are suitable for bathrooms.
You need to track down waterproof and water-resistant ranges of laminate flooring and be sure to check where they can be used, according to manufacturer's instructions, along with how resistant to moisture they are and what their warranty covers.
Here, Sea Light Vintage Patterned Laminate from Tile Mountain has been used — it is water-resistant and is made with their 'Hydro+ water-repelling technology', plus it comes with a 15-year warranty against water damage.
6. Grace your garden room with laminate flooring
When choosing the best flooring for your garden room or searching for summer house interior ideas you need to be on the look out for those products that react well with moisture, are low-maintenance, easy-to-clean and super hardwearing.
Laminate is a great, affordable way to finish off your garden room, but you really do need to opt for a product with a high AC rating to ensure it stands the test of time.
This beautiful garden room from Green Retreats comes with a choice of laminate flooring options to suit how you intend to use the space.
7. Use laminate alongside other wood finishes
Although laminate is not actually made from wood – it is, in fact, comprised of several layers with a HDF (high-density wood fibre) core, finished with a photographic image – it can sit really well alongside real timber finishes.
Whether you are mulling over wooden kitchen ideas, have lots of wood panelling on your walls or are simply a fan of bare wooden furniture, thanks to how realistic some wood-effect laminate flooring now is, it can easily hold its own when used in conjunction with any of these.
Here, Carpetright's SS19 Corinthian Laminate In Palacade sits in perfect harmony with the wooden kitchen, dining furniture and contemporary wall finishes.
8. Use a chevron pattern for a modern twist
There has been huge interest in herringbone and chevron-patterned flooring of late and as such, this style of floor can now be achieved using many different materials, from engineered wood flooring and LVT, to porcelain tile and, of course, laminate.
Using a chevron pattern floor is a great idea for those looking to draw the eye away from the small proportions of a space, but it can also add heaps of visual interest to new spaces that might be lacking in character and pairs really well with both bold furniture choices as well as more classic pieces.
Here, Chevron Antique Oak wood-effect laminate flooring from Flooring Superstore, featuring light brown colour tones and darker accents, has been used.
9. Choose a low-maintenance hallway floor
Your hallway flooring ideas obviously need to be capable of making a great first impression to visitors when they step through the front door, but your choice of flooring also needs to be up to the job of everything thrown at it.
Hallways are hardworking spaces that see a huge amount of footfall which means your choice of flooring needs to be durable, great at hiding dirt and easy to clean — all while looking fabulous.
Laminate comes in a massive range of colours, effects and patterns, so whether it is a large-format tile look you are after or an eye-catching herringbone, there will be something to suit you.
Here, a classic, oak-effect laminate – Palma Light Oak Laminate from Tile Mountain – keeps things fresh and neutral.
10. Use lighter tones for a fresh, breezy bedroom
While everyone will want different things from their bedroom interior decor, a calm and peaceful feel is often something high on most people's wish lists. When it comes to bedroom flooring ideas, keeping things pale, fresh and simple is a great first step towards getting a tranquil sleep space.
Here, the wide planks of BerryAlloc's Grand Avenue Rodeo Drive laminate flooring sit perfectly alongside the low-profile bed and fresh finishes used elsewhere in the space.
11. Liven up a home office with colourful laminate
After some home office ideas to raise your productivity? Your choice of flooring could be the key.
Laminate actually makes a great home office flooring choice as it is low maintenance, easy to fit on a DIY basis and great for furniture on castors such as office chairs and storage units.
This bright flooring is Seville Rainbow Oak Laminate Flooring from Tile Mountain — its funky painted wood effect is sure to brighten up your day and get those creative juices flowing.
12. Pair rich tones of brown with exposed brick
Exposed brick walls seem to have been up there in the style stakes forever — the ideal way to create an understated feature wall with an edgy industrial chic element. That said, finding the right finishes to pair them with in order to avoid the overall look being too rustic and unfinished can be tricky.
The key is to introduce a little polish and warmth through your choice of flooring and furniture. Here, the rich, cocoa tones of Tile Mountain's Sea Dark Brown Laminate work brilliantly alongside the exposed brick, smartening it up a treat — plus it is water-resistant, making it a great choice for hallways and bathrooms.
13. Get toasty toes by paring laminate with UFH
If you plan on installing underfloor heating then you will undoubtedly be keen that your choice for flooring is compatible. While the majority of flooring materials are these days, some do come with special considerations — certain types of cork flooring and LVT often come with instructions stating that they must not be used with UFH set above temperatures of 27°C to avoid damaging the flooring. In some cases laminate may also have a maximum UFH temperature so be sure to check.
This GoodHome Strood Grey Oak effect Laminate Flooring from B&Q has an embossed design on the wood pattern to add to the realistic look of the floor and is suitable for use with UFH.
14. Inject some spa style into your bathroom
Bathrooms should be practical spaces that can deal with high moisture and humidity levels and plenty of splashes and spills. Flooring needs to be non-slip and able to handle water well — and providing you choose a laminate suggested for use within this room it makes a great choice.
Bathrooms also need to feel a little luxurious — a serene spot to retreat to at the end of a long day. Your bathroom flooring ideas can really add to how the space feels and here, Carpetright's QuickStep Impressive IM3560 Patina Classic Oak Grey Laminate creates a beautifully tranquil look thanks to its pale grey finish, plus it is water resistant and suitable for use with UFH.
15. Use woodgrain effect for character
Are you wondering how wood flooring vs laminate pans out? Nothing can quite match up to the natural beauty of a real timber floor, whether that is one made up of solid wooden boards or an engineered product, but some look-a-like products can come pretty close and be a more affordable option too.
For maximum character and charm, when selecting a wood-effect laminate flooring, look for one with with texture and plenty of tonal variations.
This Brecon Ivory Oak from Woodpecker Flooring has a matt finish with deep embossing, is waterproof, suitable for use with underfloor heating and has a built-in underlay.
Get the Homebuilding & Renovating Newsletter
Bring your dream home to life with expert advice, how-to guides and design inspiration, direct to your inbox.
Natasha is Homebuilding & Renovating's Associate Content Editor and has been a member of the team for over two decades. An experienced journalist and renovation expert, she has written for a number of homes titles. Over the years Natasha has renovated and carried out a side extension to a Victorian terrace. She is currently living in the rural Edwardian cottage she renovated and extended on a largely DIY basis, living on site for the duration of the project. She is now looking for her next project — something which is proving far harder than she thought it would be.